With Wi-Fi multiroom speakers you can listen to music anywhere in your home.
Home audio systems are more affordable than ever. Multiroom speakers are an easy-to-use and high-tech way to listen to music at home.
To compare speakers, look at the price, volume capacity, maximum room size, ease of use and how compatible they are with the systems and streaming services you use. Prices typically range from US$199 to US$1,800 per speaker but keep in mind one of the main features of multiroom speakers is the ability to connect multiple speakers together. You will likely be buying at least two or three speakers.
If you want a speaker that can understand voice commands and act as a personal assistant, a smart speaker would be better suited to your needs. Also, if you already have an at-home speaker system that works for you there's probably no need to get Wi-Fi multiroom speakers.
This guide will give you the tools to choose the right multiroom speakers for your home. Read on to find out more.
It looks like we don't have any coupons at the moment. Take a look at our most recent deals
Compare some of the best Wi-Fi multiroom speakers
Data obtained September 2018. Prices are subject to change and should be used only as a general guide.
What are multiroom speakers?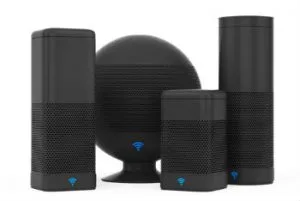 Many of us want to be able to listen to music and podcasts in the kitchen while we cook. This is easy enough if we have a speaker or smart device, but if we want to walk to the living room and continue listening, we have to bring the speaker or device with us each time. With multiroom speakers, you can get a speaker for each space and connect them together so they can work in tandem. You can continue adding speakers until you have your ideal listening set-up in every room in the house, or until your budget runs out. This is how you create a network of multiroom speakers.
Traditional home speakers required a complex set-up with many wires and just as many headaches. Wi-FI multiroom speakers allow you to connect multiple speakers around your home in just minutes and control them using an app on your smartphone, tablet or computer. However, if you already have a home audio system that works for you, it's probably not worth upgrading to a multiroom speaker system.
How do they work?
Multiroom speakers either use your home Wi-Fi or create a mesh network. A mesh network means after connecting to the Internet, systems such as Sonos and Bose join together forming their own network. While traditional Wi-Fi speakers rely on Wi-Fi to connect and stream music, these mesh-network speakers won't use your Wi-Fi while streaming. This means your bandwidth and data usage won't be impacted by the speakers.
Why should I consider multiroom speakers?
With multiroom speakers, you can play music anywhere in your home with a quick tap on your phone, tablet or computer. You can play different music in each room or play the same music from every speaker so you can keep listening to your favourite songs as you walk from room to room. Most multiroom speakers will allow you to play music or podcasts from your digital library or a streaming service.
Advantages of multiroom speakers
Quick to install and easy to move if you change homes.
You can listen to the same music on every speaker or different music in each room.
Play content from your digital library or any streaming service.
Unlike Bluetooth speakers, Wi-Fi speakers won't be interrupted by calls or texts.
Disadvantages of multiroom speakers
The cost of multiple speakers can add up quickly. If you only need music for one room in your house, there are cheaper options, such as Bluetooth speakers.
Speakers are often not compatible with other brands. Once you've bought a speaker it can be difficult to switch brands and keep everything connected.
Multiroom speakers are not as portable as Bluetooth speakers.
How to compare when choosing Wi-Fi multiroom speakers
Some people might be willing to pay thousands of dollars for the highest sound quality and sleekest designs available, while others might be satisfied with low-cost speakers that are easy to use and support all of the streaming services they subscribe to.
Choosing the right speaker for you depends on the cost of the speaker, how easy it is to use, the sound quality and how well it supports the platforms and streaming services you want to use.
Quick Stats
The following table shows the average range of a few important speaker stats for a wide range of speakers.
| Price (USD) | Maximum room size | Volume capacity (decibels) |
| --- | --- | --- |
| From $199 to $1,800 | Small to very large | 86dB to 110dB |
Keep in mind, volume capacity measures the maximum volume a speaker can reach. This is not a volume you should listen to regularly. According to Safe Work Australia, long-term exposure to volumes over 85dB can lead to hearing loss. For reference, a loud conversation is around 70 dB, a typical lawnmower is 90dB and a chainsaw can be as loud as 110dB.
When choosing a multiroom speaker, consider the following additional features:
Summary
With a multiroom speaker system, you can start with just one quality speaker and add more over time as your budget allows. You don't have to fill your house with speakers all at once unless you want to. Keep in mind, you will likely have to stick with the same brand so choose carefully. Make sure that brand offers everything you need from an audio system.
If you're interested in buying multiroom speakers, start browsing today.
Check out the latest audio deals and coupons
Popular Tech & Devices coupon codes
| Last checked | Code description | Code |
| --- | --- | --- |
| 19 Feb 2020 | Up to $200 off Samsung, Apple, R.M. Williams and more | PIC**** |
| 4 Feb 2020 | 15% off tech, gaming, phones and more with eBay Plus | PLU**** |
| 10 Dec 2019 | Up to $50 off your order | VPS**** |
| 21 Feb 2020 | Up to 30% off + Extra 10% off bestselling laptops | XTR**** |
| 18 Feb 2020 | 8% off Xiaomi Mi Note 10 (CC9 Pro) | GBX**** |