Multipurpose cleaner buying guide: How to find the best multipurpose cleaner
How to find the best multipurpose cleaner for your household.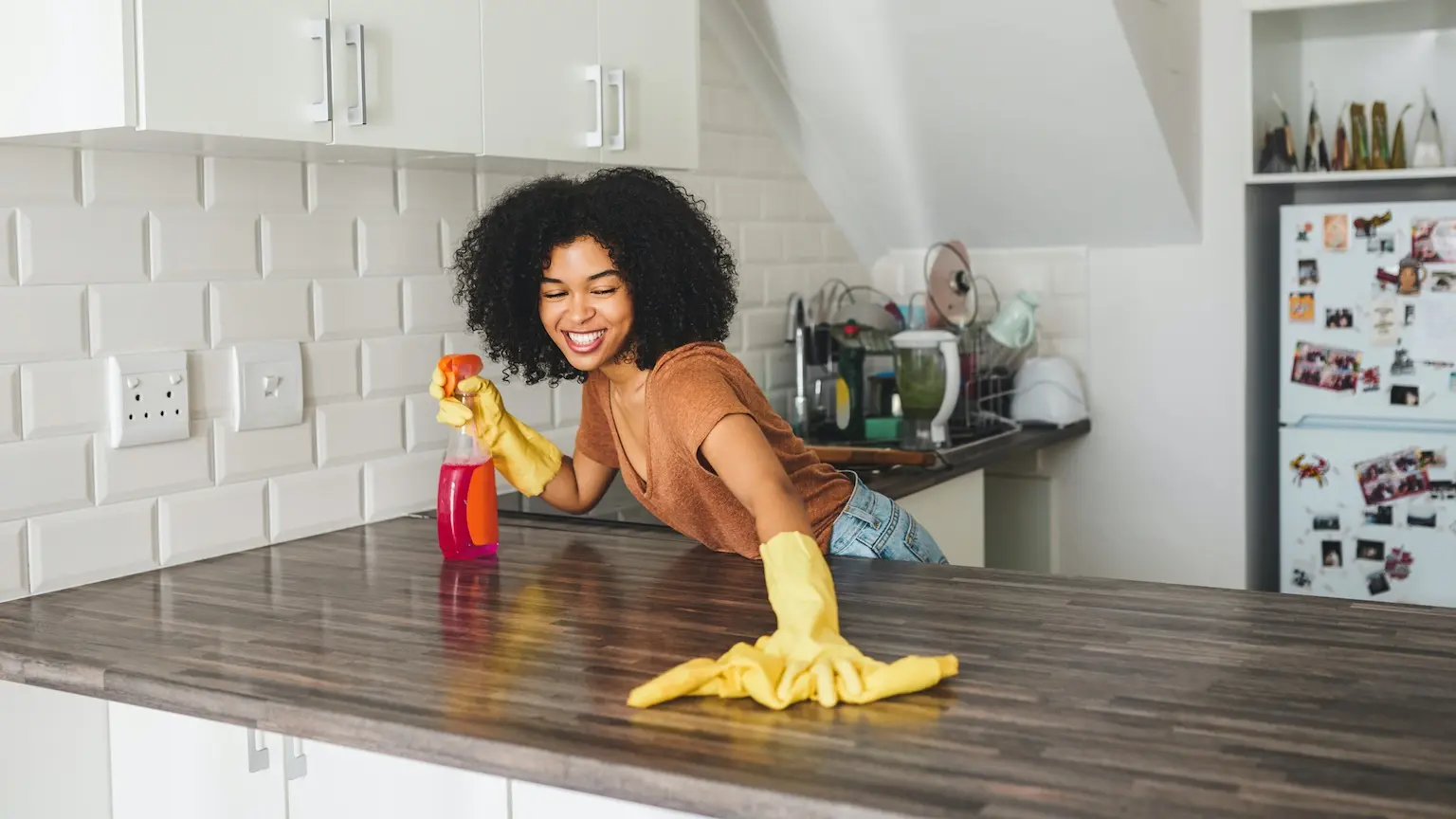 We're reader-supported and may be paid when you visit links to partner sites. We don't compare all products in the market, but we're working on it!
Key facts about multipurpose cleaners:
When choosing a multipurpose cleaner, you want to pick one that can scrub through the thickest grime, grease and dirt and which also doubles as a disinfectant.
The best cleaner for you will depend on your needs and lifestyle, including your environmental concerns.
Multipurpose cleaner types
Most multipurpose cleaners typically come in spray form. Several brands also offer wipes, polish and cleaning block variations.
Type
Pros
Cons
Spray

Many eco-friendly options
Many fragrance options

Eco-friendly options may not disinfect
Could be incompatible with wood and acrylic surfaces

Liquid

Can dilute it to suit your needs
Many fragrance options

Not eco-friendly due to packaging and transport costs
Fewer choices available

Wipes

Convenient for quick messes and on the go
Disinfectant properties

Not eco-friendly
Costs more

Polish

Makes surfaces shine
Eco-friendly options available
Leaves a protective layer

Not all polishes disinfect
Fewer products are available
What surfaces can't I use multipurpose cleaners on?
Multipurpose cleaners are generally not compatible with acrylic, painted, wooden, polished, varnished and lacquered surfaces. Although some products claim that they work with all surfaces, this may not always be the case. When trying a new product, it's best to test spray on a small area first to check if any discolouration or damage occurs.
How to compare multipurpose cleaners
Multipurpose cleaners could cost you from around $1.69 to $12.90 per bottle, depending on brand, model, bottle size and number of sprays per bottle.
Here are other key features you need to consider:
Soil removal power
There is often a compromise between a product that uses harsh chemicals and how well it can remove tough stains. However, are eco-friendly options that claim to offer powerful cleaning.
Disinfectant ability
Check the label carefully to ensure the product is sanitising and actually removing harmful germs while scrubbing, not just covering the problem up with a nice fragrance.
Ammonia free
Ammonia is widely used in household products; however, it is harmful to humans and the environment. For those with environmental concerns, we recommend you opt for an ammonia-free option. Ammonia is corrosive and can cause burns or irritations on contact with skin and even respiratory issues. This is particularly concerning for homes with young children and pets. Ammonia can also lead to algae bloom, harming aquatic life and polluting waters, and contributes to smog.
Phosphate free
There are many phosphate-free options that you can choose from, as consumers are increasingly becoming conscious of its harmful impact on the environment (it also causes algae bloom).
Greywater safe
The harsh chemicals often found in cleaning products can kill plant life, due to high alkaline levels, sodium and phosphorus content. If you recycle the water you use for cleaning your backyard (or don't want to contaminate your community waste waters), look for a greywater safe label when picking a cleaner.
Septic safe
Mild cleaners, which can be used without wearing gloves, are usually safe for septic tanks. However, if used in large quantities, multipurpose cleaners can still disturb the bacteria balance in septic tanks, so if this concerns you, opt for products that are labelled septic safe.
How safe are multipurpose cleaners actually?
You can find more detailed information about any product's safety in its Material Safety Data Sheet (MSDS). All products must have an MSDS which specifies the product's composition, potentially harmful substances it contains and its impact on health and safety. You can also find important instructions on safe handling, storage, disposal and emergency procedures.
Additional factors to think about:
Hypoallergenic
For those with sensitive skin or allergies, opt for fragrance-free products. Avoid those with harsh chemicals, including ammonia and phosphate.
Eco-friendly
For those who are environmentally conscious, you might want to look for products that are not tested on animals, are palm oil free, biodegradable and made from recyclable packaging.
Fragrance
While added scents in products can make your home smell great, it does not make it any cleaner. It's up to your personal preference which fragrance you choose.
Alternatives
Many multipurpose cleaners are unsuitable for wooden, painted and polished surfaces. Other store-bought options you could experiment with include abrasive paste, creams, bleach, microfibre cloths, cleaning blocks and powder detergent.
More guides on Finder