Multiple life insurance policies 
Can you have more than one life insurance policy?
We're reader-supported and may be paid when you visit links to partner sites. We don't compare all products in the market, but we're working on it!
Did you know you can have more than one life insurance policy at a time? You can get life insurance coverage that protects you for a number of life-changing circumstances, from income protection to death cover. If you have more than one valuable asset in your life, it often makes sense to have multiple policies.
Can I have more than one life insurance policy
Yes! Not only can you have more than one policy covering death, you can also take out other types of life insurance and have more than one of those policies as well.
There are four main types of life insurance policies and all help cover different life-changing circumstances. Depending on your needs, you might want cover for all of them.
Compare other life insurance options
An adviser can help you find cover from trusted life insurance brands.
Get competitive quotes from multiple brands

Lower rate of declined claims (according to ASIC)

Save time and effort
---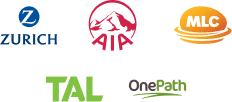 Why you might take out more than one life insurance policy
There are a number of reasons you might have multiple life insurance policies. Some of the main reasons are listed below.
Personal cover. Insurance can protect you and your family from financial hardship in the event of your death or injury.
Life insurance through superannuation. Most Australian superannuation funds will provide policyholders with some level of default life cover. However, these policies generally only provide a limited level of cover. For more comprehensive coverage, many people take out an additional standalone policy.
Business cover. If you operate your own business, you might need a policy to protect the key workers in your business or to ensure business expenses are covered if you're unable to work due to illness or injury.
Lifestyle changes. Whether it's the birth of a new baby or upgrading your house, it can sometimes be more beneficial to take out an additional policy with benefits tailored to your new needs, rather than increase your sum insured.
How many insurance policies can I have?
There's no limit, but you don't want to be over-insured, so it's important you know exactly what each policy does. For example, if you have a group policy in your super fund and another policy with additional types of cover, like trauma cover, that is acceptable. Both should pay out.
Some policies have built-in offset clauses though. For instance, with income protection policies, you can generally only insure up to 75% of your salary to prevent you from taking out two policies and trying to claim on more than 100% of your policy.
However, you can have two income protection policies that have different waiting and benefit periods. For example, you might have an income protection policy in your super fund that has a 30-day waiting period and another with a 2-year waiting period that pays out until you reach the age of 65.
Can you claim multiple life insurance policies in Australia?
Yes, as long as you meet the terms and conditions of each policy, you should be able to claim on multiple policies at a time. To ensure they all pay out, always read the product disclosure statement (PDS) before you purchase a policy. Check the general exclusions section to make sure there are no offset clauses that cap the amount you can claim on multiple policies. Generally, you will only find this is the case with income protection policies. If you're not sure, talk to your insurer when purchasing additional policies to find out exactly how they may affect your existing cover.
Can you have different beneficiaries on multiple insurance policies?
Yes. With multiple life insurance policies, you can nominate different beneficiaries for each policy. Ordinarily, you can nominate up to five beneficiaries per policy, and it can be distributed as you wish.
The only time this isn't possible is if you have life insurance through superannuation. Unless you make a binding death nomination, the fund will decide on the beneficiary. A binding nomination on your superannuation life insurance policy would ensure that the benefits go to your intended recipients. This usually incurs a small annual fee to your super.
How do you get multiple insurance policies?
There are lots of ways you can get multiple insurance policies.
Direct. Direct life insurance is when you receive financial advice from a financial adviser to obtain a policy. This type of cover is usually the most comprehensive.
Retail. This is essentially insurance without the middleman. It's usually sold to you online and you'll pay with your credit card or with a personal loan.
Superannuation. Most super funds offer life insurance to their members, so if you have a super account, you probably have life insurance.
Starting a new job. If you start a new job, your employer might provide you with some kind of life insurance. This is often included in your super.
Things to be aware of when you have more than one life insurance policy
While having additional coverage and security is certainly not a bad thing, there are a few considerations that you should think about when it comes to taking out multiple life insurance plans. Some of the things to consider include the following:
Managing multiple plans could be more difficult. Although having multiple life insurance plans in place does offer greater security and peace of mind, it can also cause more confusion and become more difficult to manage. The more life insurance plans you have, the more time you will have to put into managing and reviewing them, so you should bear this in mind when considering multiple plans.
The cost implications of multiple plans. If you take out multiple life insurance plans, you will have to meet premium payments for each plan that you have in place, which means that having multiple plans could prove costly.
Time implications. When you take out multiple life insurance plans, you will have to dedicate more time not only to finding suitable plans and providers but also to reviewing and checking your life insurance plans and coverage.
Should you consolidate multiple insurances into one?
In some cases, it might make sense. For example, it's completely normal for people to accumulate a number of superannuation funds as they move between jobs. Within these different superannuation funds, there may be a default level of life cover that has accumulated over time. Consolidating these multiple super life cover policies can bring the following benefits:
Less paperwork to manage.
Fewer fees.
More efficient investment strategy.
More guides on Finder