Motorola Gamepad Moto Mod Review: Game on
Motorola's Gamepad Moto Mod will change the way you play Android games, but at a pretty stiff asking price.
Quick Verdict
If you're already invested in the Moto Mod concept and play a lot of Android games, especially action titles, then the Gamepad Moto Mod is a great option.
The Good
Good controller sticks
Also doubles as a battery pack
Plenty of buttons for more complex games
The Bad
High cost compared to a Bluetooth controller
Not supported by every game app
Makes a large phone even larger
While others such as LG and, at least in a conceptual mock-up sense, Google have toyed with modular phones, Motorola stands alone as the only phone company to embrace the idea of add-on modules for its smartphones.
While it's only its premium phone lines that qualify for Moto Mod support, if you're already an owner of a Motorola Moto Z Play, Moto Z or Moto Z2 Play, you can add to their base functionality with everything from car mounts to speakers to projectors.
Motorola's latest Moto Mod has a specific appeal to gamers in the form of a clip-on twin stick gamepad.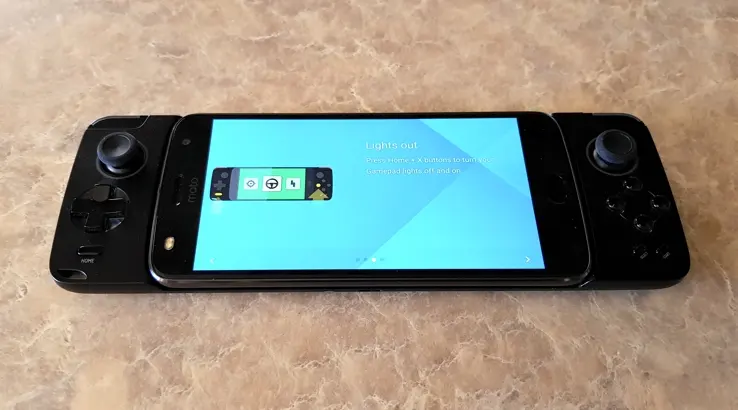 Design
The Motorola Gamepad has a distinct look to it, and that look is undeniably "Nintendo Switch with your phone". I'm not by any means accusing Motorola of deception, but it's the inevitable consequence of any gamepad mount that throws twin sticks and buttons to the side of a widescreen display in 2017.
Like all the other Moto Mods, installation is as simple as dropping a Moto Mod compatible phone onto the magnetic connection points.
You may need to update your Moto Mod software if you haven't used it for a while, and you'll be greeted with a quick introductory explanation of the controls, but as gamepad installation goes, this is the simplest I've ever used on Android. No mucking around with additional apps or Bluetooth permissions. It really is just plug and play.
In physical terms, the Motorola Gamepad measures in at 226x75.9x24.4 mm, and that's very much a fixed width. I can't see too many gamers leaving the gamepad on all the time, simply because it does make the phone placed within it substantially larger and harder to carry around.
It also adds 140g of weight to your handset, although you're not likely to really notice that while you're engrossed in a game.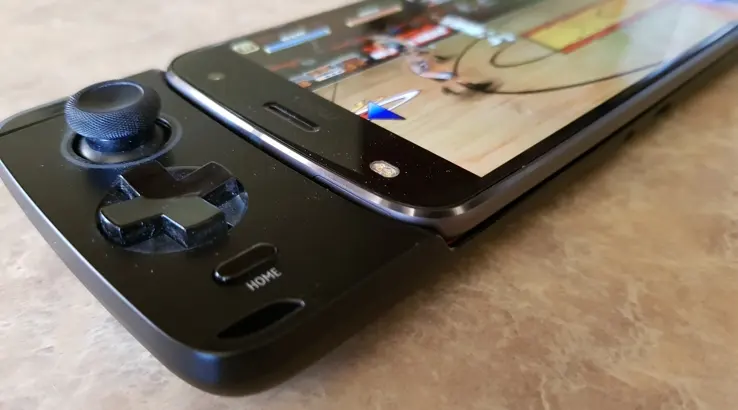 Performance
There are numerous Bluetooth controllers that you can buy for Android platforms, and the Motorola Gamepad does outshine them on a simple hardware-quality front. The stick response is excellent, and there's a wide variety of buttons and bumpers for just about every type of game control.
The front bumpers light up by default if either they or the rear bumpers are tapped, although you can disable that quite easily if it's annoying.
Gameplay can be a real battery killer on mobile phones, and with that in mind, the Motorola Gamepad also does double duty as an ad-hoc battery pack with a 1035mAh battery pack onboard. That's not immense, but it's a nice little additional charge to keep you gaming or to simply top up your Motorola handset's charge if it's getting low.
The hardware on the Motorola Gamepad is top-notch, but there's a wider issue that's somewhat beyond Motorola's control, and that's actual game compatibility.
While gamepads have been produced for Android for some time, they're far from widespread, which means that most games presume that gamers don't have one, and many simply eschew gamepad compatibility altogether.
It's also problematic for any game that uses vertical orientation because all too often, controls will be mapped for horizontal play, which rather defeats the purpose of an easier-to-use gamepad controller in the first place.
There are some great titles that play substantially better on a gamepad than with touchscreen controls, such as most racing titles, EA's classic NBA Jam or any of Rockstar's Grand Theft Auto games for Android. You may have to muddle around working out which button covers which control, and ideally your game may allow button remapping, but for select games it works very well.
The issue is that plenty of games simply don't think in terms of gamepad support, and short of hassling the developers for updates, there's not much you can do to enable it.
The Moto Gamepad will work within regular Android as well, which does give it some limited scope for anyone who struggles with a touchscreen for whatever reason, but again you'd have to pair it with a compatible Motorola phone in the first case for that scenario to happen.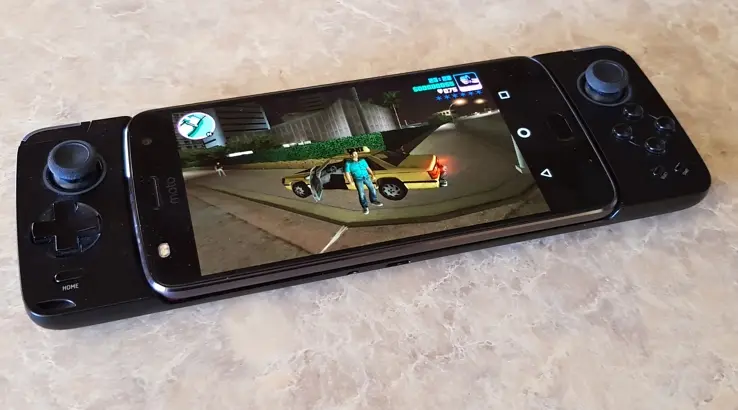 Verdict
The Motorola Gamepad is undeniably a specialist purchase any way you look at it. You've got to start from the position of having a compatible Motorola handset because the Gamepad simply won't talk to any other Android phones since every Moto Mod uses a direct magnetic attachment.
Then you've got to be a mobile gamer, not that there is a shortage of those. Then you've got to have a decent library of available gamepad-compatible titles on your phone that you play regularly enough to make the Motorola Gamepad a worthwhile purchase.
Even then, you've got to get past the purchase price, which isn't insubstantial compared to other Android gamepads.
However, if you can leap past all those hurdles, the Motorola Gamepad is a well-built accessory in the same class as the existing Hasselblad camera mods or the Insta-Share Projector mods. They're not inexpensive, but they do lead their classes in how they deliver their particular mod benefits.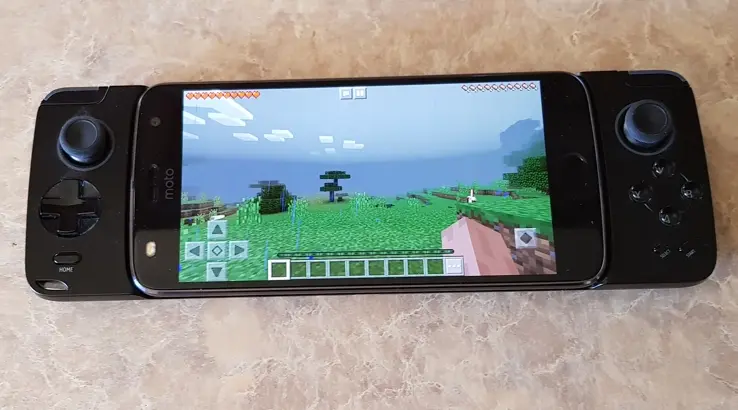 Alternatives
If all you want is an Android gamepad, there are countless gamepad alternatives, most from companies you've probably never heard of. Few are quite as nicely built as the Motorola Gamepad, but if you're only casually gaming, they could be worth chasing down.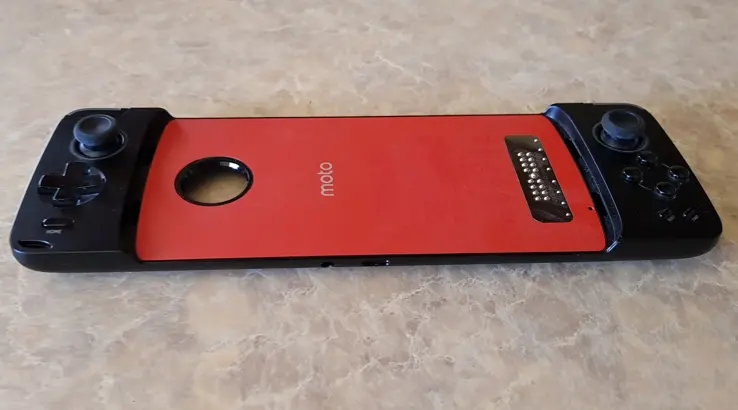 Pricing and availability
Motorola sells the Motorola Gamepad in Australia for $139 outright.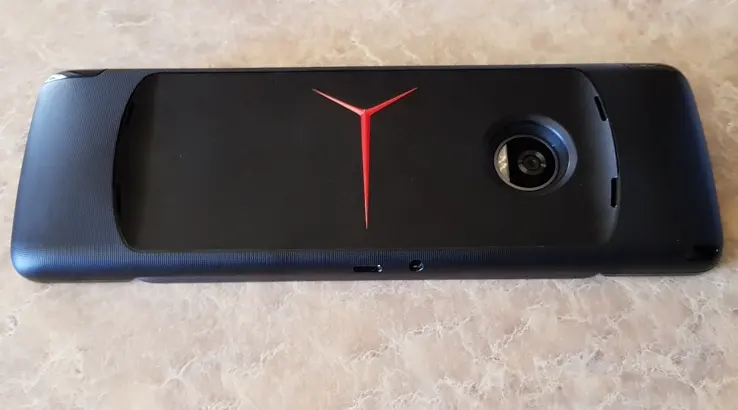 Specifications
Product Name

Motorola Gamepad
Controls

A/B/X/Y/L1/R1/L2/R2/L3D/R3D/D-PAD/HOME/SELECT/START
Battery
1035 mAh
Dimensions

226 x 75.9 x 24.4 mm
Weight

140g
Price

$139
Latest mobile phone reviews
---
Follow us for all the latest mobile phone news and deals
---