Mortgage Stress
If you're struggling to afford your home loan repayments, then you're in mortgage stress. Here's what you need to do.
We're committed to our readers and editorial independence. We don't compare all products in the market and may receive compensation when we refer you to our partners, but this does not influence our opinions or reviews. Learn more about Finder.
Mortgage stress is when an average home buyer is using more than 30% of their income to cover mortgage repayments. In other words, they're struggling to repay their home loan. It's also a growing problem in Australia.
Here's how to assess your mortgage situation and take steps to prevent or manage mortgage stress.
How can I deal with mortgage stress?
Remember that there are steps you can take to make your mortgage more manageable. Sit down with your financial records and get organised.
Take a thorough look at your monthly spending over time. Are there any obvious expenses you can cut out, like Uber Eats, dinner out, Netflix subscriptions or a gym membership you hardly use?
Once you've analysed your spending, make a budget and stick to it.
Can you find other sources of income? It might sound obvious but increasing your income will reduce mortgage stress. Could you get weekend work through Airtasker or Uber? Perhaps you could rent or use some of the space in your property in a variety of ways. Have you asked your boss for a raise? Seriously, it might be worth a try.
Can you sell anything? Consider downgrading your car or selling valuable items that you might not need.
Move your mortgage to interest-only repayments. This will lower your repayments significantly in the short term (see more on this topic below).
Refinance your mortgage. If you've just been managing to make repayments (and those repayments are principal and interest repayments), then you should be able to refinance your mortgage to one with a lower interest rate. This can actually save you a couple of hundred dollars a month or more in some cases.
Downsize by selling and buying a cheaper home. This does take time and money itself, though, and you should factor in those costs and weigh up if it's worth it or not.
As hard as it might be, it's important to keep making repayments on your mortgage. Future lenders will be reluctant to extend credit to you if you're not able to maintain payments on your first loan.
Should I switch to interest-only repayments until I'm in a better position?
If you're repaying your home loan with principal and interest repayments, then switching to interest-only payments can be tempting. Your repayments will suddenly get much smaller – for a while.
But ultimately, interest-only loans cost you more because you end up paying more interest. If your financial worries are short-term and you have a plan in place, then switching to interest only will give you some breathing space. Just be aware that this is only a temporary solution.
Hardship assistance and repayment holidays
Your lender might be able to help you if you're struggling to make repayments. Just keep in mind that sometimes it's better to tell your lender as little as possible until you absolutely need help. But it's in your lender's best interest to help you.
Here are two ways your lender might be able to help:
Hardship assistance schemes. Most lenders have hardship assistance schemes and can offer advice to help you get your finances under control.
Repayment holidays. Some lenders will let you pause your repayments for a short "holiday" to help you get back on your feet financially.
Am I in mortgage stress?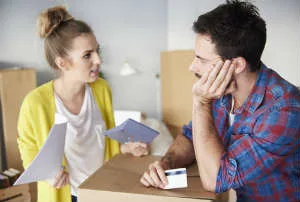 You could be approaching mortgage stress without fully realising it.
Do any of the following statements apply to you?
I live pay cheque to pay cheque and struggle to pay my bills and mortgage on time.
I've recently lost my job.
I've had to borrow money from parents and friends or had to take out a personal loan to cover ordinary expenses.
My mortgage has interest-only repayments and I don't have much equity in the property.
Financial stress is affecting my health and personal relationships.
If this sounds like you, you're likely facing mortgage stress.
How can I avoid mortgage stress before it happens?
If you're starting to feel the weight of your mortgage repayments or are looking to buy a home and are worried about mortgage stress, then there are steps you can take ahead of time.
For current homeowners, follow the steps mentioned above: look at your spending, cut costs, set a budget and consider refinancing if you can get a lower rate. Try to make extra repayments now (if you are able to) to build up a savings buffer.
For hopeful home buyers, the following are some of the most important steps you can take in advance to avoid mortgage stress:
Work out how much you can realistically afford to make in mortgage repayments. Look at your current expenses and then add mortgage repayments on top. If you're currently paying rent, be sure to work out how much more expensive a mortgage would be. Use our borrowing power calculator to help you plan carefully.
Buy a property you can afford. Once you know what you can afford, then stick to it. Don't go over that budget. If you can't get what you want then consider a cheaper suburb, a humbler property type or even consider buying in a cheaper city.
Start an emergency fund that can cover a few months of expenses while you are unemployed.
Consider income protection insurance. This form of insurance provides a temporary income when you're unable to work due to illness or injury.
Don't despair
Mortgage stress is more than financial. It can take its toll on your relationships and your mental and physical health.
Remember that there is always help available, for financial and emotional distress.
More helpful guides on Finder
More guides on Finder