15 money-saving ideas for your wedding that still look expensive
Note down your priorities and use your money wisely to save on your special day.
We're reader-supported and may be paid when you visit links to partner sites. We don't compare all products in the market, but we're working on it!
Cutting down your wedding budget doesn't mean you have to sacrifice on style. You might think you absolutely need a flower wall, similar to Kim and Kanye's. Or an extravagant wedding dress like Grace Kelly. But in reality, the memories from your wedding will be filled with the faces of your spouse, family and friends.
There are so many benefits to spending less on your special day. You can either spend more cash on a fabulous honeymoon getaway or invest the funds and put them towards your future home with your spouse.
You can cut costs by choosing fake flowers over real, or by sticking to digital wedding invites rather than paper ones. Want to find out more? Keep reading to see a list of affordable options that look premium and fabulous.
---
1. Go paperless on wedding invites – or design your own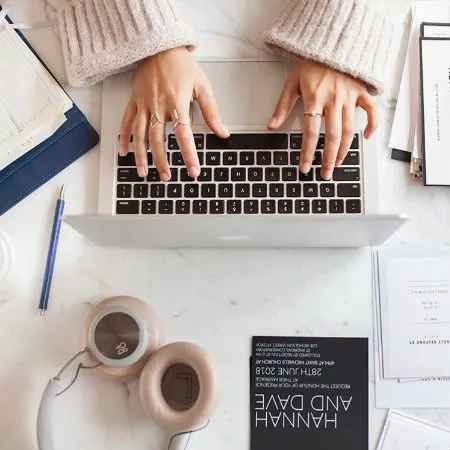 Seeing as we're in the middle of a digital age, there is no better time to opt for a paperless wedding invitation. You may not have thought so, but invites are expensive. Using a company like Paperlust means you can choose a wedding invite and send out digital copies to your loved ones. This can save you thousands on printing! Or if you are keen for a paper invite, you can design your own using a site like Canvaand then print them using Vistaprint. When you use the service for bulk items, you can seriously save some cash.
---
2. Go cheap when choosing bridal accessories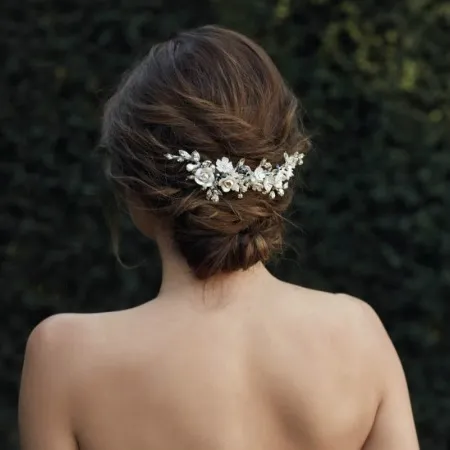 Dream dress? Check. It's sure to make a statement, so no one will notice if you spend less on your shoes and jewellery. You can do so for yourself and for your bridesmaids. Check out stores like ASOS, boohoo and Missguided for inexpensive accessories (and even dresses) that can save you hundreds. It's pretty hard to tell the difference between $20 earrings and $200 earrings anyway.
---
3. Hunt for unique decorations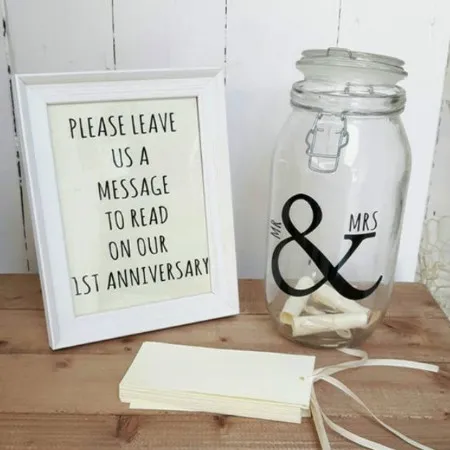 Get creative and search for unique decor that will add a special touch to your wedding. Stores like Etsy are basically online marketplaces where you can shop a range of unique and handmade items. Why not do a shopping spree before the big day? You can get something customised or create a fun element for your wedding that will attract your guests – and potentially save money.
---
4. Lower your wedding dress budget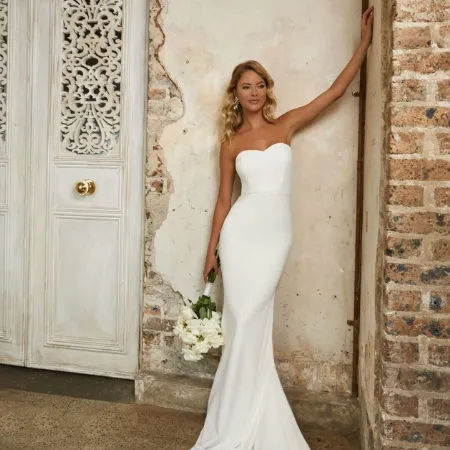 If you dream of a wedding dress with gorgeous and unique embellishments, you are going to have to raise your budget. But if you are more than happy to shop for less, there are plenty of retailers that sell affordable wedding dresses – and they look beautiful. We recommend checking out places like ASOS and Fame & Partners for a beautiful dress that's under $500. Or, you can head on over and check out our guide on where to shop affordable wedding dresses.
---
5. Order your wedding dress early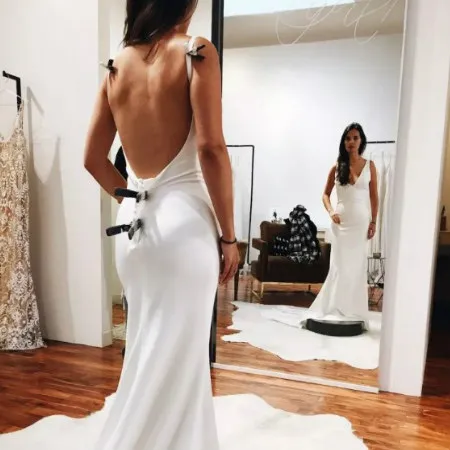 In this case, the early bird gets the worm when it comes to wedding dress planning. Ordering your dream dress about 10 to 12 months before the wedding will help you avoid any rush fees put in place by the boutique, and it will save on any last-minute alterations. This is especially important if you are ordering a custom-made dress from a store like Fame & Partners.
---
6. Choose a canape package rather than sit-down meal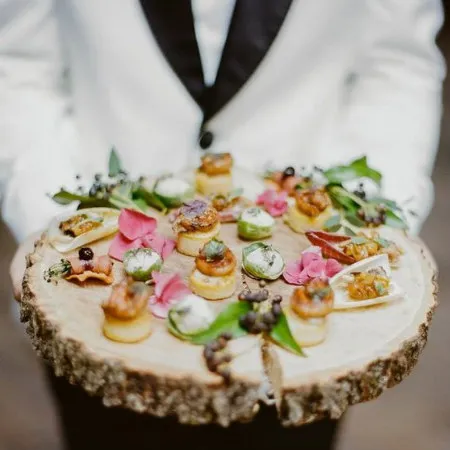 Not many people actually enjoy set seating for a few courses. If you are looking to make your wedding more fun and social, opting for a canape package is a great idea. Most venues offer both so it's just a case of asking about the options on offer. It's cheaper and allows you to experiment with trendy finger foods like sushi or sliders. Just make sure there are enough seats for people to perch on if they do want to sit down.
---
7. Have the ceremony outdoors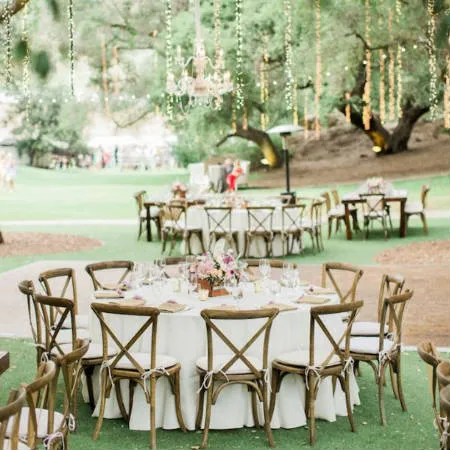 Celebrating your nuptials among nature can be a beautiful and magical experience. Having a garden wedding means you save on reception costs. Whether you decide to hang fairy lights from the treetops or replace chairs with haystacks, an outdoor ceremony can look fairytale-like and it can save you hundreds, if not thousands.
---
8. Decorate with fake flowers instead of real flowers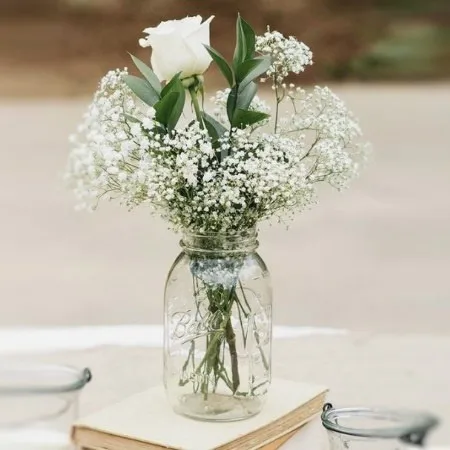 Real flowers may smell beautiful, but choosing fake flowers can save you hundreds. They give the same effect, just without the fresh floral scent. We recommend buying fake flowers in bulk from retailers like eBay and Amazon.The best part? You get to decorate with flowers that may be out-of-season.
---
9. Or pick candles over flowers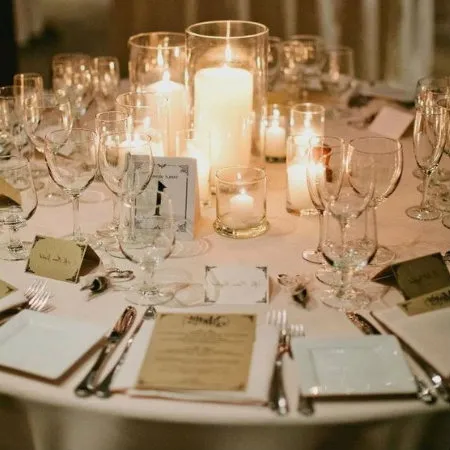 Nothing screams romance more than a room full of candles. Instead of using flowers, candles bring a beautiful glow to the space. And if you shop for plain candles, you can definitely save cash. Get creative with tall tabletop candles, short ones or tealights from stores like Spotlight and Target.
---
10. Ditch the photographer for a disposable camera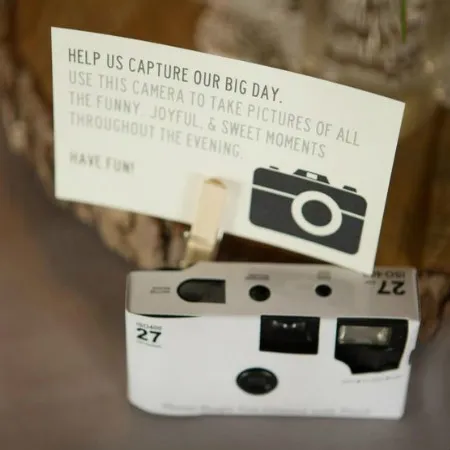 Hiring a photographer for your wedding day is a pricey procedure. You may want to cut costs by not having one at all, or just hiring one for the ceremony. Once it's time to celebrate, encourage guests to take their own photos by leaving disposable cameras around the space. You can pick these up from stores like Etsy and Amazon. Not only will you get memorable shots but everyone will be included in your wedding photos.
Or, you can get the photos printed with a service like Vistaprint. That way, you can spend your money wisely on something else fabulous.
---
11. Choose a naked cake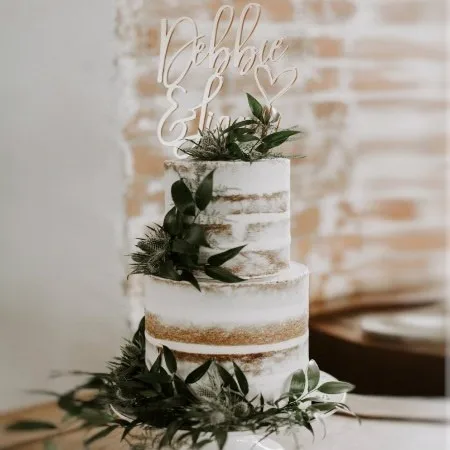 A naked cake is right on trend at the moment. Not only do they look rustic but they can be decorated to look insanely beautiful. It just so happens that choosing a naked cake is a cheaper alternative to a traditional tiered cake. You save costs on the fondant and buttercream, meaning you can spend your cash on other things.
---
12. Make your own playlist rather than hiring a DJ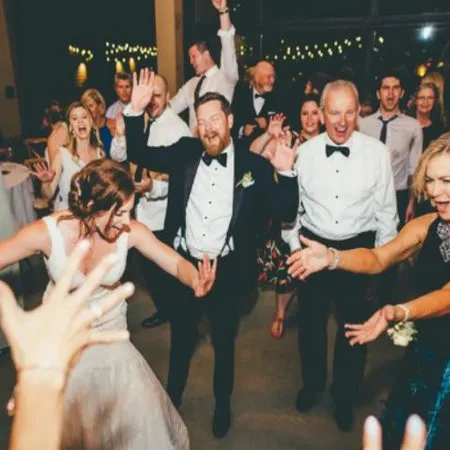 Hiring a DJ to play the best tunes throughout the night adds up to a couple hundred dollars (at least). Why not save that money and create your own playlist? As long as you choose appropriate music that makes people want to dance, nobody will notice that something is missing from the party. You get to choose your own music and have fun with designing your very own wedding playlist.
---
13. Keep your decoration aesthetic clean and minimal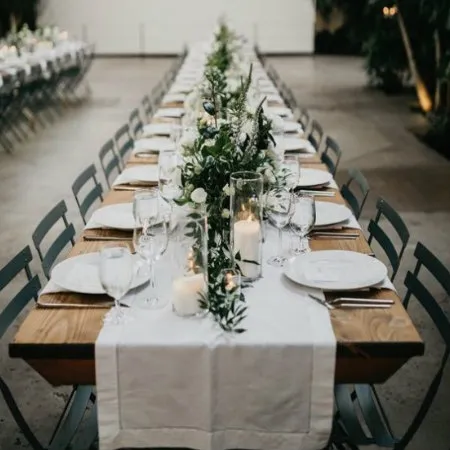 ---
14. If you're not a car person, don't splurge on wedding cars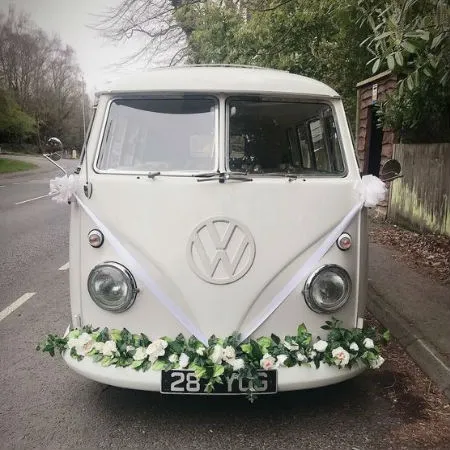 Wedding cars scream royalty and elegance. Back in the day, your only choices were a black or white limousine. Now, you can arrive to the ceremony in an expensive Rolls Royce or a beachy Kombi van. Either way, it definitely makes a statement but those hefty hiring costs could easily be eliminated. Especially if you don't care about cars, you can better spend the money elsewhere. Most of the time, people don't pay attention to the arrival car unless you make a big deal out of it. So, you can get away with coming in your ordinary car.
---
15. Sign up for deals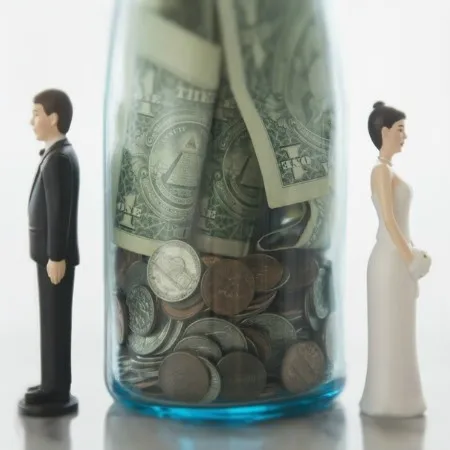 The easiest way to save while shopping? Look for online deals and coupons of course! You're in luck because here at Finder, we specialise in rounding up the best deals across a range of categories. Check out our deals feed and sign up to our newsletter to receive weekly deals straight to your inbox.
---
Image Source: Getty
---
Deals and discounts to check out:
Popular eBay Australia coupon codes
| Last checked | Code description | Code |
| --- | --- | --- |
| 12 Apr 2021 | 10% off selected top picks with eBay Plus | PLU**** |
| 26 Oct 2020 | 10% off when you spend over $200 | FIN**** |
| 6 Apr 2021 | Up to $100 off wide range of sellers | PSS**** |
| 11 Mar 2021 | 20% off everything | ASO**** |
| 12 Apr 2021 | Extra 20% off sale dresses | DRE**** |
More guides on Finder