monday.com workflow automation software review
Automate your workflow and collaborate remotely with monday.com's project boards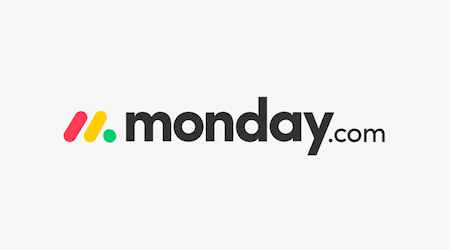 We're committed to our readers and editorial independence. We don't compare all products in the market and may receive compensation when we refer you to our partners, but this does not influence our opinions or reviews. Learn more about Finder .
How does monday.com work?
Essentially, monday.com is software designed to improve workflow and allow collaboration between groups of people working remotely. When using monday.com, you'll start with a dashboard.
On a dashboard, you can create separate boards that involve everyone linked to specific projects you're working on. From there, you can:
Automate workflow. You can set up your board so that certain actions cause other things to happen automatically. For example, if somebody changes the status on a particular task, it might send a notification to a manager or co-worker. Automations can cut out a lot of unnecessary manual labour.
Visualise data. monday.com presents project information in a way that's easy to digest visually. This includes employee workload, individual timelines on tasks, progress charts and stats on different parts of the project.
Integrate tools. If there are other tools you want to bring on board, you can integrate them into your monday.com workspace. There are currently over 50 tools supported, including Gmail, Slack, Zendesk and more.
Develop custom apps. You can design and create your own custom monday.com apps to suit your own purposes and needs. This function is currently in beta.
Access it on the go. monday.com actively supports mobile platforms, allowing you to do everything from your phone.
Sign up for monday.com securely online
What are the uses of monday.com?
monday.com has a long list of project types that it claims it can help with, including:
Remote work. Collaborate anywhere, track work progress, align teams quickly and turn video chats into action.
Project management. Create detailed plans, collaborate on deliverables, track and monitor progress and report on results.
Marketing. Campaign management, client project management, event management and an editorial calendar.
Software development. Iteration planning, bug tracking, backlogs and product roadmaps.
IT. Onboarding and requests, orders and inventory, supply management and project management.
HR. Recruitment pipelines, onboarding processes, managing employee wellbeing and development and learning.
Sales. Lead management, pipeline management, sales order tracking and lead handover.
Media and production. Video production, client feedback, event management and PR management.
In addition to these, monday.com claims it's easy to create your own using the different management features it offers.
How much does monday.com cost?
The pricing for monday.com depends upon two main factors: how many people you're going to add to your enterprise and which product tier you choose (explained below). For example, the Standard product tier costs $81 a month for 5 users, but $644 a month for 40.
You can get monday.com for free using the free product tier, but this is severely limited both in terms of items you can create, file storage and more. monday.com offers a discount if you sign up to an annual plan rather than simply paying monthly.
Which product tiers are available?
There are four different product tiers available for companies or enterprises involving fewer than 200 people. If you're bringing in more than 200 people, you'll have to purchase the Enterprise tier. We've outlined some of the main features of each tier and how they compare in the table below.
| Feature | Free | Standard | Pro | Enterprise |
| --- | --- | --- | --- | --- |
| Number of items | 1,000 | Unlimited | Unlimited | Unlimited |
| File storage | 500MB | 50GB | Unlimited | Unlimited |
| Activity log | 1 week | Unlimited | Unlimited | Unlimited |
| Share boards with guests | | 4 guests are equivalent to 1 user | Unlimited | Unlimited |
| Timeline, calendar, map view and advanced search | | | | |
| Time tracking, chart view, formula column and private boards | | | | |
| Integrations and automations | None | 250 per month | 25,000 per month | 250,000 per month |
| Dashboards | 1 board per dashboard | 3 boards per dashboard | 10 boards per dashboard | 25 boards per dashboard |
| Security options | Two-factor only | Two-factor only | Two-factor and Google | Wide range of options |
Why choose monday.com?
Pros
14-day free trial. You can try out monday.com for free for 14 days and refund it if not happy.
Free for small projects. The free version of monday.com works well for small projects that don't involve too many people.
Wide range of applications. The different tiers of monday.com and its various functions can suit almost any kind of project your company is working on.
Highly customisable. Individual users have a great deal of control over what their own workspace looks like, including things like kanban view.
Cons
Price. The free version is very limited and higher tiers can get fairly pricey. If your company won't really benefit from the automation, stick to free tools like Slack or Jira.
Learning curve. Using monday.com is unlikely to be an intuitive leap. It could require a good bit of work to get comfortable with using it.
User size increase. You can't add just one user to your account. If you have 5 users, you can't add another without upgrading to the significantly more expensive 10-user version.
More guides on Finder