Mobvoi's new Ticwatch Pro can manage up to 30 days of battery life
Switching between an OLED and FTSN display gives Ticwatch's new Wear OS watch unprecedented smartwatch battery endurance.
Mobvoi, makers of the Ticwatch line of Wear OS smart watches has announced its most ambitious watch to date, the Ticwatch Pro.
Battery life of smartwatches is a contentious issue, because the inclusion of smartphone style "app" features within a watch body doesn't leave that much space for battery capacity. Indeed, we recently reviewed Mobvoi's sporty Ticwatch S and criticised it for its single-day battery life because of this very issue.
The Ticwatch Pro will get around these issues with the use of a dual layered display screen. The primary display is a 1.39 inch 400 x 400 pixel OLED display, but it has a secondary FSTN (Film compensated Super Twisted Nematic) LCD sitting on top of it. In regular usage, which Mobvoi refers to as "smart mode", the OLED works in much the same way as any other Wear OS device, with a claimed battery life of up to 2 days.
Switch over to "Essential" mode, and the transparent FSTN LCD takes over. This does switch the Ticwatch Pro into effectively becoming a fitness tracking watch, with the only functions available being time, date, step counting and heart rate monitoring. That fitness data will only synchronise back to your smartphone when you put it back into "Smart" mode.
While the Ticwatch S and Ticwatch E run on a lower power Mediatek processor, the Ticwatch Pro features Qualcomm's Snapdragon Wear 2100 processor. That's still the current "state of the art" mobile watch processor for Wear OS devices, even though it's quite old now. Google lays down serious rules around Wear OS configuration, which doesn't give hardware manufacturers all that much room to innovate on internal components.
Unlike the Ticwatch S, the Ticwatch Pro does feature NFC, so it should be capable of handling payment systems such as Google Pay.
The Ticwatch Pro will be available from Mobvoi's local web site for an outright price of $369.99. Stay tuned for our full review of the Ticwatch Pro.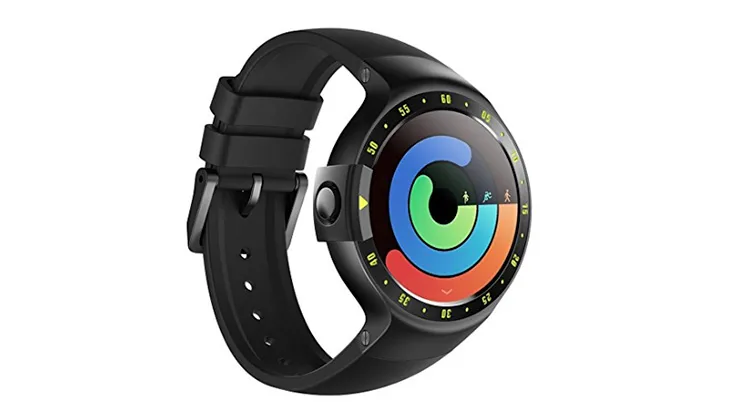 Buy the Ticwatch S
from Amazon
The TicWatch S brings you Google's Wear OS with compatibility for both Android and iOS devices, along with sporty features such as embedded GPS and heart rate tracking.
View details
Ticwatch Pro Specifications
Product Name

Ticwatch Pro
Display Size

1.39 inch OLED/FSTN
Resolution

400 x 400
Processor

Qualcomm Snapdragon Wear 2100
RAM

512MB
Storage

4GB
Operating System

Wear OS by Google
NFC

Yes
Water resistance

IP68
Battery

415mAh
Dimensions

45mm x 12.6mm
Price

$369.99
Latest technology headlines
---
Follow us for all the latest mobile phone news and deals
---