Middle-earth Shadow of War review: A precious to love-hate
Everything is orcsome.
We're reader-supported and may be paid when you visit links to partner sites. We don't compare all products in the market, but we're working on it!
Once upon a time I was stalked by some douche (technically his name was spelt Dŭsh, though the pronunciation is the same). He started life as a lowly captain in the employ of Sauron but is now a war-chief who's plagued me across three years and two games, thanks to Shadow of War's ability to read a save file from its predecessor, Shadow of Mordor.
For 20 hours in 2014, Dŭsh the Defender repeatedly killed my under-levelled self and grew more famous in orc society every single time he did it. Cheeky bugger even talked trash every time I resurrected and returned to take another stab at him, too. Yep. It's fair to say that Dŭsh was a massive pain in my butt. I've loved and hated him like no other AI character before or since. God, it's good to have my precious back.
Because that's the main gimmick of Shadow of War – a Nemesis System that allows a procedurally-generated baddie to thrive off your failures and become the bane of your existence. Obviously, if you slaughter said Uruk captain, then the story ends right then and there. However, you can cultivate a toxic relationship by fighting poorly against them (i.e. make them retreat, die to them, etc) or you can strengthen the hate between you by hassling them from afar with good old-fashioned death threats.
This time around your arch-villain might also be an Olog-hai, a new race whose Black Speech translation could well be "Uruk on horse steroids". They're tough bastards to kill, especially if they're aligned to one of the seven Mordor tribes. Tribal members of Dark specialise in stealth and assassination; Terror are great at mind-games; Warmongers have exceptional melee skills; Mystics bring the dark magics of Sauron to bear; Ferals are mount-riding beastmasters; Machine types are into high explosives and creative weapons; and then there are Marauders, who steal your stuff. There's honestly no telling what you'll come up against in the randomising beast that is Shadow of War. No two players will experience the same thing.
You can also import your Follower as well. Even though our hero character is technically two heroes – Talion, a murdered Gondorian ranger fused with the ancient spirit of an Elven lord named Celebrimbor – one could always do with more back up, even when it comes from within the enemy camp. In both games, you're encouraged to employ a little bit of stealth in order to single out and (literally) squeeze enemies for tactical information on the captains you need to hunt. Once you've uncovered the strengths and weaknesses of said mid-boss you can head-pop the talkative snitch – or – you can mark them with Elvish magic. From then on they're your personal sleeper agent who can be activated from afar to do your bidding.
Interestingly, Followers have become dynamic (read: more tricksier and false than a hobbit). Their undying loyalty isn't guaranteed this time around. Treating your slave well, by protecting them in battle and not sending them to die on some godforsaken rock, will foster a sense of loyalty to Talion. Fail to put any effort into your Stockholm syndrome game and you'll notice aggressive traits in your Follower. Keep being a jerk and who knows? Your snivelling minion could start leaking intel about you back to the enemy, or they might rejoin Sauron's forces to become your next Nemesis.
While mentally torturing orcs is always amusing, I'd recommend you keep your lickspittle happy. You'll need their help as Middle-earth is still in a shambles from the last game, and the dual-hero, Brangelina partnership of "Talimbor" has seen better days as well. Essentially, your time is spent in the Fortress Assault system that injects some welcome tactics into what could have been some mindless hack 'n' slash gameplay. Like the orc hierarchy you murderously dismantled in the last game, here you're destroying the garrison command chain of fortresses built in the five huge zones of this overworld. You can mount sieges by sending in allies whose strengths and weaknesses gel well with the stats of the tower defenders, or you can chop your way in as Talion. Warning: on-screen enemy count has increased a helluva lot, and if you die in that fortress it will just get more powerful.
Interestingly, in the third act, Fortress Assault becomes an inverse of itself: you'll desperately need to protect the territory you've worked so hard to gain (often from other players who are trying to raid you in the asynchronous multiplayer). That may sound like a fun table-turn, but some of you might view it as a chore. A grind develops which – oh lookey here – can be made easier if you pay real money to get resources and XP faster via micro-transaction chests.
If you're only in it for the short haul, that's Sauron levels of malice right there, folks – a slog that makes a trip through the Dead Marshes seem like a stroll. Personally, I was quite happy for the extra content (especially when an easy money exploit allowed me to circumvent the exorbitant prices of loot boxes). Sorry not sorry about that, Warner Bros.. All's fair in love and Shadow of War.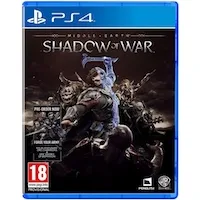 Buy Middle Earth: Shadow of War
from ozgameshop.com
Purchase Middle Earth: Shadow of War on PS4, Xbox One and PC.
View details
We reviewed Middle-earth Shadow of War on PlayStation 4 with a copy provided by the publisher.
Middle-Earth: Shadow of War
8.5 EXCEPTIONAL
What we liked...
Fortress system is a deep rabbit hole
Character progression is much more RPG-heavy
Nemesis system continues to astound
What we didn't like...
Animation system can be janky
Microtransactions, publisher tightfistedness
Menu Explosions and systems will intimidate newcomers
VERDICT
Though the Monolith Engine has tiny spots of rust here and there, Shadow of War is what Assassin's Creed II was to the original – what Arkham City was to Asylum. This is vastly bigger and bloated with great new ideas and content. War will draw you in and seize your mind quicker than a Sauron-corrupted palantír.
For more information on how finder scores games, check our review guidelines.
---