Microsoft Surface Laptop Review
Microsoft's Surface Laptop brings premium design and decent performance to the company's first proper laptop, but Windows 10 S is a challenge.
We're reader-supported and may be paid when you visit links to partner sites. We don't compare all products in the market, but we're working on it!
Quick Verdict
Microsoft's first proper laptop is a solid choice for students, or anyone looking for a striking mid-range notebook.
Strengths
Premium design

Solid performance
Impressive display and speakers
Could be better
Windows 10 S is too limiting
Only one USB port
---
Microsoft has made a very focused decision to target the student market with its first real laptop. While the Surface Book family of tablets (with keyboard base attachments) have previously catered to a more demanding market, the Surface Laptop is less Surface than it is laptop.
But that doesn't make the Surface Laptop another tedious Windows 10 machine. Microsoft has managed to deliver a respectably powerful machine at an attractive price point, and while there are definite challenges, particularly around the restrictions of Windows 10 S, they are easily overcome and shouldn't be considered a real barrier to entry.
Design
With the screen down, the standard Surface Laptop doesn't look too remarkable compared to the overabundance of shiny aluminium ultrabook laptops on the market. There are some colourised versions that offer a more striking external appearance, though you can expect to pay a premium for colour.
On the right-hand side of the laptop is Microsoft's narrow, proprietary charge port, while the left-hand side houses a 3.5mm headphone jack, a Mini DisplayPort jack and a single USB 3.0 slot. The lack of more USB slots is a challenge - you can't plug in an external mouse and your phone at the same time, for example, but the sacrifice is made for the laptop's slim design.
It's when you open the Surface Laptop up that you get your first real glimpse of Microsoft's premium design ethos. Lining the lower half, wrapped around the individual chiclet keys, is a tough artificial fabric covering called Alcantara, which has been used to line the inside of expensive vehicles for years.
With your wrists resting on this fabric, it feels almost like a toughened suede covering. Compared to the metallic touch of a MacBook, it's relatively soft and comfortable. It's not for everyone though - one colleague likened it to a dentist's chair, which is probably not the kind of connotations you want around your shiny new laptop.
While the fabric finish was fine for the duration of our review, there are unanswered questions about its long-term durability, particularly given its target market of students. Microsoft stands by its products and suggests a damp cloth for cleaning, but I'd suggest not resting a glass of Pinot Noir on the base.
Display
The opposite half of the opened Surface Laptop is the 13-inch, 2256 x 1504 pixel touchscreen. Stretched across a 4:3 aspect ratio, the screen looks significantly larger than comparative screens on similarly sized laptops.
The screen is pretty fantastic. Bright and clear, with about a 1cm bezel around the top and sides, it fills your view and lets you multitask well thanks to Windows 10's integrated split screen functionality.
Watching 4K video streamed through YouTube was spectacular, with incredible detail and colour reproduction. As an added bonus, the integrated speakers are surprisingly powerful and detailed, and makes watching Netflix a more social experience (if Netflix on a laptop on the couch with another person is your thing).
The touchscreen is designed to work with the Surface Pen, so you can draw all over the Surface Laptop, even though it is a little bit uncomfortable to do so. The Laptop also works with the Surface Dial accessory seen with the Surface Studio, though it won't work dynamically on the screen.
Above the display is the laptop's camera, which uses the Windows 10 ability to sign you in using your face. For those that haven't experienced this functionality before it's incredibly quick and fairly accurate, although there is the potential security issue of someone logging into your machine with a photo.
Performance
The Surface Laptop's standard configuration is a Core i5 processor, 4GB RAM and a 128GB SSD, though our review unit had been boosted to 8GB RAM and a 256GB SSD.
During our review, there weren't any significant performance issues. Windows crashed a couple of times, but the hardware itself seemed zippy and responsive.
Thanks to Windows 10 S, there's no downloading Steam to really push the envelope as a gaming laptop. You can play Xbox games through the Windows Store, though many of these titles are optimised for mobile devices rather than a proper laptop, which isn't the best experience.
Sure, it will handle Solitaire with aplomb, but when you download Forza Motorsport 6 Apex, you're not going to have the best experience. In fact, you'll get a warning informing you that the Surface Laptop isn't good enough to play the game reliably, even on the "Low" settings.
The upside of a this is battery life is pretty impressive. You'll happily get through a full workday on a single charge, though you'll struggle to push it all the way through to Microsoft's quoted 14 hours.
Software
So while the Surface Laptop's hardware is an impressive offering, where things become much more problematic is in the software. The Surface Laptop runs Windows 10 S, a limited version of the Windows 10 operating system that only lets you use applications downloaded through the Microsoft Store.
So, forget about browsing on Google Chrome, or listening to Spotify, or editing photos in Photoshop. All these apps are available for direct download, but when you try to open them up, you'll be greeted with a message saying you can't run the application.
Microsoft has done this to try and keep the Windows experience pure and functional, with the broad claim that the performance on a Surface Laptop will be as good as the day you buy it after several years of use.
But in reality, it's just too restricting. The Microsoft Store just isn't robust enough to enable this kind of restriction for most users.
The good news is that it's incredibly easy to upgrade the Surface Laptop to the full version of Windows 10. Two clicks gets you there, and if you complete the process this year it's a free upgrade, though Microsoft will start charging $75 for the process from 1 January 2018.
Verdict
There was a lot of expectation on Microsoft's first real laptop, and for the most part, the Surface Laptop delivers. It's far from a proper gaming machine, but it manages to combine a decent level of performance with solid battery life in order to serve its target audience, students.
Windows 10 S is a frustrating limitation on the device, especially given the state of the Microsoft Store's applications, but it is remarkably easy to get around, and upgrading to the full version of Windows 10 should really be the first thing a new owner does with the device.
It's a nice machine, which competes directly against the Apple MacBook Air. It's not going to blow you away with performance or specs but is nice to look at and to use, which is what you really want in a laptop in 2017.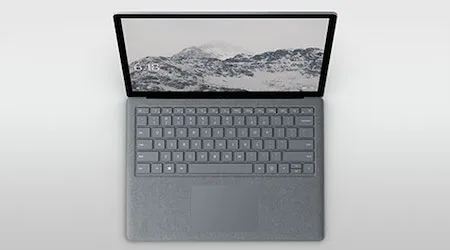 Purchase the Surface Laptop from Microsoft Store
from Microsoft Store
View details