Microsoft Surface Laptop 3 review: Microsoft's monolith
Quick Verdict
The Microsoft Surface Laptop 3 comes in multiple sizes and finishes, and has great battery life, but it's not the most powerful option at its price point.
The good
Very solid industrial design
Choice of finishes and screen sizes
Good battery life for the 15-inch model
The bad
Only a handful of expansion ports
AMD Ryzen processor isn't quite up to par
Premium price
The Surface Laptop line has always been a curious part of Microsoft's Surface family. Where the regular Surface editions played around with the concepts of 2-in-1 tablets, the Surface Laptops very much did what they said on the tin. They were laptops, at first pitched towards students with the serious limitations of Windows 10S pitched as a selling point.
The next generation of Surface Laptop did away with the Windows 10S requirement, and added a range of colours into the mix, but it still remained a somewhat premium option in the laptop space.
Now in its third generation, the Microsoft Surface Laptop 3 adds the option of AMD processors, some new colour hues and more ports to the mix, making for a more interesting laptop option. It's still got that premium price tag, so it's well worth considering your wider laptop options before making a purchasing decision.
Design
Platinum, Black, Sandstone or Cobalt Blue finishes
USB-C port added, but it's still low on ports overall
Alcantara or Metal palm rests
Where the Microsoft Surface Pro 7 really doesn't look like anything else on the market, you couldn't make the same claim about the Microsoft Surface Laptop 3.
It looks like... well... a laptop. You could almost say that it looks like a generic laptop, but that's actually not a bad thing. Microsoft's design style here is somewhat brutal, but that also means you're left with a very solid feeling laptop to work with.
One of the big changes with the Surface Laptop 3 is that there's now the option to supersize your laptop order.
Where the prior generations of Surface Laptop 3 have offered up 13.5-inch displays, you can now opt for a larger 15-inch screen model if that suits your needs. You can even choose from a range of colours including Sandstone, Cobalt Blue, Platinum or Black, so you can be as showy or sedate as you want to be.
Microsoft sent me the 15-inch Surface Pro 3 in black to test out, and I've taken to calling it the monolith, partly because I'm a big Stanley Kubrick fan, but mostly because that's what it is.
Closed up, the Surface Laptop 3 measures in at 339.5 x 244 x 14.69mm, and it's black. Very, very black. Think Disaster Area black in a room with no lights on black, dipped in tar. Even then, you're not quite grasping how black this laptop is.
Typically, black devices are amongst the most boring colour choices, but the sheer size and brutalist design of the Surface Laptop 3 in black really does make it stand out.
When I reviewed the Surface Laptop 2, I complained that Microsoft wasn't keeping up with the times, because it came with a USB A type port.
Somebody at Microsoft has been listening, because the Surface Laptop 3 features a single USB C type port, as well as a USB A type port. However, aside from a headphone jack – because this isn't an iPhone – that's your lot as far as ports go.
Given the general size of the Surface Laptop 3, and especially the fact that the keyboard is by definition built in, it feels limiting to have just the two ports in play. There's certainly no shortage of 15-inch laptops that manage far more flexible peripheral attachments.
One of the standout features of the Surface Laptop family has long been its use of Alcantara material for the keyboard rest and surrounds. It's a luxurious and soft material finish, but it's not to everybody's taste.
For the Surface Laptop 3, you get the choice between Alcantara or a plain metal palm rest. It's the latter I've been testing out, and, like the rest of the Surface Laptop 3, it's resolutely black. Even the trackpad is black, albeit not quite so dark as the rest of the laptop.
However, Microsoft for its own arcane reasons isn't quite all about the full choice of colours and finishes, because it very much depends on the size of Surface Laptop 3 you want, and also the internal configurations.
We'll get to those in a minute, but in design terms, if you want the Surface Laptop 3 15-inch model, that's only available in Platinum or Black with a metal palm rest, while the Surface Laptop 3 13.5-inch ships in Sandstone or Black with a metal palm rest or Platinum or Cobalt Blue with Alcantara finishes.
Is Alcantara allergic to the Black finishes? Does Microsoft not have enough Cobalt Blue to finish painting out the metal palm rest of a 15-inch Surface Laptop 3? We may never know.
Back to top
Performance
Choice of AMD or Intel processors
Good all-round performance, but you can get more for this price elsewhere
As with the Surface Pro 7, the exact Windows 10 experience you have with the Surface Laptop 3 is going to depend on the exact model you buy. In the 13.5-inch range, you've got a choice of Intel Core i5 or Core i7 processors, or AMD Ryzen 5 358 processors, with either 8GB or 16GB of RAM. Again though, the choice open to you does depend on your colour preferences.
Want the snazzy Cobalt Blue finish? It's available only with Intel Core i5 or Core i7 processors, because Blue is... allergic to AMD, I guess?
It's even more stark if you do want the Surface Laptop 3 15-inch variant, because those ship only with the AMD Ryzen 5 358 processor and either 8GB or 16GB of RAM. Storage varies from 128GB on the entry level model up to 1TB, although that model only comes in black. Again, I've no idea why certain shades of laptop can't take more storage or other processors.
That's in consumer land, mind you. At the enterprise level, Microsoft mixes and matches it up to a larger degree for the 15-inch model, but it seems unlikely that you happen to be BHP.
Now, the AMD Ryzen 5 358 at the heart of the Surface Laptop 3 I've tested is an interesting creature. It's custom silicon built by AMD specifically for Microsoft for this laptop, with rather mixed results. Typically if you want power in a mobile device, you opt for an Intel processor, with AMD often relegated to the more "value" end of the spectrum.
Which is not to say that the Surface Laptop 3 15 inch is massively underpowered; it's just less nippy than you'd arguably find on a comparably priced laptop from the likes of HP, Dell or Lenovo equipped with a 10th generation Intel Core processor.
To put this to test, I ran PCMark 10 and 3DMark over both the Surface Laptop 3 and the Surface Pro 7 I've recently reviewed. While that's pitting the Ryzen 5 against a 10th generation Intel Core i7, the reality here is that the Core i7 model of the Pro 7 tested is actually cheaper than the model of the Surface Laptop 3 as tested, even when you do factor in the cost of an additional keyboard. If you don't have to, it's considerably cheaper, so you'd expect it to be slower, right?
It's not so, as the benchmarks demonstrate:
Microsoft Surface Laptop 3
The one area where the Surface Laptop 3 did outpace the Pro 7 was on 3DMark's Sky Diver test, which crashed every time it was run on the Surface Pro 7. Nobody's pretending these are gaming laptops in any case.
I could certainly work quite well across the Surface Laptop 3's 15-inch, 2496x1664 pixel 3:2 display, although that aspect ratio is a little more problematic if you want to sneak in a weekend Netflix binge when you're out of the office.
But the more programs I loaded, the more I hit the edges of where the Surface Laptop 3 performed, which isn't what I'd like to see at this price point.
Back to top
Battery life
Battery endurance is encouraging
Surface charging remains both good and bad
Microsoft's own figures for the Surface Laptop 3 suggest that it should be capable of up to 11.5 hours of typical usage. As with any laptop vendor, the magical words are "up to", because technically a single minute is heading towards "up to 11.5 hours". That being said, the Surface Laptop 3 actually exceeded my expectations in day to day battery life, as well as more deliberate testing scenarios.
Where the Surface Pro 7, which Microsoft rates as capable of up to 10.5 hours of use typically conks out around 6 to 8 hours, the Surface Laptop 3 tended more towards the upper end of that 8 hour range, and sometimes further.
Putting it to a more specific test, I ran the same looping full screen video file as I'd used to test the Surface Pro 7 to battery exhaustion on the Surface Laptop 3. On the Pro 7, that test ran for 10 hours and 4 minutes, a little below Microsoft's estimations.
On the Surface Laptop 3, it managed to exceed Microsoft's expectations, looping playback for a full 12 hours and 42 minutes. Now, video playback's not the most intensive feat for any laptop these days, but it does suggest that for many folks you could capably manage a day's general work on the Surface Laptop 3 without issue.
Like the rest of the Surface range, the Surface Laptop 3 relies on the Surface Connect charger, a device I both love for its simple magnetic properties, and loathe for its custom connectivity.
Connecting on the left-hand side, it easily pops out if there's pressure on the cable in any way, such as that dim-witted colleague accidentally treading on the cord. Why is that a good thing? It means the cable moves but the Surface Laptop 3 doesn't, avoiding a nasty crash to the floor.
Why then do I dislike it? Because it's a custom connector, and if you do fear you'll run out of juice before you're done, it means you need to take the whole charger with you. Again, USB C charging would be a real boon here.
Back to top
Should you buy the Microsoft Surface Laptop 3?
Some interesting updates, but the 15-inch model feels a little underpowered
Microsoft hasn't totally reinvented its laptop aspirations with the Surface Laptop 3. In most important respects, it's a specification bump, whether you're looking at the number of ports or the underlying processor choices.
However, for the 15-inch model tested, it feels restrictive to be stuck with just the one AMD processor, especially as it doesn't particularly compare well to the best that Intel can offer in the mobile space. It's certainly fair to say that many Surface Laptop 3 buyers might not push against the edges of the laptop's performance, and so that might be a moot point. Its battery life is very good, and the build quality is excellent, as is the keyboard and touch display.
Still, it's a premium-priced laptop, and that means it's a very wise idea to shop around and compare what level of power and connectivity you can get for the Surface Laptop 3's asking price.
Back to top
Pricing and availability
The Microsoft Surface Laptop 3 sells in Australia with pricing starting from $1,699, up to the top tier model which sells for $4,399.
The model supplied by Microsoft for testing was the 15-inch Black model with 16GB of RAM and 256GB of storage, which retails at $2,799.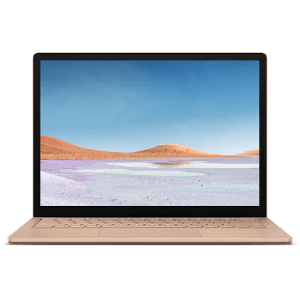 Buy Microsoft Surface Laptop 3
from Microsoft Store
Customise to your heart's content with the wider range of configurations available for the Microsoft Surface Laptop 3.
View details
Specifications
Product Name

Microsoft Surface Laptop 3
Display Size

13.5 or 15 inches.
Resolution

2256 x 1504 (13.5 inch) 2496x1664 (15 inch)
PPI

201 ppi
Processor

Intel Core i5/Core i7 or AMD Ryzen 3580U or AMD Ryzen 3780U
RAM

8GB/16GB
Storage

128GB/256GB /512GB/1TB
Operating System

Windows 10 Home
Front camera

720P Windows Hello Camera
Battery

Up to 11.5 hours
Dimensions

308x223x14.5 (13.5 inch)/339.5x244x14.69mm (15 inch)
Weight

1.2-1.5kg
Price

From $1699
Back to top
---