Microsoft Surface Laptop 2 review: Nice, but not quite essential
Microsoft's Surface Laptop 2 is a fine machine, but it's essentially an internal parts upgrade with the same design as the original model.
Quick Verdict
The Surface Laptop 2 is a solid Windows 10 machine, and one that's still pretty seriously pitched at mobile users. Overall performance is fine, but Microsoft's insistence on a single old-school USB port limits its expansion possibilities.
The good
Premium feel
Lovely keyboard
Good performance
The bad
Black finish isn't available for all processor/memory combinations
Black case looks less sexy when it's scratched
Single USB port is limiting
---
: Design
Black finish looks nice
Scratches stand out
Keyboard is among the best
Microsoft pitched the first generation Microsoft Surface Laptop as a "student" laptop, albeit a student laptop tiered more towards the tertiary end of the market given its pricing. Either that, or they were aiming at very cashed-up parents.
For the Surface Laptop 2, Microsoft's had a bit of a rethink of where it wants to position its in-house laptop line, which is probably why it's opted to introduce a new Black colour. You can get your choice of Surface Laptop 2 in either Platinum, Burgundy, Cobalt Blue or Black finishes.
I tested with the new Black colour, and it's mostly a great option, even if black is slightly overplayed in the laptop space. My one caveat here is that the unit I tested with had been with a previous tech reviewer before me, and they hadn't been kind to it at some point, leaving some notable surface scratches on the black finish. That doesn't look quite as nice, but it's a good reflection of what the Surface Laptop 2 might look like in a few years' time, especially if you're a student or notably mobile.
Like its predecessor, the Surface Laptop 2 features Microsoft's Alcantara soft finish material between the keys and trackpad. It feels great under the hand, and the keyboard is among the very best of any ultralight laptop I've ever used. There's plenty of travel space for each key, and they're remarkably quiet in operation, even for a rapid touch typist.
However, after changing up the colour options, Microsoft's stubborn streak when it comes to changing other design options that we saw with the Surface Pro 6 is very much evident here. The original Surface Laptop 2 had just a single USB-A port... and the sequel does too. Microsoft has shown it can integrate USB-C into a laptop via the Surface Go, but there's no USB-C to be found anywhere on the Surface Laptop 2. Indeed, the sides feel rather bare, with just a mini DisplayPort, the single USB 3.0 port and a headphone jack on the left, while the right houses only the Surface Connect port for charging.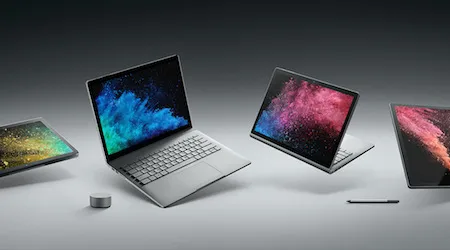 Browse the Surface range on the Microsoft website
from Microsoft Store
How does the Surface Go shape up? Browse the entire Surface Range at the Microsoft Store.
View details
I love the magnetic Surface Connect port because it gets past the issue of having your laptop unceremoniously yanked to the floor by someone walking past a charging cable, but it really does feel like Microsoft's missing a trick by not throwing a few USB-C ports onto the Surface Laptop. When even Apple can move to USB-C for the iPad Pro, why can't Microsoft?
The Surface Laptop 2 does support Microsoft's Surface Pen if you're artistically inclined, but it's not a bundled inclusion. If you want it, you'll have to pay extra and work out where to store it when not in use.
Back to top
Microsoft Surface Laptop 2: Performance
Upgraded CPU makes for a faster laptop
Windows 10 Home as standard
Can't configure for certain storage/colour combinations
The other major change for the Surface Laptop 2 line is under the hood where, like the Surface Pro 6, you'll find an eighth generation Intel processor, either a Core i5 or Core i7 depending on the price you pay. I tested with a Core i5-8250U processor, paired with 8GB of RAM and 256GB of onboard storage, but you can pump that up as high as a Core i7 and 1TB of storage if your wallet can meet the asking price.
As noted, though, that's only in certain colour combinations, which could be annoying if you had your heart set on a certain tone but needed higher specifications or lower pricing to meet your needs.
The jump to eighth generation Intel processors does – as you'd expect – push performance upwards in a pleasing manner, with a focus more towards productivity tasks than, say, 3D gaming. Within its portability space, the Surface Laptop 2 compares and performs well.
Like the Surface Pro 6, though, your choice of colours can also limit your storage and processor options. Want a Surface Laptop 2 with a Core i7 and 1TB of storage? That's a Platinum-only model. Want a Core i7 Black with 256GB of storage? It doesn't exist. Quite why Microsoft's gone down this odd path in an industry rife with direct build-to-order options is a bit of a mystery, but it's a limitation well worth knowing upfront.
Unlike the Surface Pro 6, the Surface Laptop is a full laptop, which means that it's slightly less compact for travelling purposes, although you can adjust the screen display angle at smaller increments than on the Surface Pro 6. However, unlike many 2-in-1 style ultraportables, you can't do a full flip of the Surface Laptop screen, which meets a hard resistance point at an angle about 45 degrees backwards.
One very welcome change with the Surface Laptop 2 is that it ships by default with Windows 10 Home, where the original came with the cut-down Windows 10S. It was of course relatively trivial to switch over to a full Windows 10 Home installation on that device if you wanted more than the Windows app store could deliver, but it's even nicer not to have to fuss about that at all.Back to top
Microsoft Surface Laptop 2: Battery life
Battery life is good, but not quite up to Microsoft's claims
Quite how long an ultraportable such as the Surface Pro 2 lasts depends very much on how you're using it, at least when it's brand new. Over time, battery chemistry degrades, but Microsoft's claim is that the Surface Laptop 2 is capable of up to 14 hours and 30 minutes of local playback for video.
With a 3:2 display, the Surface Laptop 2 isn't quite a cinema screen, but my own tests showed that this was largely achievable. Push more work-centric fare at the Surface Laptop 2, and you'll see a little less battery life, but a work day should be achievable.
Again, though (and similar to the Surface Pro 6) it's a pity that USB-C, and especially USB-C charging isn't onboard. The Surface charger isn't the bulkiest, but it is a custom part, so if you forget your charger and run out of juice, the only thing the Surface Laptop 2 might be good for is propping up a wobbly table leg.
I haven't checked exactly, but I suspect that might invalidate the warranty if anything went wrong.
Back to top
Microsoft Surface Laptop 2: Should you buy it?
Better than the original Surface Laptop
An iterative upgrade worthy of consideration.
Microsoft's own hardware is generally solid and often excellent, and there's not too much to complain about with the Surface Laptop 2 as an everyday laptop, even though I do wish it was willing to experiment more with what is basically the same laptop as last year with a new lick of paint and a slightly smarter brain.
That's really the problem with the Surface Laptop 2. While competitors are pushing some more out-there concepts in the ultraportable space that give more port flexibility, Microsoft seems to be saying that it's just this approach or nothing.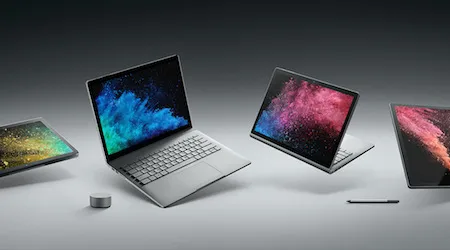 Find the perfect Surface for you on the Microsoft website
from Microsoft Store
Surface Pro or Surface Go? Maybe the Surface Laptop is a better fit? Browse the entire Surface Range at the Microsoft Store.
View details
The Surface Laptop 2 is a lovely machine to use, but you'd be wise to compare what you can get for the same money from makers such as Dell, HP or Razer to name just a few.
Back to top
Microsoft Surface Laptop 2: Pricing and availability
The Microsoft Surface Laptop 2 sells in Australia with pricing starting at $1499 outright. The unit tested was a Black Core i5 8GB RAM/256GB storage model with a retail price of $1999.
Specifications
Microsoft Surface Laptop 2 Specifications
Product Name

Microsoft Surface Laptop 2
Processor

8th Generation Intel Core i5/Core i7
Operating System

Windows 10 Home
RAM

8GB/16GB
Display

13.5 inch
Resolution

2256 x 1504 201 ppi
Connectivity

USB A 3.0/3.5mm headphone/Mini DisplayPort/Surface Connect port
Cameras

Front facing Windows Hello camera
Networking

802.11 a/b/g/n/ac
Size

308.1 mm x 223.27 mm x 14.48 mm
Weight

1.252kg (i5)/1.283kg (i7)
Price
From $1499
Back to top
---
---