Microsoft Surface Go review: Cute design, high asking price
Microsoft's Surface Go is highly appealing if you want more out of a tablet than most can deliver, but its premium pricing is a problem.
Quick Verdict
Microsoft has successfully shrunk the Surface into a tablet form. It's a very nice device to use, but you'll pay a premium price for it.
The good
Appealing and ultra-portable design.
Great battery life for the size.
Flexibility of full Windows 10 or more secure Windows S.
Surface Pen works well.
The bad
Middling performance.
Only one USB C port for peripherals.
Keyboard isn't bundled.
Expensive.
---
Microsoft's Surface line of tablets and laptops has primarily sold itself in the very premium computing space with devices like the Surface Laptop or Surface Book 2. But it has tried its hand at more "affordable" Surface models over the years. Prior to the Surface Go, there was the acceptable-but-not-brilliant Surface 3 and the utterly terrible Surface RT.
There's a long running gag that Microsoft waits for the third iteration of just about anything to really get it right, and in the case of the Surface Go, that's astonishingly apt.
Microsoft Surface Go: Design
Surface design scales down quite well.
Support hinge is well engineered.
Can charge via USB C, but there's only one port.
If you're in any way familiar with Microsoft's Surface design language, you'll recognise the Surface Go as a member of the family immediately. A minuscule member, to be certain, but despite its slightly rounded edges, this is still a Surface computer.
The Surface Go measures in at 245mm x 175mm x 8.3mm with a carrying weight of 522g, although that's for the standalone Surface Go without its type cover. Also, I really shouldn't say "its" type cover, because Microsoft continues with the fanciful idea that you'd want to get a Surface and not buy a type cover of some sort.
Sure, Windows 10 supports touch gestures, but it's not been built from the ground up for them. Including a keyboard and trackpad as default would make sense, but Microsoft continues to sell it separately. In any case, the type cover adds 244g when clicked in place, which means a properly functional Surface Go adds 766g to your bag or briefcase when you're carrying it around.
The small size of the Surface Go does make it markedly more portable than other laptops, although that does also introduce some constraints. If you do opt for the keyboard – and I can't see a solitary reason why you wouldn't – the smaller screen size equates to a smaller keyboard relative to the full-fat Surface models. If you're a hunt and peck or two finger typist this may not be an issue, but for anyone who touch types, there's a predictably tough learning curve.
The Surface Go features the solid and adjustable rear hinge for propping it up on tables or laps. I've tested the Surface Go in a variety of situations, including Sydney's rather unstable train system, and it passes with flying colours. There's even scope for it as an in-flight laptop if you're flying economy, although you may have to put up with the keyboard dropping off the front edge of your tray table if the seat is tilted backwards.
The bezels around the Surface Go's 10-inch 1800 x 1200 display screen are quite thick, which feels like wasted screen real estate relative to the way many laptops now do near edge-to-edge displays. The actual screen is a delight for both work and leisure pursuits, although naturally on a display of this size you're not going to want to fling around too many tiny windows at once.
Inputs are very limited. Aside from the standard Surface Connect Port – which powers the Surface Go, and means you can use older Surface chargers as well – there's a microSDXC reader, headphone jack and a single USB C port. On the plus side, just as the Surface 3 allowed you to charge over microUSB, the Surface Go can take a charge from its USB C port. On the minus side, there's only a single USB C port, so unless you invest in a USB hub, you're limited to a single peripheral at a time.
The Surface Go is also compatible with Microsoft's Surface Pen if you're the arty type. There, the smaller form factor of the Surface Go works quite well for taking notes and doodling, although it's yet to turn me into a really world-class artist to speak of.
Back to top
Microsoft Surface Go: Performance
Pentium Gold offers middling performance.
Only 4GB on base model.
Can switch between Windows 10 S or full fat.
Value depends on your comparison context.
A full Surface Pro or Surface Book runs on a top-end Intel processor, but to keep the price point of the Surface Go within achievable limits, Microsoft's opted for an Intel Pentium Gold 4415Y processor, paired with either 4GB or 8GB of RAM, depending on whether you opt for the $599 64GB version, or the $839 128GB variant.
I tested using the upper tier model, and can easily imagine that the performance on the cheaper Surface Go could be somewhat degraded due to halving the available RAM.
The Pentium Gold has a fancy name, but it's a low-end, low power processor designed only for simple tasks.
Quick benchmarking with UserBenchmark suggests that while the Surface Go performs well against systems with similar specifications in a comparative sense, it's still remarkably weak for graphics and processing power, which isn't much of a shock.
What that means in day to day use is that it's better suited as a more simple document shuffling device, or in entertainment purposes more towards watching Netflix than running any kind of visually demanding modern game or video editing task. It does, for the record, run the original version of Populous quite well, but then that's a game from all the way back in 1989. I'm quietly certain I'm the only reviewer who will have tested with that particular title.
When you first set up the Surface Go, it'll be running Windows 10 in S mode. That's the highly locked-down version of Windows 10 that Microsoft first debuted with the Surface Laptop. In S mode, Windows 10 only allows apps that have been downloaded from the Microsoft Store to install and run, rather than any given Windows 10 app. Thankfully it's easy enough to switch to "full" Windows 10, which I'd imagine most Surface Go users would want to do. If you're happy enough in the Microsoft-store-only world, it's nice to have the option, I suppose.
Whether the Surface Go's performance is up to scratch for you is going to depend very largely on the comparison context you're coming from. There's little doubt that the Surface Go exists to see off the challenge of Apple's iPad Pro line of tablets, and there it's a pretty easy winner for most productivity uses. The iPad Pro is a nice touch-enabled device, but Apple's multi-tasking and document access aren't anywhere near what Windows 10 can offer on the Surface Go. That being said, using touch only on an iPad Pro is much nicer than trying it on the Surface Go sans keyboard.
However, the Surface Go doesn't compare as well against the wider array of Windows 10 laptops, tablets and 2-in-1s. It's premium priced, especially in the higher storage configuration, but if your needs are that modest anyway, you're going to be able to meet them with a cheaper device from the likes of Dell, HP, Lenovo or Acer, to name just a few. Of course, that way Microsoft keeps you in the Windows family anyway, but it's not a good sales argument for the Surface Go specifically.
Back to top
Microsoft Surface Go: Battery life
Good battery life.
USB C or Surface Connect charging.
A smaller laptop of any type, and especially a tablet form factor one with an optional keyboard is always going to be challenged on battery life.
There's simply not as much space to pack in battery capacity. Microsoft's claim for the Surface Go is that it's capable of "up to" 9 hours of battery life, but doesn't state a specific battery capacity.
Predictably, the folks at iFixit have already torn a Surface Go apart to see what makes it tick, revealing a quite modest 26.12 Wh battery. That didn't fill me with a lot of confidence when it came to battery life, but it turned out that the Surface Go can make quite a lot out of not much battery capacity.
In a straight line video test with full brightness and performance set to maximum, looping a 1080p video, the Surface Go managed 8 hours 21 minutes before the battery gave up.
That's a reasonable movie marathon in itself, but it also does mean that as long as you're not hammering it, effective all-work-day battery life is achievable, if only just.
Microsoft provides a standard Surface charger with the Surface Book, but it will also charge via its sole USB C port in a pinch. You won't be able to use other peripherals, because it'll take up the only peripherals port, but you will be able to keep it running.
Back to top
Microsoft Surface Go: Should you buy it?
Premium design at a premium price.
Could get similar computing power for less.
As a working journalist, would I use a Surface Go?
Absolutely, because it's very well suited for note-takers or those who need a computer on the move. But I wouldn't fool myself that it was anything but a luxury buy, and that creates a problem for Microsoft's tiny tablet.
If you want a touch-controlled tablet device, it's hard not to look at the basic Apple iPad or iPad Pro, because they're built from the ground up for touch as its primary input. The Surface Go does a better job of being a "working" tablet computer than the Apple iPad Pro in my opinion, simply because it's designed with a desktop OS in mind, making it more flexible for true multi-tasking.
But to get there for the model tested, I'd have to drop $839 for the Surface Go itself, then a further $199.95 for the Surface Go Type Cover, and then a further $139.95 if I wanted a Surface Pen to go with it.
That combined $1178.90 could buy me quite a decent laptop from any number of manufacturers, including several in 2-in-1 or tablet style configurations that would outperform the Surface Go in everyday tasks.
I could save quite a bit by just opting for the base model Surface Go at just $599, but the lack of a keyboard, 4GB of RAM and 64GB of onboard storage would become an issue very rapidly. If you're going to buy a Surface Go, in other words, buy the upper tier model and budget for the keyboard cover too. You'll pay a premium, but you will get a premium-designed device for your cash.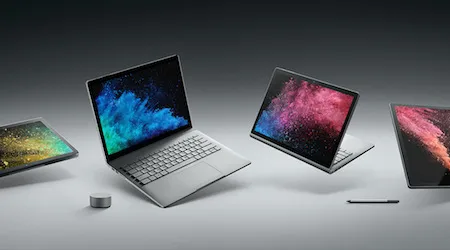 Browse the Surface range on the Microsoft website
from Microsoft Store
How does the Surface Go shape up? Browse the entire Surface Range at the Microsoft Store.
View details
Back to top
Microsoft Surface Go: Pricing and availability
Microsoft sells two variants of the Surface Go in Australia. The baseline model features 64GB of storage and 4GB of RAM for $599, while the 128GB/8GB model costs $839.
The Surface Go Signature Type keyboard costs an additional $199, and the Surface Pen costs $139.95.
Specifications
Microsoft Surface Go Specifications
Product Name

Microsoft Surface Go
Display Size

10 inches
Resolution

1800 x 1200
Processor

Intel Pentium Gold Processor 4415Y
RAM

4GB/8GB
Storage

64GB/128GB + microSD
Graphics

Intel HD Graphics 615
Operating System

Windows 10 S
Networking

802.11 a/b/g/n/ac Wi-Fi, Bluetooth 4.1
Inputs

1xUSB C, headphone, MicroSDXC, Surface Connect
Battery

26.12 Wh
Dimensions

245 x 175 x 8.3mm
Weight

522g
Price

From $599
Back to top
Latest technology reviews
---
---