Microsoft Surface Book 2 Review
The Surface Book 2 delivers on its promise of desktop power in a versatile 2-in-1 format. It's a stellar device if you can afford it.
The good
Uncompromising power
Effortlessly portable
Impressive battery life
The bad
An expensive piece of kit
Sub-4K resolution prevents it from competing with top-of-the-line laptops
We're reader-supported and may be paid when you visit links to partner sites. We don't compare all products in the market, but we're working on it!
The evolution of mobile computing has been rather odd when you look back at it. First came the laptop, freeing us from our cubicle prisons and introducing the idea of working on your commute. When laptops proved too bulky for many people, the humble mobile phone stepped up in the form of the smartphone, giving us 24/7 access to the Internet from a device small enough to fit in our pockets. Of course, the limited real estate of a phone screen was always going to hold it back from keeping pace with the desktop world, and so the tablet was born: a compromise between size and power that promised to be the only device you ever needed.
As successful as iPads and other tablets have been, they've never quite lived up to that lofty promise. Typing on a virtual keyboard is rarely a pleasant experience, and the lack of peripheral support and reduced power have relegated tablets to casual devices incapable of the versatility of a full-blown laptop.
This is where 2-in-1s come in. Combining the portability of a tablet with the increased grunt and physical keyboard of a laptop, 2-in-1s are aimed squarely at those who want the flexibility to enjoy the best of both worlds at their whim.
Up until now, 2-in-1s have been held back by the same constraints of all portable technology, sacrificing the computing power of their bulkier brethren in order to remain light and luggable. Not so with Microsoft's new Surface Book 2. Packing hardware on par with high-end graphics-editing and gaming laptops, the Surface Book 2 promises to deliver uncompromising performance whether you're sketching designs in tablet mode, watching 4K videos while lounging on the couch or playing the latest games on its sleek 13.5-inch screen. What's really surprising, though, is it actually delivers on those promises, establishing itself as the clear leader in the 2-in-1 space.
---
Hardware
Top-of-the-line model has plenty of power
Keyboard and screen lock together firmly
Light and easy to lug around
---
Display
3000 x 2000 pixel display is crisp and clear
3:2 aspect ratio can be a little awkward when watching 16:9 videos
---
Performance
Snappy and responsive in day-to-day tasks
High-end model surprisingly decent for gaming
---
Battery
Around 12 hours of battery under average use
---
Software
Full version of Windows 10 means compatibility with all standard desktop apps
Windows Hello is a neat way of avoiding traditional passwords
---
Verdict
As a technological accomplishment, the Surface Book 2 is leaps and bounds ahead of the competition. Microsoft promised a device capable of unbridled performance on the go, and there's no question that the Surface Book 2 delivers on that. But pushing the limits of modern technology doesn't come cheap, and the premium pricing of Microsoft's machine holds it back from dethroning the iPad as the de facto portable computing device for the average user.
Still, if you're after one device to take care of all your digital needs, there's nothing out there that can compete with the Surface Book 2's unification of power and portability. The world of 2-in-1s has a new king.
---
Price
If there's one area where the Surface Book 2 falters, it's the price. Combining performance with portability doesn't come cheap, and you'll be looking at a cool $4499 for the top-of-the-line model with all the bells and whistles. That said, if you're happy to offload storage space onto an external hard drive, $3799 will get you the exact same model with just a slightly-smaller 512GB SSD. Less-demanding users can save even more by opting for the 256GB model with 8GB of RAM for $2999, or sacrifice the dedicated graphics card for the i5-7300U model with 8GB of RAM and a 256GB SSD for $2199.
No matter which configuration you go for, it's clear that you're paying a premium for portability. Dedicated laptops like the Dell Inspiron 15 7000 or the MSI Stealth GS63 share similar specs to the top-end Surface Book 2, yet either one will only set you back around $2000. A $2500 premium for the mobility of a 2-in-1 is a lot to ask, regardless of how impressive the technical accomplishment of cramming so much power into a tiny tablet is.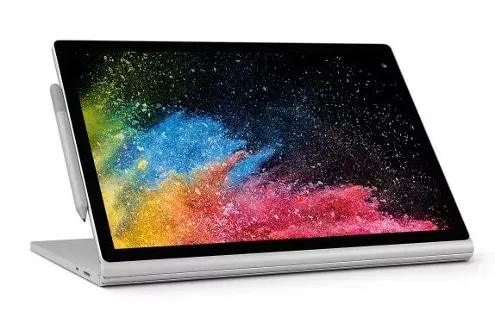 Purchase the Microsoft Surface Book 2
from Microsoft Store
Optimise your performance with the powerhouse Surface Book 2, now available at Microsoft Store.
View details
---
Specs
---
Latest technology reviews
Sennheiser's Momentum True Wireless headphones provide robust sound and decent battery life, but the price is too high for what you get.
Read more…
Apple has only lightly tweaked the Apple Watch Series 5, but those changes have made it the best smartwatch on the market today.
Read more…
Sony's WH-1000XM3 headphones offer superb sound and excellent noise cancellation while remaining extremely comfortable to wear.
Read more…