MG ZS EV unveiled: Sharp pricing for newest electric car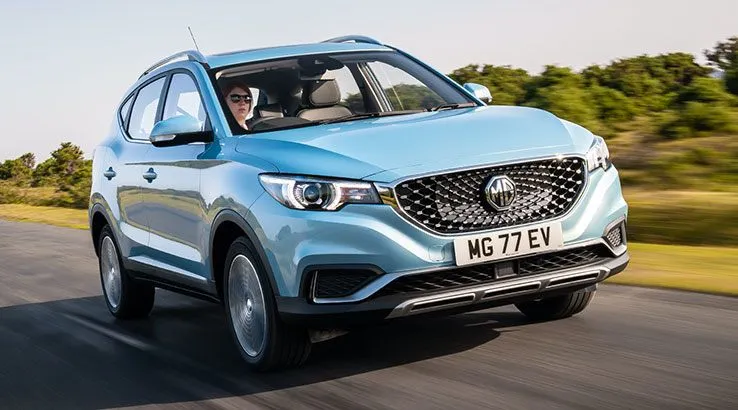 MG launches affordable budget electric SUV with a range of up to 371km.
A common criticism of electric cars is that they are too expensive. MG is keen to change that perception. To the naysayers, get ready to meet the MG ZS EV. The small, all-electric compact SUV, looks likely to become the most budget-friendly electric car available in Australia.
The pricing is part of its plan to "spark consumers into action" and "fast track EV adoption", according to Danny Lenartic, MG's director of marketing and product development. "We are really focussed on making electric for everyone," he said.
Update - 12 November 2020
Since posting this, we have driven MG's new electric vehicle on Australian roads. Check our MG ZS EV review to see what we thought
[/fin_must_read\
Design and construction
Externally, you'll be hard-pressed to spot too many differences between an electric ZS and one powered by an Internal Combustion Engine (ICE). That's not a bad thing either, as the conventional ZS is climbing up the sales charts, along with the rest of its MG stablemates. MG outsold Isuzu, Audi and Suzuki in September this year.
The exterior design, in our opinion, is highly attractive. MG's parent company, the China-based SAIC has two design studios, one in London and the other in Shanghai. The resulting style works. It combines the best of current automotive design trends to make a modern and appealing car.
The MG ZS EV rolls on lightweight and aerodynamic alloys that add to the overall sense of class, but also contribute to boosting the vehicle's efficiency.
The exterior is specified to a solid baseline, with contemporary projection headlights and LED Daytime Running Lights.
Motor, battery and range
Packaged neatly out of sight is a water-cooled, 44.5kWh lithium-ion battery, which is the accepted power source of choice for the current generation of EVs. The battery size suggests it is geared towards urban buyers, with a slightly larger battery than the BMW i3s (42.2kWh), the Nissan Leaf 2 (40kWH) and the Hyundai IONIQ Electric (38.3kWh).
Underfoot, drivers have 105kW of power and 352Nm of torque at their disposal. That translates to a 0-100km/h time of about 8.2 seconds. Not terribly quick by electric car standards, but still respectable.
MG reckons that on a 7kW charger, it will take about 6.5 hours to top up the ZS EV's battery to capacity. Using a supercharger with the SUV's included Type 2 CCS plug (quickly becoming the industry standard for EVs), you'll have to wait just 45 minutes to achieve an 80% charge.
The WLTP official combined range is 262 kilometres. Again, this is acceptable and on-par with other small cars in the electric class. Around town, MG expects drivers should be able to eke out up to 371 kilometres. That means you could go quite a few days, maybe even a week or more, between charges, depending on your commute and driving style.
The ZS EV can be driven in three driving modes, which are Eco, Normal or Sport. As with most electric cars, you can also adjust the amount of energy recuperation under braking, choosing between three different levels.
SAIC Motor, who owns the MG brand, has invested heavily in the development of electric vehicles and battery product, being only one of three manufacturers globally to have its own supply chain.
Interior
One of the things MG is making a big deal about is the safety features on the ZS EV, describing the car as its "most advanced" to date. One notable mention is the MG Pilot driver assistance package. It's a standard inclusion across the range and consists of functions like:
Advanced Emergency Braking
Blindspot Monitoring
Lane Keep Assist (with Lane Departure Warning)
Traffic Jam Assist
Adaptive Cruise Control
Adding to the safety suite is the generously-sized, eight-inch touchscreen. Key highlights include satellite navigation, Apple CarPlay and Android Auto, Bluetooth® phone connectivity and a DAB radio.
MG has clearly spent a lot of time working on making the ZS EV practical for everyday use. The formally-British brand claims it delivers some of the best shoulder, head and legroom in its class. Thanks to the thoughtful packaging of the battery, MG also states that it didn't have to make any concessions with the boot space. The 448-litre cargo area even has a split-floor for tucking away things like the charging cable and other items you want to keep out of view. MG is keen to point out that that's more than the Mazda CX3, Nissan Juke or Ford EcoSport.
There is only one level of trim available in Australia, the Essence grade. The Esssence has leather-effect seats and also boast a six-way, power-adjustable driver's seat and heated front pews. The model also has an upgraded "3D" sound system with two additional speakers, making a total of six. Helping to further raise the cabin atmosphere in the Essence line is a panoramic sky roof.
Pricing and availability
MG announced the ZS EV will start from $43,990 driveaway. At that kind of money, it looks likely to become one of the most affordable electric cars on sale as of November 2020.
It looks like the entry-point to owning an electric car just got a whole lot more economical. MG is certainly giving buyers a lot to think about. A five-year unlimited-kilometre warranty is complemented by an eight-year battery warranty, which all combine to make the ZS EV a compelling option.
The MG ZS EV is only the first of a number of EV and PHEV models in the works for MG, with Peter Ciao, CEO of MG Motors Australia & New Zealand, stating that we can expect to see four new models over the next five years.