Metal Gear Survive Review: Not even nanomachines could fix this
In place of what made MGSV great are drab, hellish, grinding and eye-brow raising microtransactions.
We're reader-supported and may be paid when you visit links to partner sites. We don't compare all products in the market, but we're working on it!
When I see the title "Metal Gear Survive" I can't help but be reminded of the movie Tropic Thunder and a particular scene that's so ludicrously melodramatic it probably wouldn't feel out of place in this game. The moment I'm thinking of is both a piss-take of Platoon and something of a metaphor for the state Konami finds itself in today, as it tries to continue Metal Gear after an ugly divorce with its creator, Hideo Kojima.
In the scene, Sgt. Osiris (Robert Downey Jr.) is begging a comrade to reach the safety of his evac chopper, even though his pal is copping so much flak he's dancing an electric jig. "SURVIVE!" Osiris urges, regardless. It's an absurd request. A hilarious expectation.
And after playing Metal Gear Survive I can't help but interpret its title as a misguided plea in the same vein, made by some Konami higher-up. A suit who couldn't, or wouldn't, accept that this LZ would be incredibly hot. Now the damage has been done.
---
---
It's such a pity, too, because the Fox Engine that powered the last game (Metal Gear Solid V: The Phantom Pain) is quite a fantastic piece of coding. This new spin-off leverages it to be a graphical powerhouse, that certainly looks the part in screenshots and pre-release trailers, but it's just some fancy icing to obscure a big, boring mud cake. Chew your way through a crazy amount of pretty cutscenes and you'll soon bite into banality.
Instead of continuing the 30-year tale of either Solid Snake – or his progenitor, Big Boss – Konami has opted to spin things off into a survival game that's a more serious, less entertaining take on Don't Starve. You're cast as a rather speechless, "Private Nobody" who stood with Big Boss during the fall of his Mother Base headquarters.
Long, weird story short: Boss escapes, you get sucked into a portal to hell, and now some mysterious cross-dimensional handler demands that you fetch quests. To make that busywork worse, you're constantly hungry and thirsty, plus there are swarms of headless zombies harassing you. Oh, and ammunition is quite scarce, so you must loot this drab purgatory in order to craft a range of low-tech weapons.
Sounds like a hoot already, right?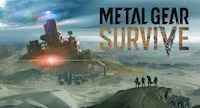 Buy Metal Gear Survive
from Amazon
Build and develop your base camp in this new action-adventure survival video game.
View details
Better yet, if you want to get anywhere in this alternate-timeline
MGS
, you'll really need to rope in other people via online co-op. Together you can prop each other up when your respective stamina, weight limit and other vitals turn you into a sitting duck for the "Wanderers".
As the hours go on you'll get a better handle on how to keep yourself fighting fit by hunting local (fairly stupid) wildlife, and kitting out your home base with resource-producing farms and operatives. That micromanagement thread is nothing TPP players haven't seen and slogged through before. However, getting your crap-shack to run smoothly can be a source of some satisfaction.
Fortunately, the rigmarole of finding your next meal isn't the main event here. Your time is divided fairly evenly between finding data packets which reveal the story of the ill-fated pioneers who came before you, plus you'll have wave-based horde moments where you'll need to repel flocks of Wanderers. Achieving this via quick reflexes and a bunch of smartly-placed traps isn't without a few kicks, but mission repetition and bland environments soon take their toll as the hours roll on.
Worse, the lovely open-world discovery of TPP is deliberately curtailed. The bullcrap excuse here: Oh, sure, you CAN go out there... but the world of Diet is a poisonous place filled with killer fog that limits your vision to that of a pensioner.
Putting you into the boots of a grunt-in-limbo also allows the game to cut out great swathes of Big Boss's combat abilities and vehicular options.
Stealth approaches are still important, but it all feels so shallow now. There were many times when I would instinctively reach to do one of Big Boss' (a legendary soldier) old moves, only to realise that my disappointing protagonist couldn't achieve it.
When you couple this boring world with bland gameplay, Survive hasn't got much going for it at all. Worse, the presence of pay-for-comfort micro-transactions soon appear as well – honestly, it'll be a cold day in Dite before I pay for the privilege of a secondary save slot, Konami. You can politely go to hell.
Though I've played and enjoyed all of his games, I don't hold Kojima on the same pedestal as many others do and I legitimately tried to give this game a chance. However, the repetitive nature of the un-evolved action – plus a cast of inane characters and a poorly-told plot – drained my own personal stamina meter in record time. By the time the twists arrived, I was too fatigued to care.
Here's hoping the next numbered entry in the Metal Gear franchise moves in a very different direction to Survive because right now I could not be less hungry for more.
We reviewed Metal Gear Survive on PlayStation 4 with a copy provided by the publisher.
Metal Gear Survive
5.5 AVERAGE
What we liked...
Fox Engine still shines, occasionally
Setting up a profitable base can be a hook
Horde mode missions are fun in co-op
What we didn't like...
Bad script, boring characters, meh plot
Greedy micro-transactions
Repetitive missions, reduced agency
Drab environments
VERDICT
A failed spin-off experiment that excises too much of what made MGS V great. In its place is drabness, hellacious grinding and eyebrow-raising micro-transaction options. Just more irritating than fun.
For more information on how finder scores games, check our review guidelines.
---
More guides on Finder