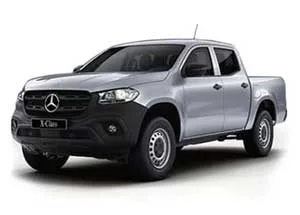 finder score: 72.5%
How did we calculate this? We analysed and aggregated the scores of Car Advice, Cars Guide, Motoring and Drive to bring you the finder.com.au score. This is a comprehensive score that brings together the four different expert ratings you see below.
Critic reviews
| Website | Rating | Notable quotes | |
| --- | --- | --- | --- |
| CarAdvice | 79% | "It perhaps makes sense to think of it as a luxury-ish SUV with a tray, a high-end boat or trailer-tower for that chunk of the population with money to burn, or at the very least a good accountant." | Read more |
| CarsGuide | 74% | "Does the Mercedes-Benz X-Class ute move the game on? No, it doesn't. But what it does do is offer yet another quality vehicle in the highly competitive dual cab ute segment..." | Read more |
| Motoring | 72% | "There's more than enough Benz engineering in the X 350d to ensure its popularity for those buying in the upper echelon of the market segment." | Read more |
| Drive | 65% | "Ultimately, it's the hefty price premium that makes the X difficult to recommend, although it'll depend how much you value the three-pointed star badge." | Read more |
How does the Mercedes Benz X-Class
compare with its peers?