Free Memorandum of Understanding templates (Australia)
Here's how to draft a high-quality Memorandum of Understanding using this invaluable information.
Lawpath - Memorandum of understanding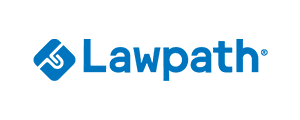 Download
the following template
Memorandum of understanding
Your first template is free
Get Template
We're reader-supported and may be paid when you visit links to partner sites. We don't compare all products in the market, but we're working on it!
If you're struggling to get your head around exactly what a Memorandum of Understanding is, this expert guide is here to help.
We've cut through all of the legal jargon, so you'll know exactly how to write up a MOU and when you may need to use it.
What is a Memorandum of Understanding?
A Memorandum of Understanding, sometimes referred to as an MOU, is typically used as a preliminary written agreement before a formal contract is drawn up between parties. While it isn't a legally binding document, it can be used during the negotiation stage to express a common understanding and vision between the two sides involved.
Once drafted and signed, a Memorandum of Understanding can be used as a reference guide as negotiations continue and the parties work towards a final agreement.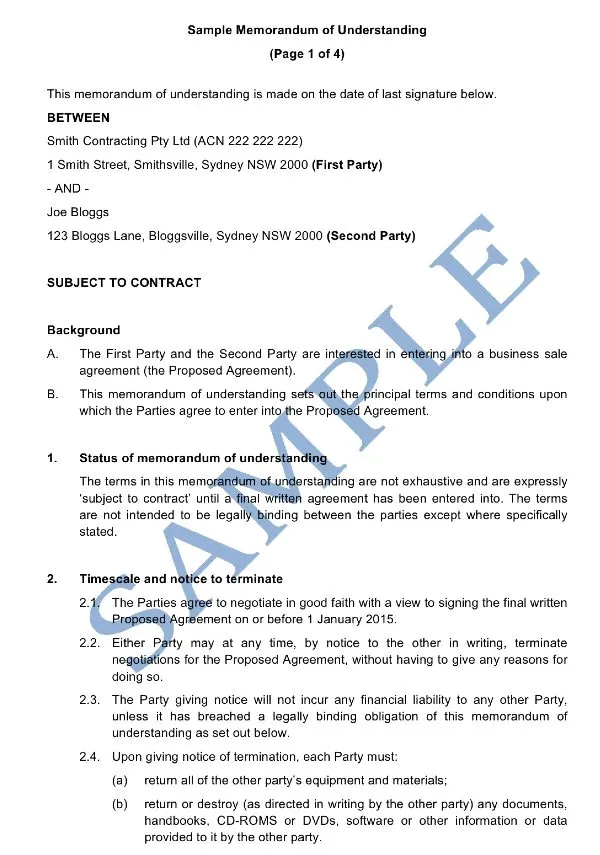 Download this template at Lawpath
When should I use a Memorandum of Understanding?
Generally speaking, a Memorandum of Understanding is useful in two circumstances:
When parties are working towards a common goal, have a high level of trust, and don't want to form legal relations;
When parties are in negotiation with each other and want to outline common goals before organizing a legally-binding, formal contract.
Memorandum of Understanding vs Letter of Intent
A Memorandum of Understanding and a Letter of Intent serve very similar purposes: they are both used during the negotiation stage of a deal, in order to set out proposed terms going forward.
A Letter of Intent, however, is more commonly used than a MOU, and you'll generally find that most large business transactions use them to provide a structure as to how the agreement will go ahead.
Another key difference between the two documents is that a Letter of Intent can hold up in court as a legally binding document.
What does a Memorandum of Understanding include and not include?
As you'd expect, there's no 'one-size-fits-all' rule when it comes to a Memorandum of Understanding. The document should be tailored to each individual situation, and take into account the parties involved and the common goals they're working towards.
A few key points to consider when drafting your Memorandum of Understanding include:
Details of the parties entering into the MOU
An agreed start and end date
Objectives, goals and expected benefits from the arrangement
Roles and obligations of each party involved
Strategies for dealing with disputes that occur
How effective is a Memorandum of Understanding?
While a Memorandum of Understanding is not a legally binding document, it is still an effective tool to use between parties entering into negotiations. Typically, parties involved feel obliged to cooperate with the terms and conditions set out in the document. This is because failing to do so can harm their professional reputation.
A Memorandum of Understanding should also benefit both parties enough to encourage compliance from both sides.
Do I need a lawyer for a Memorandum of Understanding?
As a non-legally binding document, a lawyer is not strictly necessary to draw up a Memorandum of Understanding. However, it is always a good idea to use a Memorandum of Understanding template to ensure that you have included all of the appropriate information.
Asking a lawyer to look over the final document also adds a level of protection for both parties involved.
Get access to customisable Memorandum of Understanding templates online
Does your company belong in this list?
How do I write a Memorandum of Understanding?
A Memorandum of Understanding does not need to be more than a few pages long. It should only document essential information that both parties should know to move forward with their partnership.
While every MOU is unique, each one should provide answers to the following questions
What is the intention of the parties in the agreement?
What are the specific responsibilities of the parties?
When will the partnership start and end?
Are there any disclaimers to consider?
Who will foot the bill financially?
Once written, the Memorandum of Understanding should be signed by all parties involved, preferably in front of an independent witness.
Where to get free legal documents and templates like a Memorandum of Understanding
The usefulness of a Memorandum of Understanding should not be underestimated. Using a template or following an example, is a great way to make sure you're along the right lines when it comes to drafting your MOU.
Lawpath. A handy online marketplace, featuring legal advice and templates including a Memorandum of Understanding example to browse. To customise and download the template, you'll need to pay a one-time fee.
Not-for-profit Law. Receive legal advice and a simplified Memorandum of Understanding template at no cost to you.
LegalVision. Access unlimited legal templates for a monthly membership fee or buy a MOU template for a one-time fee.
Wonder.Legal. A great resource with hundreds of legal templates. These include a Memorandum of Understanding template that can be downloaded and customized for $29.99.
More guides on Finder