Mega Man X Legacy Collection 1+2 review: Only one half is mega
The Mega Man X Legacy Collection shows a fascinating history of the evolution of Mega Man games, although not everything here is a must-buy hit.
We're reader-supported and may be paid when you visit links to partner sites. We don't compare all products in the market, but we're working on it!
It makes me feel actively old to realise that Capcom's Mega Man is an astonishing 31 years old this year. In that timespan there have been many games featuring the (mega) man also known as Rockman in Japan, and Capcom certainly hasn't been shy in mining its back catalogue, as it did for the Mega Man Legacy Collection, which grouped up the NES-era (or NES-inspired) 8-bit Mega Man games.
Even that wasn't the first time Capcom got into the "minting money by re-releasing retro Rockman games" game, having released various takes on those games for previous console platforms, as well as mobile devices.
Now it's the turn of the Mega Man X series with the Mega Man X Legacy Collection, split into two parts with four of the Mega Man X series presented in each.
---
---
If you're scratching your head and wondering what the heck a Mega Man actually is, he's Capcom's long-standing, generally difficult action platform hero. The plot across eight games is rather tricky to sum up in a few simple sentences, and frankly, it's not really the point of these games. While there is a narrative thread, this is all about the pew pew action.
Come for the giant robot bosses, try to avoid throwing your controller across the room in a fit of rage. You know the type, or if you don't, you're going to get very familiar with it by the time you get through all eight games across both collections, which essentially run through what Capcom did with Mega Man when it transitioned from the NES to the SNES and beyond.
Mega Man X Legacy Collection 1 brings you Mega Man X, Mega Man X2, Mega Man X3 and (wait for it) Mega Man X4. Most pundits (myself included) consider Mega Man X to Mega Man X3 to be compelling classics that shouldn't be missed, although Mega Man X4 is a little more divisive, being the Mega Man X game to jump from the Super Nintendo to the Saturn/Playstation era of consoles.
Mega Man X Legacy Collection 2, on the other hand, brings you Mega Man X5, Mega Man X6, Mega Man X7 and (no surprise) Mega Man X8, and here it's a slightly tougher sell. That's partly because, even if you do love the Mega Man games, it's hard to argue that Capcom wasn't both running out of original ideas and trying to do too much, too fast with the Mega Man formula. That's why you get weird plot "twists", the ill-advised use of 3D gameplay that feels no better now than when they first tried it out, and some visual design choices that are often jarring. They're not bad games, and there's certainly plenty of platform games from the PS1/PS2 era that stand up worse than these, but it's hard not to judge them against the quality of the earlier games.
There's a somewhat experimental feel to the Mega Man games of this era as Capcom clearly felt the need to keep on justifying the character and have him keep pace with the current gaming trends of the time. As such, they're kind of interesting at an intellectual level if you're interested in the evolution of the character, but that doesn't always make for massively "fun" games if all you want to do is blast robot bosses in the face.
Not that there's a shortage of robot bosses to take on if that's your passion, thanks to the new X-challenge mode available across both collections. This is essentially a boss rush mode where you select your difficulty and engage multiple Maverick bosses with your choice of Mega Man's weapons to guide you. It's not recommended until you've played the actual games through because you can rather spoil some moments in the game if you're not ready for them, but for series veterans, it's a great inclusion.
Equally nice are a range of museum additions, including theme music, English and Japanese trailers for most of the Mega Man X games and The Day of Sigma OVA to enjoy. You can toggle screen modes (including 16:9 stretched if you're feeling blasphemous) and apply CRT-style filters to the games to give them more of an old-school feel if that takes your fancy.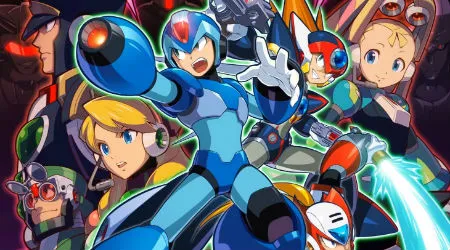 Click to buy Mega Man X Legacy Collection 1+2
from Amazon
View details
For those who have always shied away from the Mega Man games generally, the "Rookie Hunter" option, which you can kick into from any of the regular games, lowers the difficulty markedly. It's the training wheels mode for Mega Man X games and one that I'd suggest you should use sparingly if you're not familiar with Mega Man's mechanics. Yes, these can be tough games. That's the point.
The Mega Man X Legacy Collection 1 is a very easy recommendation for most gamers, especially if you've never played these games before. It's attractively priced as a standalone download product, and you'll get a lot of play hours if you want to uncover everything these games have to offer.
The Mega Man X Legacy Collection 2, though, is tougher to recommend outside the die-hard fans, simply because it represents a time when Capcom had somewhat veered off the track of making truly great Mega Man games. They're interesting games, and there are some shorter moments of brilliance, but it's not quite as compelling. If you do pick up the Mega Man X Legacy Collection 1 and love it, you'll almost certainly get enough out of it, but it's not the collection I'd buy first. By itself, Mega Man X Legacy Collection would be an 8.5 to 9.0 score, but as a grouping, it's slightly less great.
Mega Man X Legacy Collection
7.0 VERY GOOD
What we liked...
Legacy Collection 1 has hours of essential and tough platforming.
Great museum extras for the retro fans.
What we didn't like...
Still a few Mega Man X games not present here.
Legacy Collection 2 is the lesser half of the collection.
VERDICT
Mega Man is one of Capcom's cornerstone characters, and the Mega Man X Legacy Collection 1 shows so very strongly why this is so. Use that as your taster to whether the Mega Max X Legacy Collection 2 is worth your while, though, because it's not as well designed and hasn't stood up to the test of time quite as well.
Available for
For more information on how finder scores games, check our review guidelines.