Meet the Hockers E8 recap: Guys with cool watches and bad tempers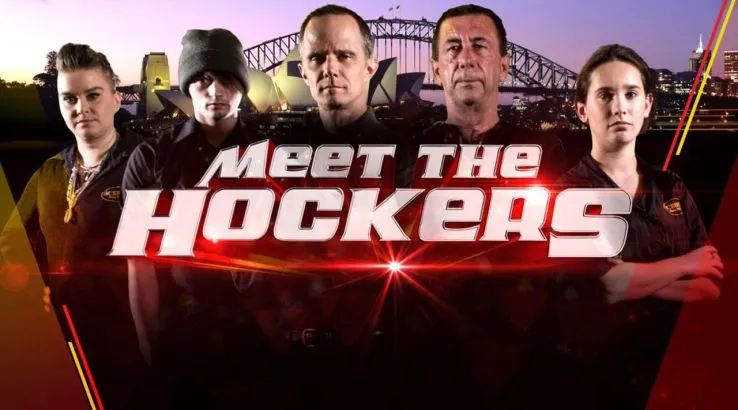 Good Guy Hockers return to save a lost war medal and we witness the glorious revival of P.K.
Welcome back Hockerinos! Tonight's episode starts off on a darker note with the "coming up later" shots promising some guy that thinks he can take on Jaz (fool), a diamond ring (amazing) and a woman looking very excited about the value of her camera.
Well, let's get the awkward staff meeting over with.
Good Guy Hockers save a war medal
King Hocker Mike informs the staff of a police alert of counterfeit goods and we get reminded that these are Good Guy Hockers!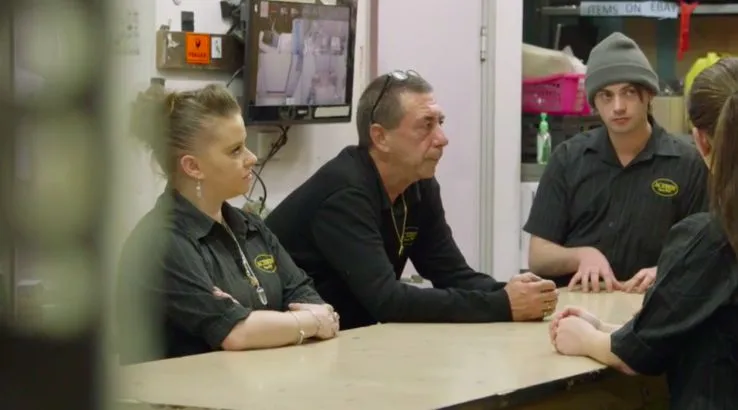 Someone's loan has expired and when that happens it means that the item the money has been loaned on is up for sale. However, this item is a war medal and Good Guy Hockers don't want to sell it. Jaz suggests trying to find the family, so they call in retired serviceman Len from the RSL to help.
The search was a bit tougher than expected and they weren't able to find anyone connected to the medals. But Len searches on…
Len for narrator!
Customer number 1: Dodgy guy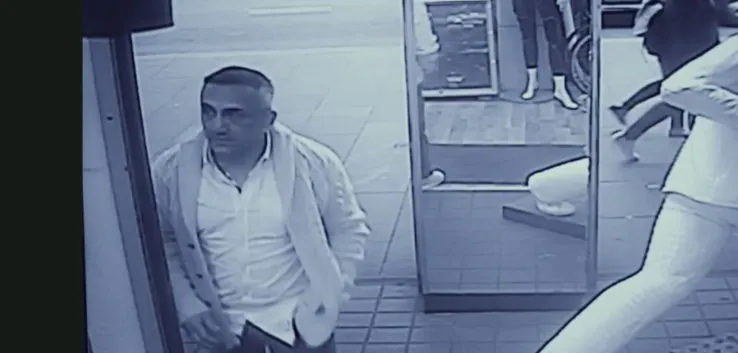 For those who have been playing along at home, any customer you see for the first time on security camera footage is bad. Or, they will be portrayed as bad for a while by the producers.
Meet "man with a white cardigan", named oh so creatively by Kyle's "Dad Joke" Ghost, whom I welcome to the episode as well.
Man with a white cardigan, or John, is trying to sell his watch. He wants $8,000 for the watch, which apparently has a beacon monitor on it so a helicopter can pick you up.
Jaz breaks the news that she can only buy it for $1,500. John thinks she's joking as it's much lower than his $8,000 asking price. She is not.
John tries to bring her back up to $6,000 and when she refuses he starts to get pretty mad. Probably because he paid way over retail price for it (think, $3,000 over retail).
John, there is nobody to be mad at but yourself.
Jaz stays calm and offers $3,000 while he shuffles and gets angrier and I'm just waiting for P.K. the security guard to make his entrance.
"I feel like you're treating me like an idiot here," says John.
"Well, if the shoe fits," quips Kyle's "Dad Joke" Ghost. I'll give him that one.
But then he says he will TAKE THE $3,000. Oh, and then he threatens to bring "his boys" in later. Okay, bro.
Jaz pretends to be writing up the loan but then brings P.K. in. And I am so excited.
He is swiftly escorted off the premises even though he tries to call for backup from, I can only assume, his elusive boys.
"After he sees what can happen to him, that emergency watch is going to come in very helpful," says P.K. Yes, P.K.!
Customer number 2: Back at Bondi!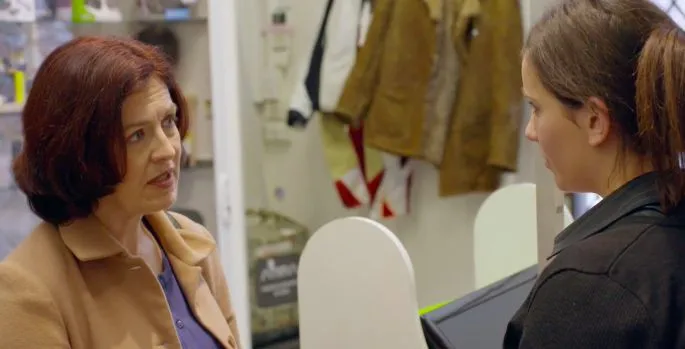 Back at the Bondi store where Jess has gone to help out, we meet Jane. Jess, who clearly can't see the anguish in Jane's eyes as she hands over a ring she wants to hock, enthusiastically asks Jane about the troubles in her life that are leading her to get money for it.
Turns out the ring is an heirloom and she needs to hock it to help her struggling business. The chocolate business she started with her mother. Jess ignores the emotional turmoil and makes this face.
Before the ad break, we're told the ring might be fake because it's so clear. It turns out that it's just that amazing.
Jane needs to borrow $5,000 for her business, but thinks the ring might only be worth $2,500 to $3,000. But, lo and behold, Jess gives her the $5,000.
Customer number 3: The lovely knife-wielding man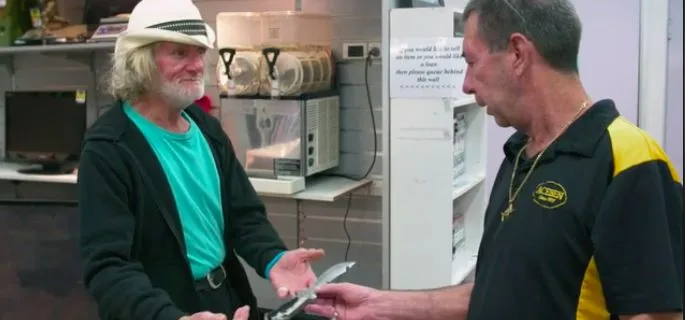 This customer comes in wanting to get some money for his knife in exchange for a train ticket. The customer, whose name is Tommy, also has quite possibly the most Australian accent I've ever heard. Turns out he also plays the harmonica.
Tommy asks for $800 for the knife and Paulie offers him $150. Tommy doesn't seem too pleased with the counteroffer and returns with $350. Paulie comes back with $220 and they agree to the price with a true blue handshake.
Customer number 4: The pleasantly surprised model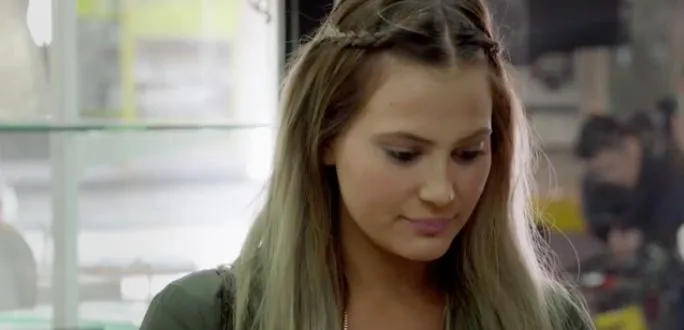 Let's skate right over Mr Irrelevant's aka Kyle's "Dad Joke" Ghost's remarks about the next woman as she walks into the store and focus on what she's trying to sell. She has some antique cameras that her grandmother gave her before she passed away.
No wonder she has so many cameras, she's the third in a generation of models.
She's asking for $800 for each of the three cameras.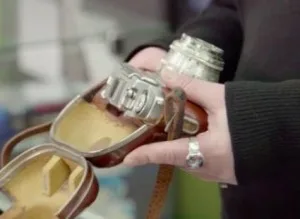 Not surprisingly, they have an antique camera expert on hand to confirm how much they're worth.
Jaz delivers the good news that while one of the cameras retails for $800 (meaning Jaz can give her $400) another one is worth $1,500. But the real kicker is the final camera, which sold for $22,000 10 years ago. Jaz buys it from her for $7,500. Go check your nan's closets, kids.
Our model agrees to the sale (for obvious reasons).
Customer number 5: Coming back to the decks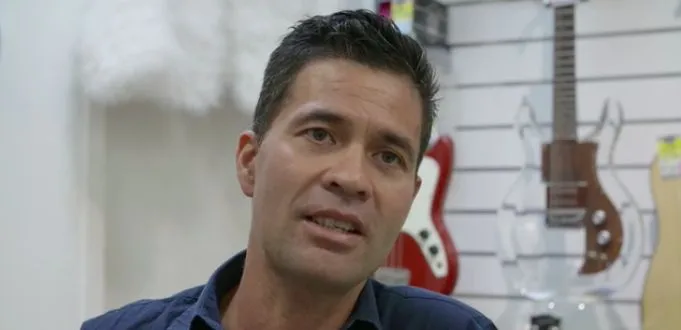 At the Bondi store, an ex-DJ is reviving his former love and buying a DJ deck.
It retails for $1,399, so Bondi store manager Martin offers it to him for $799. He comes back with $400 but Martin counter offers with $650, despite the customer saying he could just be buying a "$400 paperweight".
Martin won't budge any lower even though he's promised a DJ show. They agree to the sale.
Martin says he has mixed feelings about the sale because he's "contributed to one more DJ in Bondi".
Kyle's "Dad Joke" Ghost momentarily forgets he is a radio show host and agrees with him.