Meet the Hockers E5 recap: Paulie's on a boat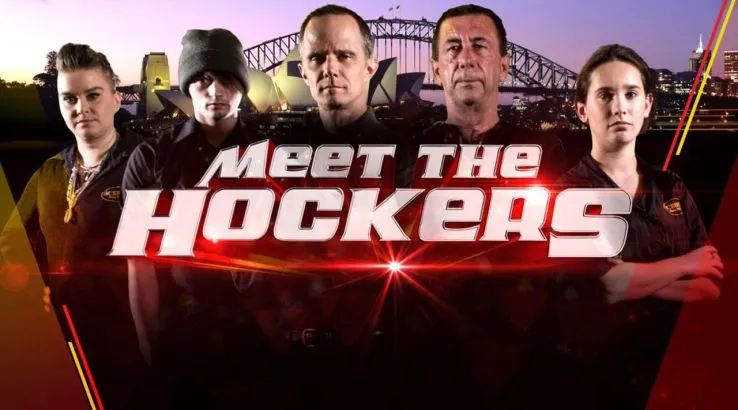 The hockers take $100,000 to the Gold Coast and help someone hate her ex-fiance even more.
Tonight we are being blessed with another double episode and I cannot believe my luck. I hope you've all gathered your finest jewellery and popped your finest corn – I know I have.
Episode five starts well. It's pre-empted with some super serious music and the promise, or at least suggestion, of some more theft. Plus, Paulie is heading up to the Goldie with almost $100,000 in cash.
And, the opening comments made by Kyle "Kyle's Ghost" Sandilands are mostly – and thankfully – drowned out by the theme song.
I'm ready – let's do this.
Customer number 1: The supposed criminal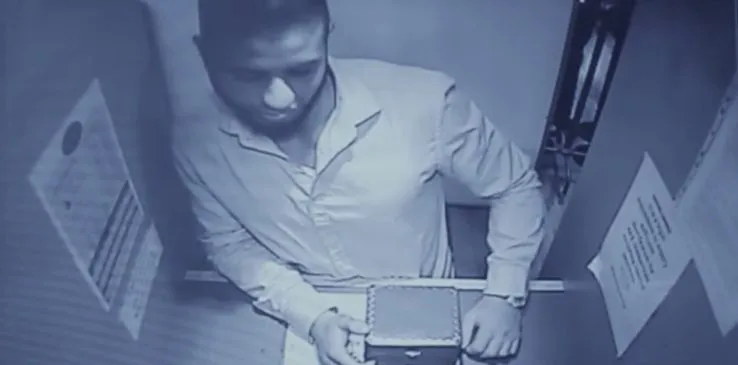 We first see this customer through the blinds and then on the security camera footage. Therefore, he is a criminal. He comes up to the counter and opens a small box while chewing gum in a criminal kind of way. He pulls out a watch and Paulie says the watch is "pretty impressive".
"How much is this watch worth?" Kyle's ghost ponders. "Only time will tell."
Wow. Moving on.
Paulie thinks it might be stolen but the guy pulls out a receipt.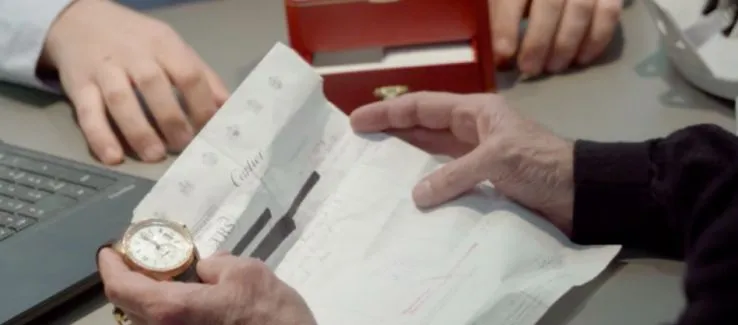 The criminal-looking guy asks for $50,000 and Paulie tells him he's dreaming because the watch only cost $55,000 (Ha! Only.)
The customer then offers the watch he's wearing as a deal sweetener, and guess what? This one is worth $70,000. After Mike checks it out he sees it's a Frank Muller Master of Complications, which is apparently super-fancy.
But still, the not-so-good-guy hockers only offer $30,000 for both watches. The customer (who, probably isn't a criminal and is just a guy with two watches), scoffs, so Paulie brings the price up to $35,000.
Mr. Two Watches tries to bring him up to $45,000 but Paulie doesn't budge, despite two watches insisting he'll pay it back next month. Okay, buddy.
They end up shaking hands on $40,000 and the guy goes off to presumably stop his legs getting broken in some poker game.
Customer number 2: She's better off without him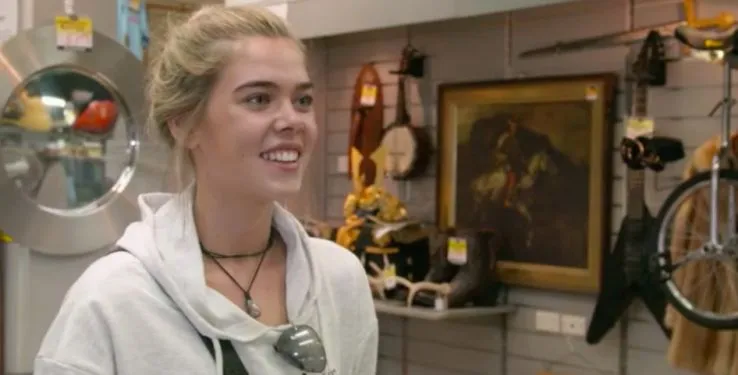 Kelsey the American comes in and we know she isn't a criminal because there is a sweet piano tune playing. Kelsey looks troubled and says she wants to sell a ring.
Turns out it was from her ex-fiancé whom she came to Australia to get away from. Aw. Now I understand the piano accompaniment.
Trouble is, after inspection, Mike and Jess work out the stone is a Moissanite. This is a synthetic stone which makes the ring basically worthless. Well, the gold is worth $100 – not quite the $20,000 she said her fiancé paid for it, however.
She takes the $100 and calls the ex-fiance to yell at him in the store and Jess stands here like this.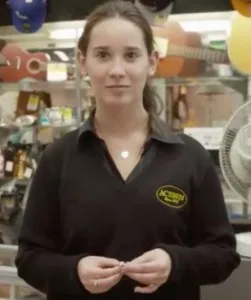 Customer number 3: Paulie's on a boat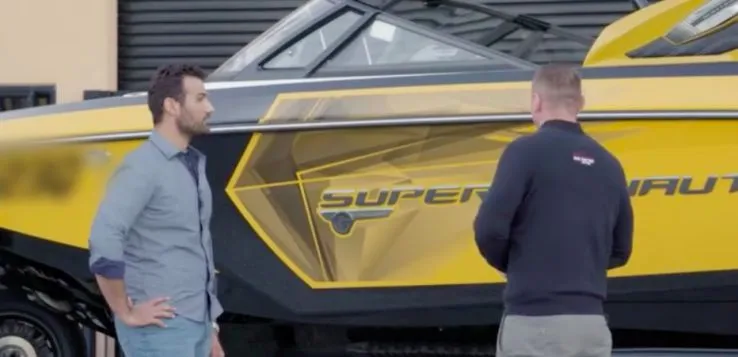 Paulie is headed to the Gold Coast with close to $100,000 in cash. Pfft, whatever, that was basically me at schoolies.
Anyway, Paulie walks with his nondescript black briefcase that may as well be a sack with a dollar sign on it and meets up with their friendly boat dealer Vadim at "Hock Your Ride".
I can also hear the sadness and obsoleteness in Kyle's ghost's voice as he says: "It looks like this one's sink or swim for you." Man, this guy has basically given up.
Nick, a property developer, is looking to sell his $250,000 boat for $225,000, but Vadim offers $150,000 "cash on the spot right now". Love that lingo.
As per usual, they have some obscure expert on hand ready to lend their valuation services. Sam the boat expert tells us some super-technical boat information, including that this particular model has heated seats, and that it would easily sell for $220,000.
After hearing from Sam, Vadim offers $170,000 and Nick comes back with $200,000, but Vadim says he just doesn't have the cash. They eventually settle on $190,000 but Nick still looks pretty mad about it.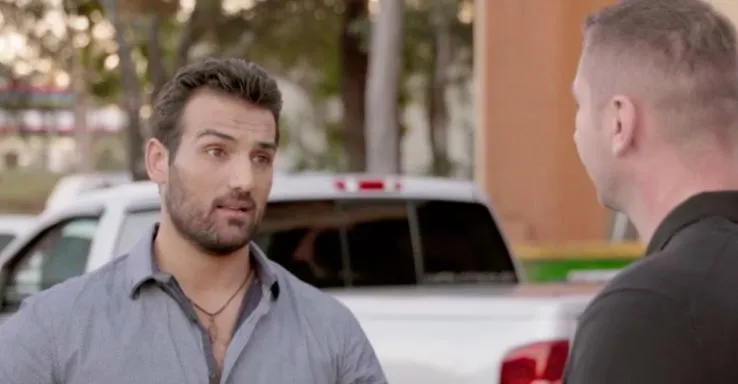 But the torture isn't over yet; now they have to sell it. To be honest this is the only time we've seen any of the hockers be stressed about trying to get rid of an expensive item.
They literally drive the boat up to a camera-shy international dealer's house so he can check out the heated seats, but the dealer seems reluctant.
"Mention the heated seats again," implores Kyle's ghost. And I totally agree.
There are a few tense moments where the dealer is "umming" and "ahhing" and we're stressed that the hockers will be stuck with this boat! But the camera shy international dealer is only messing around. The boat is perfect, he says!
The negotiation starts with an offer from Mr. Camera Shy at $210,000 and Vadim asks him to come up to $230,000. Mr. Camera Shy offers $220,000, and despite Vadim asking for $225,000 he holds strong.
Vadim consults with Paulie, who basically says "get rid of it".
"It's a boat!" says Paulie, level-headedly. Yes, Paulie. Good Paulie.
Then Vadim COMPLETELY IGNORES PAULIE and tries to get another $10,000 out of the dealer. What the hell, Vadim? Team Paulie!
Thankfully, they agree on $220,000 and I can breathe again. $30,000 profit for the hockers – not bad.
Customer number 4: Back at Bondi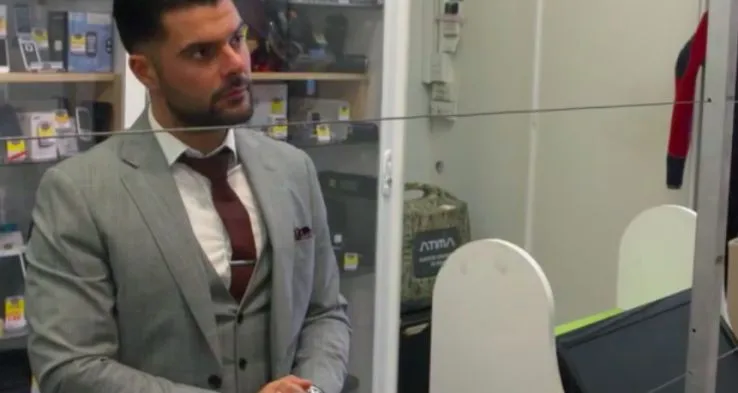 Back at the Bondi store, a man called Vinni comes in with a box, and out of that box comes a pilot helmet. It was apparently used by the Russians during the Cold War and Vinni, who wants to sell it, says: "I'm thinking thousands!"
And while store manager Martin thinks it will look good in the window and will sell well, he still looks very sceptical.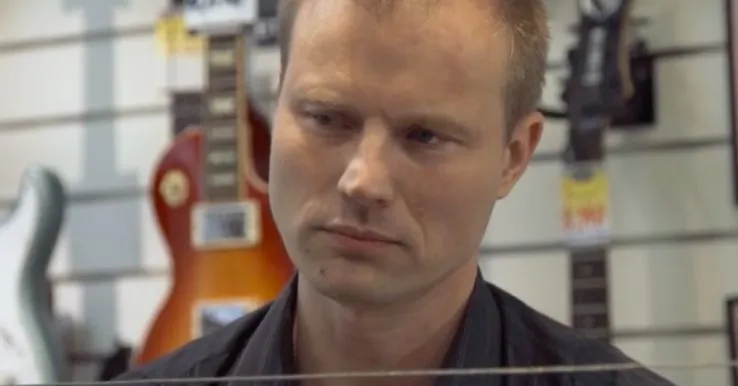 Unfortunately for Vinni, Martin completely schools him on pilot helmet knowledge and tells him they're still making these in China. Vinni says "I'm thinking thousands" again and Martin offers him between $300 and $500.
They agree on $500 on Vinni heads back out into Bondi in shame, saying "I was thinking thousands" again. Probably.
Customer number 5: Guy with the hair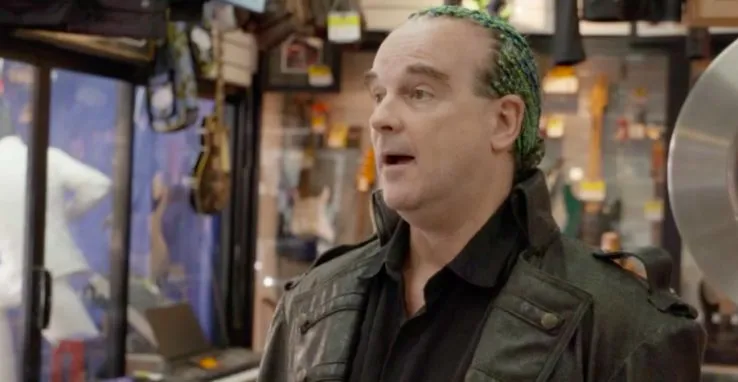 Jeff, who has the most interesting hair on the show so far, is a musician looking for a new machine to create his music. I don't know what the machine is – a QI700 – but it might help Jeff create something beautiful and I'm all for that.
Jeff tells the cameras that he will pay over the asking price to get the machine – but says he wouldn't tell the staff this (does he know how television works?).
Jaz asks for $400 and poor Jeff says he doesn't make much money out of his passion for music. Dammit, Jaz give him the machine! She offers it to him for $380 and he takes it, puts on a top hat and treats Jaz to a song.
Jaz doesn't deserve it for charging him too much, to be honest.