Meet the Hockers E4 recap: Dawn of the dumb criminals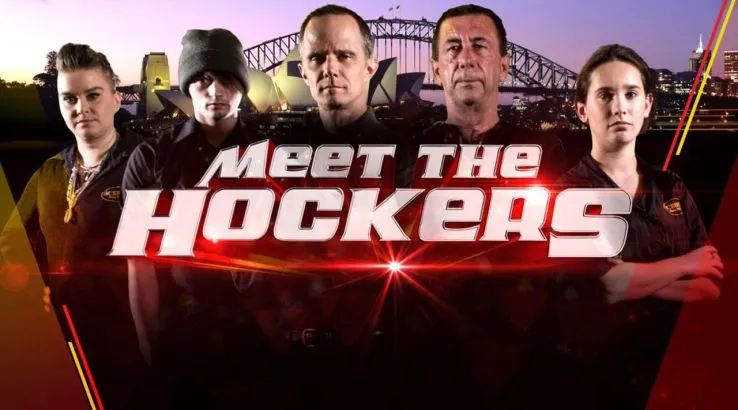 Five of the nicest customers you'll ever meet...and two of the worst.
We have arrived at episode four and I am as excited as someone in desperate need of cash trying to hock a skeleton. I cannot believe they gifted us with – wait for it – not only two episodes of Meet the Hockers in one night, but two instances of P.K. the security guard. Better yet, we see P.K. in the first five seconds of this episode, saying he will go "go out there with venom".
Me too, P.K. Me too. P.K. for narrator!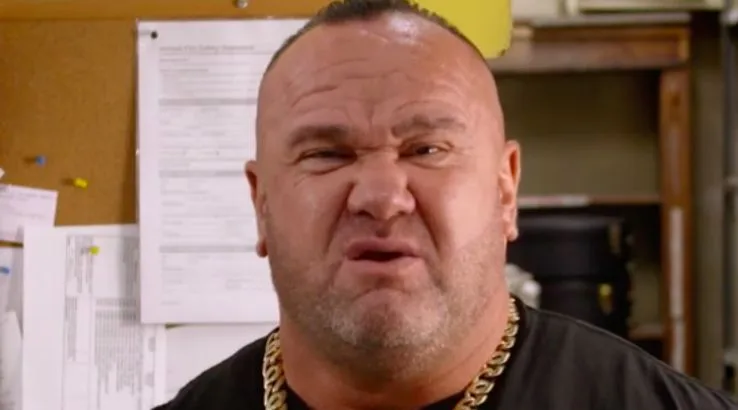 The episode starts with the usual awkward staff meeting that alludes to something happening later in the episode. Mike tells the staff about hearing reports of break-ins in the area, so sit tight for that one.
Customer 1: World's dumbest crook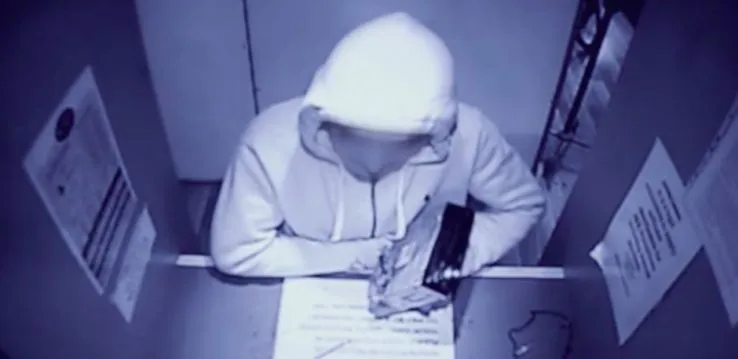 The first customer is suspicious. We know this because, first, the ghost of Kyle Sandilands whispers it into the wind, and secondly, the first shot of him is on the security camera footage.
But, he's trying to sell a car stereo so I am kind of buying into Paulie's mistrustful expression here.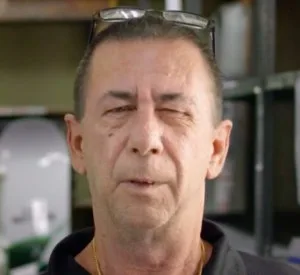 The guy, whose face is blurred and whose name is kept secret (I wonder why) wants $110 from Paulie. Paulie comes back with a $20 offer but blurred-out-face-guy wants "at least $70 or $80".
Paulie then realises he recognises the stereo because IT IS HIS STEREO. The one that is missing from his van.
"Oh turn it up," Kyle's ghost interjects. Shut up Kyle, we're missing the dramah! But Kyle follows it up with one thing that's correct – this guy is the world's dumbest crook.
The situation turns serious and Paulie is annoyed. Look, I get it. The stereo is his and the thief is trying to sell it back to him.
But then their secret weapon P.K. comes to save the day, simply grabbing the guy on the shoulder, scaring the living daylights out of him and getting him to hand over his ID.
Customer 2: Say cello!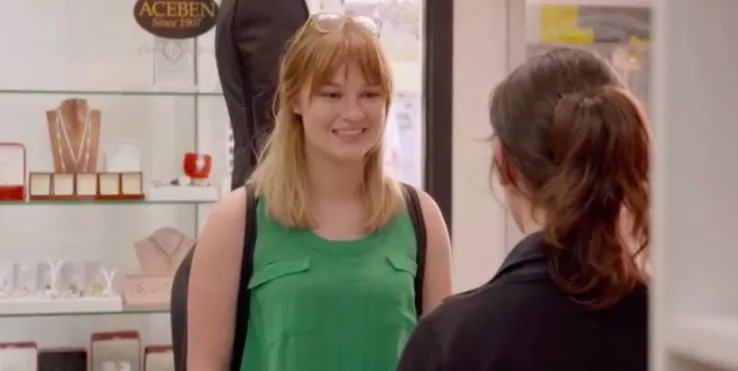 Elena has brought in a cello to store in the pawn shop, which is evidently a normal thing to do. It lets people get cash for their item as well as a place to store it.
Mike seems to be the go-to person for cello pricing and tells Jess that, despite it retailing at $1,800, that she should offer Elena a loan of $400 and not go over $450.
"Because Elena is hocking and not selling there is a limit to what we'll loan – that will guarantee she'll come back," says Mike.
No terrible jokes from Kyle yet.
Elena ends up taking the $450 offer and even plays the cello for Jess because she says they need to test everything. Truly.
Customer 3: Surfer dude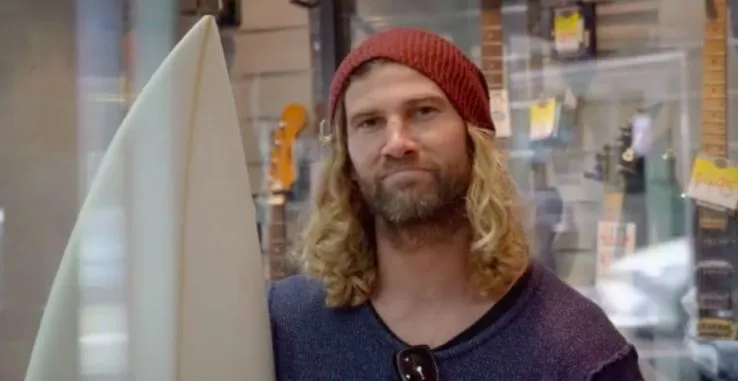 This customer's name is Johnny and he's trying to get a loan on his surfboard. Jess, who's dealing with him, can't stop staring or talking about his face or the cut on his nose. The story about him hitting on a surfboard doesn't sit right with her and she believes he got into a bar fight. Okay, Jess.
The board is custom-made, a Johnny original, and he's looking for a $500 loan.
Jess tries to fight a bit for Johnny so he can see his girlfriend overseas (the reason he's getting the loan) but Mike won't let her go over $350-$400 for it. In the end, they agree on $400 and that "love conquers all".
Customer 4: Shackled to cash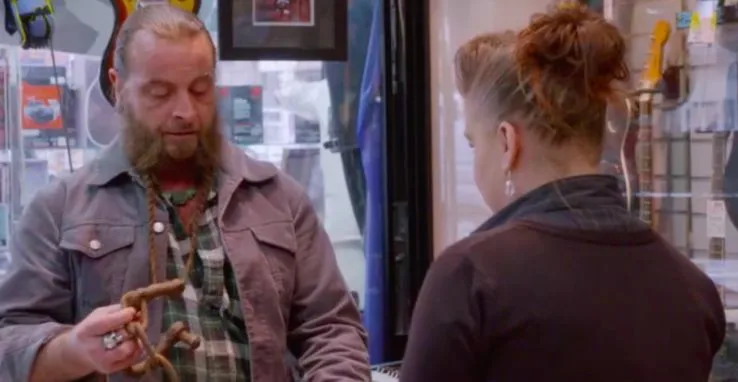 Man, poor Jaz must have seen some terrible things in her time at Aceben. Rob walks in with a nondescript black sack and she assumes there is a snake in there. There isn't – but there are shackles.
Rob says this is because invoices are slow and so he took the shackles as part payment as a job he did on a house. I name him the official Good Guy of the episode.
He did research on their value and wants a $500 loan for each of them. Kyle's ghost thinks that's a bit much – "This guy's pulling our chain." Groan.
Jaz finds out the shackles are from England in the early 1800s and offers $400. Rob looks a bit disappointed but takes the loan.
Customer 5: The board guy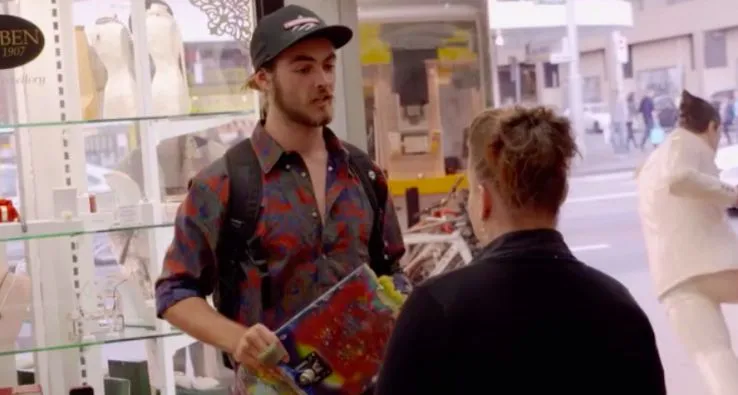 Reece stumbled into Aceben with a half-broken board, having just trashed it skating down the street. Luckily, as a pawnbroker, they have plenty of skateboards that are intact and ready for purchase.
Jaz gets a lesson in skateboard sizes and Reece picks an $80 skateboard. He tries to get it down to $55 but Jaz brings it back up to $70, which Reece agrees to.
"$70 for a board beats $80 for sure." Wise words Reece.
Customer 6: Peter the Samurai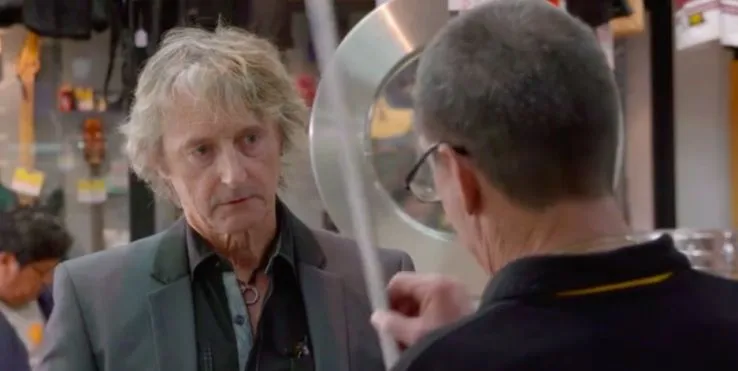 It's not every day you see a genuine Samurai sword – unless you work in a pawn shop I guess. The customer, Paul, received the sword from his father after it was surrendered to him in WWII. He wants to get an idea of what it's worth.
Then, Kyle's ghost comes in and actually gives us useful information about defeated Japanese soldiers surrendering their swords to the allied forces during WWII.
WHAT IS HAPPENING?!? Has Kyle's ghost become so obsolete that he must provide us with interesting historical facts instead of funny commentary?
Well, whatever. I'll get on board I guess.
Paulie takes it to his mate across the road at Lawrence Ordnance and finds that this sword, although genuine, is only worth $500 to Paulie. After some prodding, Paulie brings it up to $700, and despite him asking to bring it up to $800, he declines the offer and takes his less-than-priceless heirlum home.
Customer number 7: The thief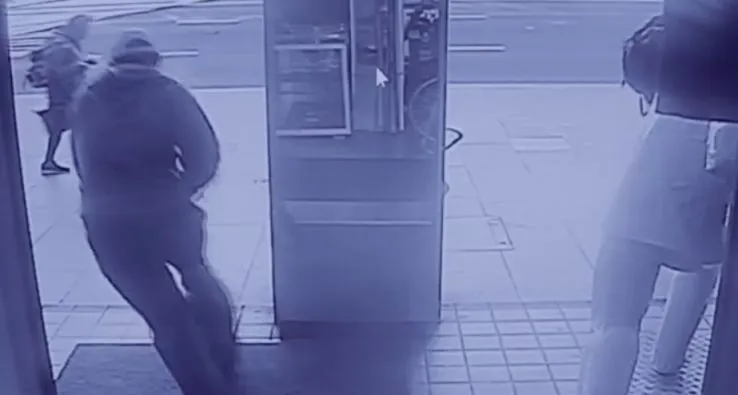 I knew the terrible meeting from before would lead to this. So, poor Jess was putting something away when a cupboard jammed. She turned her back for a split second and a thief takes advantage. He steals a tray of rings and then absolutely legs it out the store.
"Oh, dammit." Indeed, Kyle's ghost.
Jess actually ran after him. Good on her.
While she didn't catch him, the thief actually comes back in and tries to sell one of the rings. I'm sorry, but is this the only pawn shop in the city? What is wrong with people?
He asks for $500 but instead they call the cops. What an idiot.
Until another double episode next week, my dear hock-loving friends.
---