Meet the Hockers E3 recap: Flirty skeleton women and new kid on the hock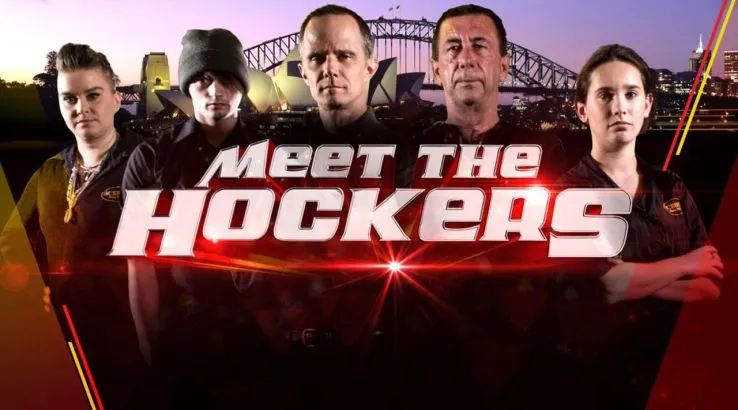 Someone finds out tasers are illegal and we finally see P.K. the security guard in action.
Aaaand we're back, and episode 3 can't have come soon enough. However, I won't get to say that about episode 4 because it appears we're being treated to a DOUBLE EPISODE tonight). Please, Channel Nine, don't let this be a sign you're cancelling our beloved Hockers. Paulie will be crushed.
In the meantime, the show must go on, and tonight's opening gives us a tantalising glimpse into what will be in store…
"I've got a customer here and she's angry," says Jaz. Cut to the customer being angry and Jaz smiling awkwardly because she's on camera.
We also see Mike take the role of Good Guy Hocker when faced with a case of modern counterfeiting, plus a girl called Grace appears to be trying to hock her family's opals. Well then.
Oh and I think I hear Kyle "Kyle's Ghost" Sandilands being irrelevant again. Thanks for being here too, I guess.
Customer number 1: The Angry Girl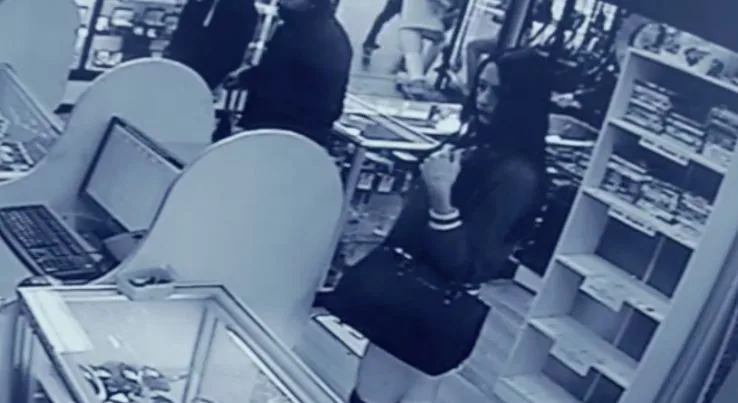 After some incredibly painful casual conversation from Mike and the Aceben team, we meet angry girl.
Angry girl is not angry when she walks into the store. She is just a pleasant young woman who happens to have a switchblade, a flip knife and taser that she wants to sell.
Jaz reminds the camera you have to be "pretty careful" with deadly weapons. Cheers Jaz.
Yet-to-be-angry girl asks for $500 for all three weapons and Jaz says she needs to take them out the back for her boss to examine. I think I hear Kyle's ghost making a joke about being shocked but I try, as usual, to block it out.
After checking with Mike, he and Jaz agree that yet-to-be-angry girl needs to leave with her weapons (does it seem safe sending her out on George Street?) and that they need to alert the police (okay, that actually does seem safe).
Jaz breaks the news to her that Aceben can't buy the highly illegal weapons and (finally) angry girl starts to get angry. Apparently, she wasn't aware the weapons she was carrying in her handbag were against the law. Awkward.
The dramatic music starts and we finally get to see P.K., Aceben security, in action.
After the situation starts to escalate, P.K. picks her up with the two knives in her hand and banishes her onto George Street, leaving her stun gun behind.
Um...then they proceed to stun each other until the cops show up? Classy.
Customer number 2: The not-so-opulent entrepreneur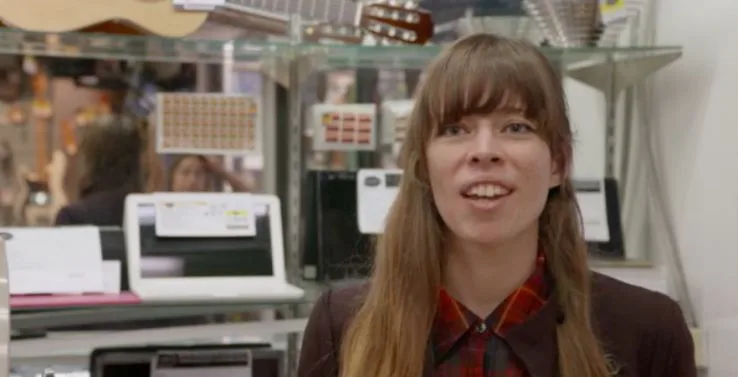 Grace walks into the store and I hear something that sounds like Kyle's ghost make a joke about wondering whether she has a machete in her bag. She doesn't. Grace is starting her own jewellery line and she needs some money today.
Grace has brought in a selection of boulder opals from her father's mine in South-West Queensland. Mike puts on his professional eye inspector and Grace asks for $1,600.
Despite Mike wearing his super-professional eye inspector, he calls in their other gemologist Adam to have a look at it.
Apparently, opal price is linked to colour and blues and greens, which these opals are, are down the lower end. Because of this Mike offers her $850. You can actually pinpoint the second that her heart breaks.
Despite this, she plays the game and tries to get them up to $1,000. Mike comes back with a counter-offer of $900 and then she comes right back with $950. Mike holds strong at $900 and she knows she's been beaten.
"It wasn't quite a gem of a deal but the customer seemed happy enough," Kyle's ghost concludes.
The new kid on the hock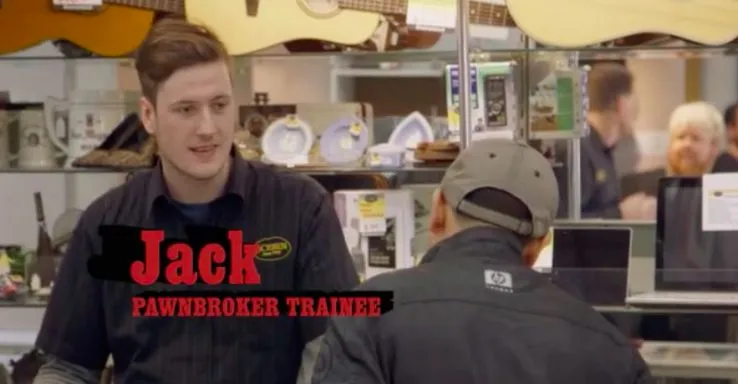 This episode we get to meet a new member of the Aceben team, Jack.
"New bloke turned up today, seems like a nice kid," says Paulie in his articulate manner.
As a retail employee survivor myself, I can only sympathise with Jack's next customer interaction:
"Hey mate, can I help you?" he asks.
"Nah, go away."
Planned by the producers or not, I can attest to the fact that this is happening all the time in stores across Australia.
Paulie then sends Jack to the police station to get a verbal agreement form, which doesn't exist. Hilarious.
Customer number 3: Super mysterious guy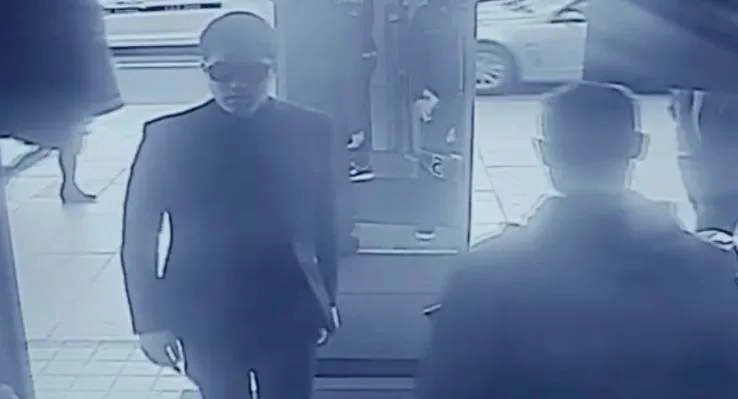 The guy is wearing sunglasses so Kyle's ghost drops a few jokes about Men in Black, the secret service and the Blues Brothers. Moving right along...
The guy basically walks in and hands a watch to Mike, which Mike says could be a white gold Rolex that could be worth $20,000. Trouble is, the guy won't answer any of his questions.
"This silence is super awkward," says Kyle's ghost, and I actually agree with him. Who is this guy? Is this a negotiation technique? I guess we'll find out.
After an inspection, Mike says it doesn't feel heavy enough to be a Rolex and therefore it must be a copy. The guy doesn't react.
"That's not the reaction I'm after," says Mike.
While Mike takes the back off the watch to have a proper look, he figures out it's a fake. Oh man, the guy looks so mad.
But, to be honest, if it was a present, he was trying to hock it anyway.
Customer number 4: Woman with a legit skeleton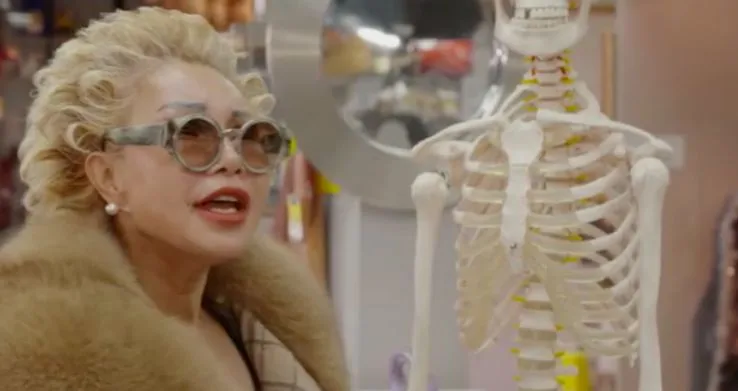 I just... I just have so many questions. At what point in your life do you get to where you have a spare skeleton and you think "You know what? I should hock that". To answer that question, let's meet customer number four.
It doesn't take long for Aaron to work out that the skeleton isn't real, which is kind of creepy. He also rattles off the price of a real human skeleton ($20,000) and a fake one ($200) way too quickly. Now I know why Mike has kept Aaron out the back.
Despite this, after a bit of back and forth and flirting, they agree on a sale price of $140.
Customer number 5: The Argentinian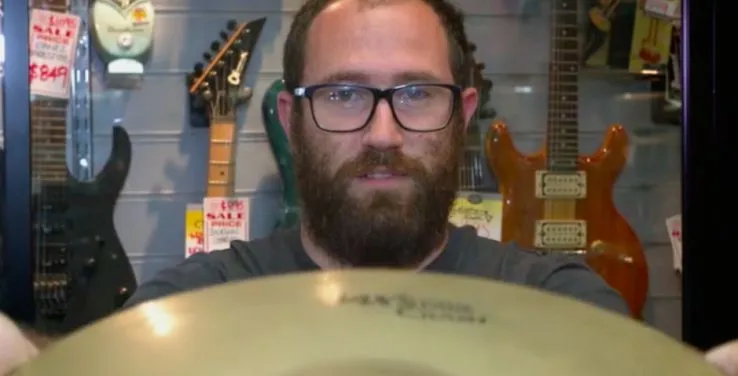 I think this is the first customer that has come into the George Street store to buy something. He wants to buy two cymbals which Paulie has priced at $400. The customer is immediately playing Paulie's game.
He points out a few faults and asks him to bring the price down to $150. Paulie says he doesn't charge extra for cracks, which is probably the funniest thing that has been said on this show (I can almost hear Kyle's ghost sobbing in a corner).
Paulie asks for $300 and the customer, who says he is from Argentina, says the most he would pay is $200. They end up agreeing on $220.
Customer number 6: Looking for some amplification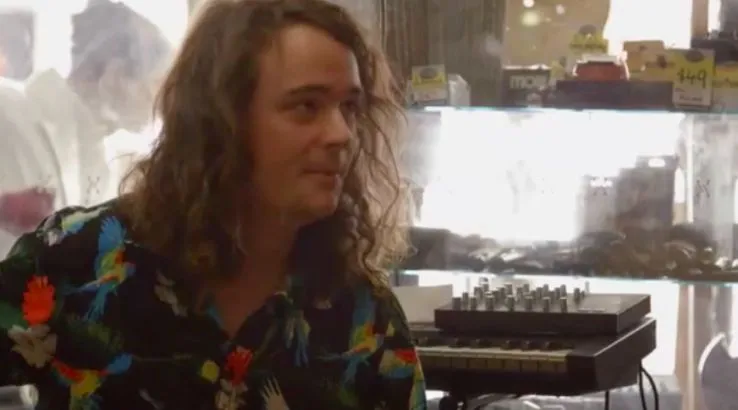 Here we have another customer looking to make a purchase. John wants to purchase the Fender Performer 100 amp in the window, and after having a quick play in-store and throwing around some technical amp terms with Jaz they start the negotiation. He basically says he can't afford $350 and so Jaz drops it down to $300.
He offers her $200 cash which he conveniently has in his pocket, but seeing as this isn't The Good Guys, Jaz says she can't go that low. They eventually settle on $275 and she says she'll wrap it up for him. Wrap it up? Does she mean that she'll put it in the box or gift wrap it?
Customer number 7: I have no words.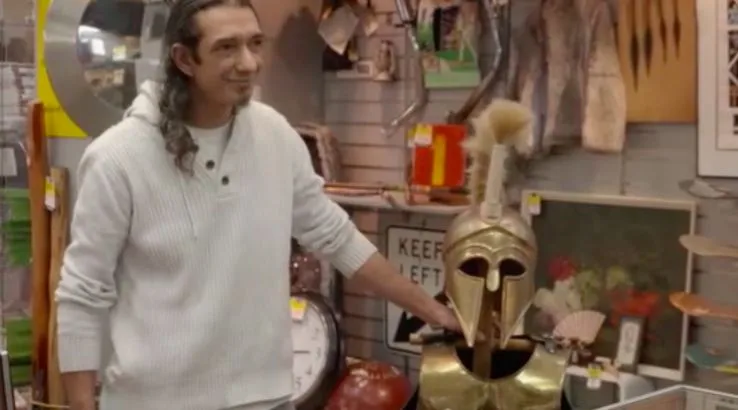 "I assume this guy is delivering the brand new staff uniforms," suggests Kyle's ghost. Okay, okay. I'll give you that one Kyle's ghost.
This guy, named Giuseppe, starts pulling out multiple helmets from a helmet collection that came with a shop he purchased.
"He's Italian of course," says Paulie. Thanks Paulie.
While I assumed the helmets were from a costume store they were actually found in a pizza shop? Anyway. Paulie offers him $500 and Giuseppe is so offended he says "Mamma mia!"
He tries to bring Paulie up to $1,500 but Paulie only budges to $700 "and a couple of pizzas,' to which Giuseppe agrees.
They then put Aaron in the helmet and armour so they can test it "according to store policy". Uha.