Meet the Hockers E1 recap: Good guy hockers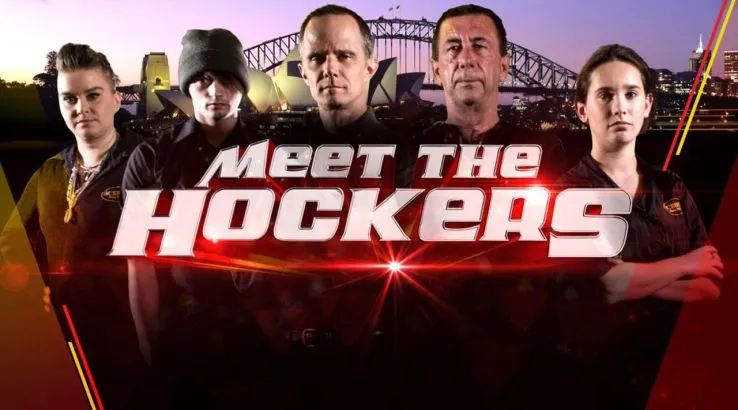 The ghost of Kyle Sandilands takes us on a beautiful, pawnbroking journey.
Okay, it has arrived: The inaugural episode of Meet the Hockers, a show which promises cash, jewellery and Kyle Sandilands. But as I sit down to watch tonight's debut of Mike, Jaz, Aaron, Jess and Paulie, I have several questions.
1. Where is Kyle Sandilands? I understand he just does "the voiceover" but I didn't know that meant dropping an occasional remark. That approach pales in comparison to his usual radio snarkiness. Where are the celebrity putdowns and general abuse?
He will henceforth be known as the ghost of Kyle Sandilands.
2. How did they convince some of these customers to appear on this show? In particular, a woman wearing an evening gown in the middle of the day and needing close to $40,000. But more on her later.
3. How did the producers get me to buy into the Good Guy Hocker fantasy so quickly? Damn you, Channel 9.
But now, to the show.
Customer 1: The thief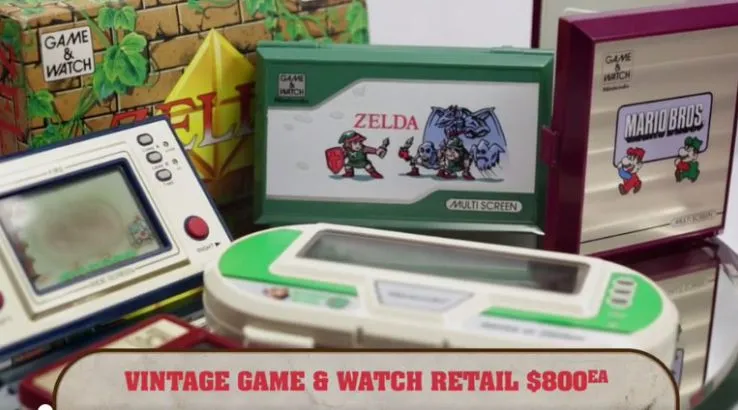 After a basic introduction to the complicated world of hocking – "we buy, sell and loan on goods and we call that hocking" – the ghost of Kyle Sandilands introduces us to the first customer of the day, and also to Jaz. Apparently, Jaz doesn't take any of their crap, except for their vintage gaming consoles.
Our first customer comes in trying to sell these gaming consoles for $20 a pop, but after failing to answer basic questions about them, Jaz gets suspicious.
With lots of repetition of the word "suspicious", security camera footage and shots of Jaz looking as nervous as the customer because she's on TV, we learn that this customer is probably a thief and robbed some poor nerd of his games.
"Believe it or not some people aren't telling the truth," says Kyle's ghost.
And they leave us in suspense as to whether or not he is telling the truth. Which we all know he is not.
Customer 2: Creepy Christine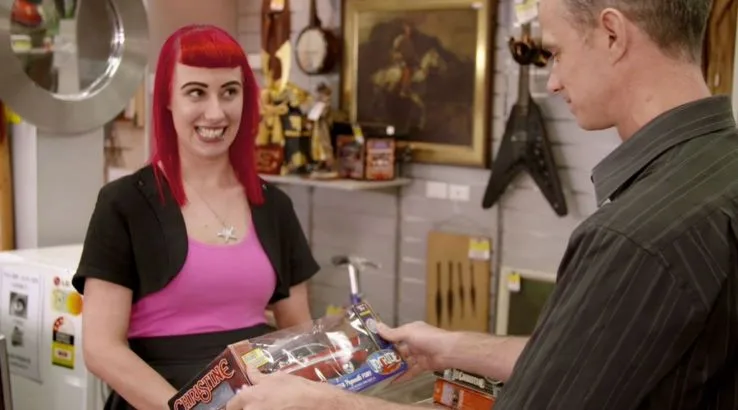 Christine isn't actually creepy, but she comes in with a bunch of Stephen King books and a scale model of the Christine car that was possessed and tried to kill people. Her ex thought it would be a great present for her, but what was even a greater present was that her mum named her after the car. Happy birthday?
This is the first negotiation we see. Creepy Christine asks for $400 and Mike brings her down to $250, but she eventually gets him back up to $300. Not a bad consolation prize for being named after a killer car.
Customer 3: Addicted to hocking and wearing an evening gown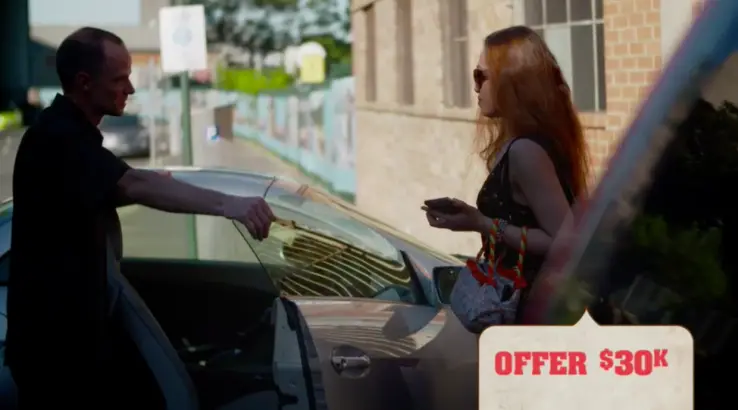 With the next customer, we start to see the seedy underbelly of hocking. In some alley near the water (which may well have been set up by the producers for dramatic effect), Mike meets a client who "needs cash and needs it now".
The woman, whose name we never learn, drives up in a Mercedes, steps out in a floor length evening dress and immediately begins negotiating. We learn the hockers offer loan amounts of half the retail value.
"That's how we get our money back," says Mike.
While the car retails at $112,000, he initially offers her $25,000. The mood is tense and I wonder why Kyle's ghost hasn't spoken in a while.
She counters with $45,000 and he says he won't go over $30,000, and then we hear the hard sell. "We can have the money to you right now," he says to her. "We can give you $5,000 now and the rest will be in your account in an hour."
She literally says "why not." Yeah, WHY NOT??
After hocking her car, she returns later in the episode needing even MORE cash. She brings in a diamond bracelet and asks for $7,500, saying that the diamonds belonged to the Burmese Royal family. It was a good story but she only got $5,000.
She walks down George Street with her $5,000 cash, but this isn't the last we'll see of her . . .
Customer 3: The lawnmower man that lets Kyle's Ghost finally take his stride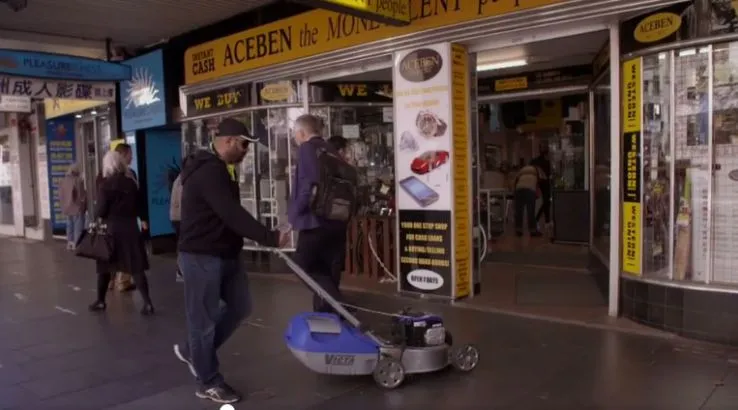 I honestly do not know where to begin with this next customer. Firstly, we meet him outside his house, meaning the producers deemed him worthy of a follow-up interview, and I can totally see why.
"Meet Mohammad," says the ghost of Kyle. "He likes mowing lawns."
That much is true. He has built his business around it. Trouble is, he has business and personal expenses to meet, and to continue with his love of mowing he needs cash and he needs it fast. So he HOCKS HIS MOWER. That's right – he pawns his means of income.
The irony wasn't lost on Kyle. Neither was the fact that most of the gardens in the area were fully concreted.
Customer 4: "Bit of a character" Stevie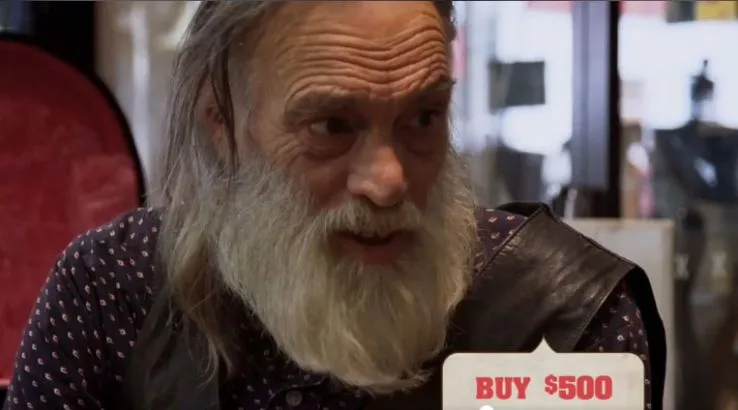 The producers literally just showed this guy to show how much of a "good guy" these hockers are. Stevie seems lovely and a typical old-school music lover, and provides the perfect opportunity for Mike to show how nice he can be to his mates.
Stevie asks for $1,500 for a guitar he's trying to sell. Mike drops it to $400. They eventually negotiate amicably to $600.
"We really looked after him," says Mike. "He's such a good guy."
"And so are you," whispers Kyle's ghost (not really).
Customer 5: The beautiful French girl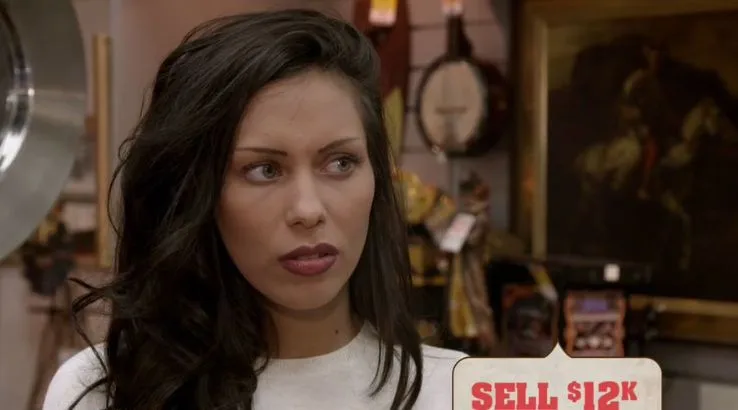 Pauly is really excited when this beautiful French woman comes into the store to get money for her Rolex, not because he likes "pretty girls" but because he likes to tell everyone how much "pretty girls" have absolutely no effect on him.
She asks for $20,000 for the watch, which she says she bought for €35,000.
He gets Jaz to inspect the watch who tells him it's genuine, and he tells the "pretty girl" he inspected it and found it to be genuine. He starts the negotiation at $6,000 and she brings it back up to $12,000, which he then drops to $7,000.
She says the price is bad and that he isn't nice to her, but Pauly stands his ground!
"She's really trying it on," he says. "She knows she's got the looks."
Eventually, they agree on $8,000, she thinks she has won the negotiation and he thinks he has also won. Well, at least they're both happy.
The thrilling conclusion
Kyle's ghost takes us back to the gaming thief and poor Jaz's awkward attempts at delaying him. For some reason, the guy who had had his gaming consoles stolen had reported it not to the police but to the Good Guy Hockers. So they just happened to be on top of this vintage game crime ring.
They got the guy to come in and identify his games and notified the police, all while Jaz was telling the thief she was "checking prices". Which must have been for an hour at least. How dedicated was this thief to the $20 per game he had asked?
"We as a business aren't interested in taking anything that's even just a little bit dodgy," says Good Guy Hocker Mike. Man, what a sting operation they conducted.
But wait, there is more. Our gown-wearing, addicted-to-hocking woman is back and she has brought a friend. It appears her "friend" is going to help her pay her debts in full and get back her Mercedes and Burmese Royal diamonds, but once he hears that her debts are near $40,000, he says it too much and leaves the shop.
Kyle's ghost then tells us that the money she's received from the loans has ended up in the pockets of illegal gambling syndicates in China Town. Thanks Kyle's ghost – that's the most useful thing you've done all episode.
Well, until next week.