MBFWA 2018 showcased your new favourite swimwear

From vintage cuts to contemporary colour, there's a lot coming in swimwear this summer.
Mercedes-Benz Fashion Week Australia 2018 is underway and we've already been treated to a range of exciting new collections that will have you preparing your wardrobes for next season.
Swimwear is the word on everyone's lips and the collections showcased so far have definitely given us a snapshot of what we'll be seeing on the beach this summer. And from what we've seen, we can't wait! Whether you like your bikini bottoms high cut or high waisted, the bar has been set extra high this year with the displays from designers new and old.
Scroll on to check out the trends you'll be shopping this summer!
---
SWIM Showcase: Fella
Trends: Headwear, retro cuts and earthy tones
Key styles and cuts: High waisted bottoms, high cut bikini bottoms
What we loved: With a true 50s vibe from head to toe, this collection was a fun and vibrant way to kick off the SWIM showcase – led by the one and only Ellie Gonsalves. The high waists, headwear and high cut bikini bottoms had us feeling like we were in a vintage film, ready to be swept away by our leading man. With a mixture of earthy prints, red and white, we can't wait for summer with Fella.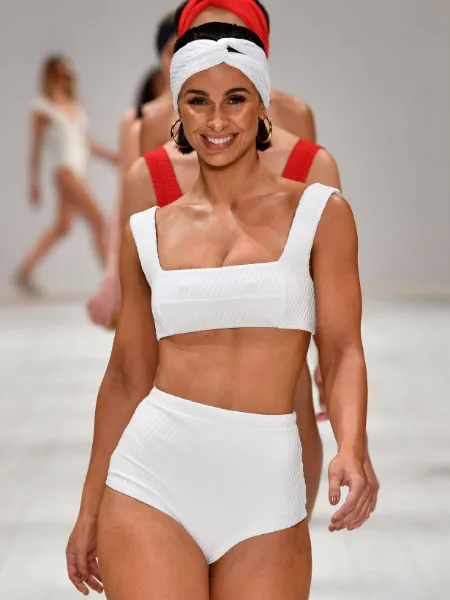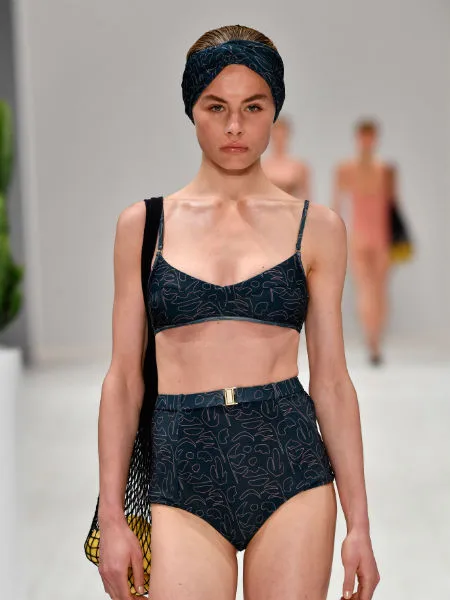 ---
SWIM Showcase: Pam Pam Swimwear
Trends: Ruffles, pastels
Key styles and cuts: Bright prints, deep V-necks, beachwear
What we loved: Full of whimsy and flounces, the Pam Pam Swimwear collection for this year's SWIM Showcase turned a lot of heads. Ruffles and layering reigned supreme, with beachwear attire showcased alongside the swimwear. Romantic colours and pastels definitely made an impact, with pink a particular favourite in this collection.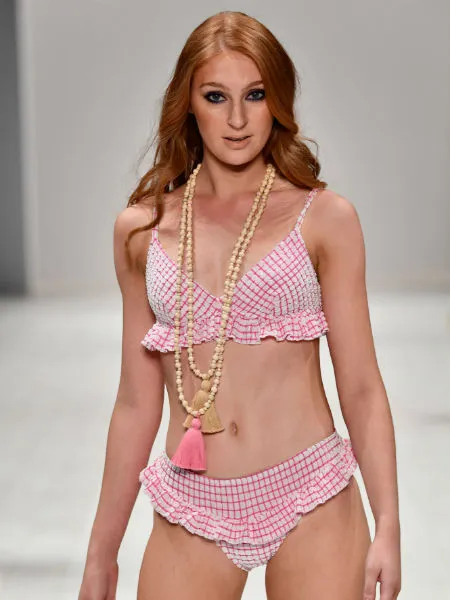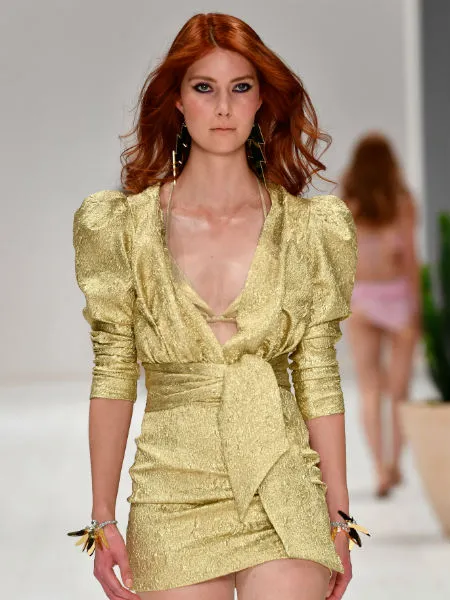 ---
Swim Showcase: Duskii
Trends: Ruffles, floral prints
Key styles and cuts: V-necks, long sleeves
What we loved: With more neutral tones than its SWIM Showcase counterparts, Duskii made an impact with cuts and silhouettes. The only designer to showcase a long-sleeved top within the showcase, Duskii's collection accented the looks with unusual helmets. The collection closed with Bree Warren, the first plus-size model to feature at a MBFWA SWIM Showcase.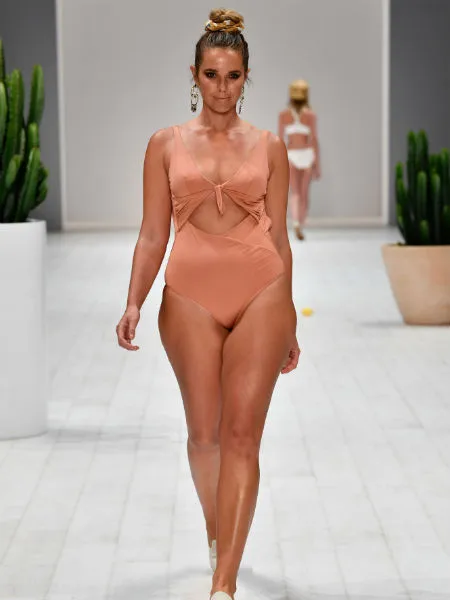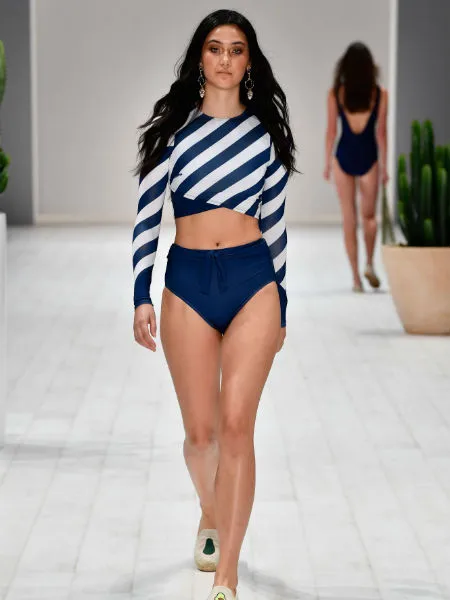 ---
Swim Showcase: Camp Cove Swim
Trends: Floral prints, bright colours
Key styles and cuts: Graphic designs, high waists
What we loved: Despite being the first time Camp Cove Swim featured at Mercedes-Benz Fashion Week, it was easily one of the crowd favourites, eliciting thunderous applause and support. Decked out in quirky sunglasses, the models walked the runway in swimsuits featuring brighter than bright prints and floral designs. High waisted bottoms and supportive tops make this a collection to look out for.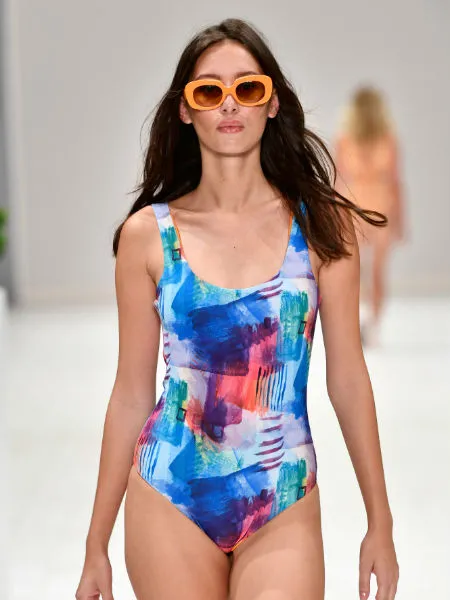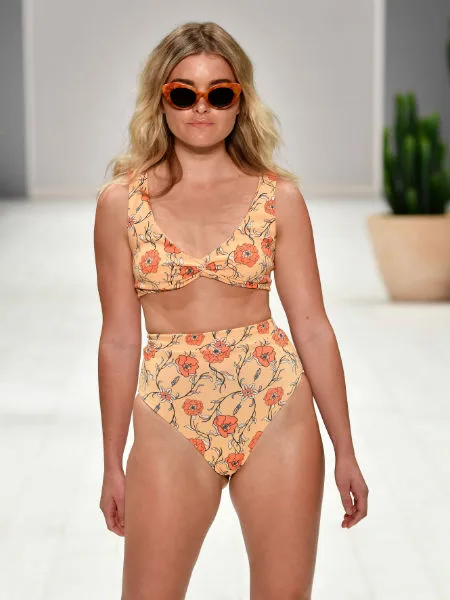 ---
JETS
Trends: Red, block colours
Key styles and cuts: One pieces, low backs, deep V-necks
What we loved: JETS changed the game with its collection, showcasing a range of sleek swimwear that will have you reaching for a one piece over your bikini this summer. With bold block colours taking centre stage (we see you, red), the clean lines of the one pieces contrasted nicely with the intricate nude and black ensemble worn by the face of JETS, Jessica Gomes, to close the show.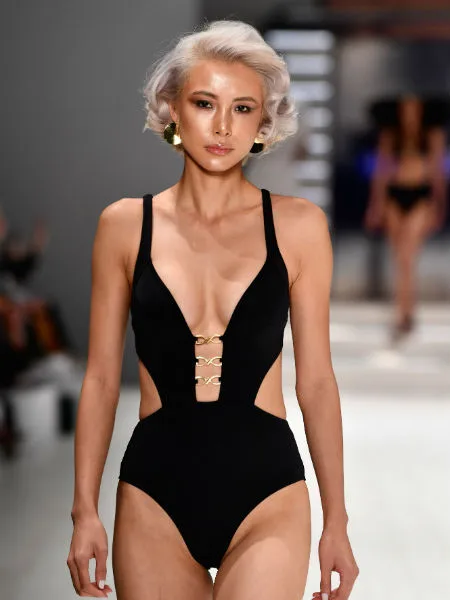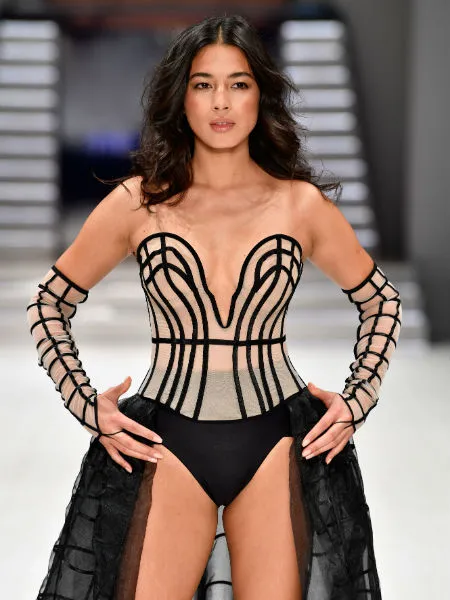 ---
Images: Getty Images/Mercedes-Benz Fashion Week Australia