How to maximise depreciation for investment property
What 80% of investors don't know about property depreciation: How to maximise deductions or your money back.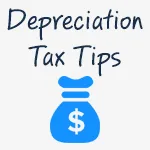 Your accountant is great with numbers when it comes to tax, you've got a buyer's agent picking the next hotspot for you, even your own mortgage broker to help you find the best loan - but who's got your back when it comes to maximising your deductions?
The advantages of having a depreciation report completed are often overlooked, even by the most experienced investors. So, why do you need one and how could it benefit you?
Depreciation comes in two elements; the actual structure of the building, and what's inside of it. What's inside depreciates the quickest, so you'll need to take advantage of it as soon as you can. This is where tax depreciation comes in, to help you with your cash flow needs at times when it's needed most.
Bradley Beer, Managing Director of BMT Tax Depreciation Quantity Surveyors has over 15 years experience in his field. From the building and construction industry to property depreciation, he shares some inside tips and knowledge and explains the importance of tax depreciation below.

Bradley Beer
Bradley is the Chief Executive Officer of BMT Tax Depreciation.
Bradley is a regular speaker and presenter covering property depreciation services on television, radio, at conferences and exhibitions Australia-wide.
He has more than 15 years of experience in the depreciation, building and construction industry.
What is property tax depreciation and what benefit does it have for the investor or homeowner?
As a building gets older, items wear out, they depreciate. The Australian Taxation Office (ATO) allows property owners to claim this depreciation as a deduction. Depreciation can be claimed by any property owner who obtains income from their property.
Depreciation is not available to be claimed on a primary place of residence simply because it is not income producing. Research shows that 80% of property investors are failing to take advantage of property depreciation and are missing out on thousands of dollars in their pockets.
What is a quantity surveyor and why do I need to use one?
Traditionally a quantity surveyor's role is to measure buildings and estimate construction costs based on plans and specifications in order to determine how much it would cost to build the property in the current market at the specified location.
Quantity surveyors are one of the few professionals recognised by the ATO to have the appropriate construction costing skills to calculate the cost of items for the purposes of depreciation.
A quantity surveyor's skills and knowledge of the legislation allows them to find the maximum depreciation deductions available for an investor.
With every enquiry that we get, we always ask a couple of questions about your property to ensure that getting a depreciation schedule completed is going to be worthwhile. If we don't find at least twice our fee in deductions within the first full year we will not charge for our services.
What are your favourite tips for property tax depreciation?
One of the most common questions that we hear is 'doesn't my accountant take care of this'? We work alongside your accountant by providing them with a detailed depreciation schedule outlining all of the deductions available on your investment property. Your accountant then uses this depreciation schedule when preparing your tax return.
Many people believe that older properties will have no depreciation left. While an older property will not have as much depreciation available as a new property, there are often still valuable deductions available to be claimed. Many times there will have been updates and renovations completed on the property by a previous owner which can be claimed as a deduction by the current owner. It is always worth contacting a quantity surveyor for a free assessment to determine if depreciation is available on your property.
We've found that about 80% of investors are not maximising their depreciation deductions. If you haven't been claiming or maximising your depreciation deductions, the ATO allows you to go back and amend two previous tax returns to reclaim the dollars you have been missing out on.
When planning a renovation, don't forget to take into account the depreciation deductions which may be available to claim on the existing assets being replaced within the property. When items are removed from a property or 'scrapped', the ATO will allow you to claim the remaining depreciable value left as a deduction. It is important to have a quantity surveyor complete an inspection of the property prior to the renovations starting in order to document all items prior to their removal. Once the renovations have been completed, the quantity surveyor is then able to complete a second inspection to determine the depreciation deductions that are available for all new items within the property as well as determining which assets were removed and had depreciable value left to be claimed.
One of the most important tips I can offer is to get in a qualified quantity surveyor for your depreciation schedule. Although there are many low cost DIY options on the market, these often end up costing you more in missed deductions than you would have saved in the original cost of the schedule. It's also important to remember that the fee for the completion of a depreciation schedule is 100% tax deductible so it won't end up costing you a cent in the long run anyway.
How much does a depreciation schedule cost?
For standard residential properties or units, the fee to have a tax depreciation schedule completed is generally $770 including GST. This includes the property inspection completed by one of our qualified staff and the 40 year depreciation schedule which will last the life of the property.
With every enquiry that we get, we always ask a couple of questions about your property to ensure that getting a depreciation schedule completed is going to be worthwhile. If we don't find at least twice our fee in deductions within the first full year we will not charge for our services.
It is always worthwhile enquiring about the depreciation deductions which may be available on your investment property. This could lead to thousands of dollars back in your pocket.
Check out investment loans from across the market
Rates last updated April 7th, 2020
An Aussie mortgage broker can find the right home loan for you.
FREE Suburb and Property Report with every appointment.

Access 3,000+ loans from over 20 lenders.

Get expert help with your loan application, including paperwork and eligibility.
---

The Adviser's number 1 placed mortgage broker 7 years running (2013-2019)
Related Posts