Mario Tennis Aces review: The umpire strikes back!
The strongest game of doubles on Switch but solo play doesn't have the same advantage.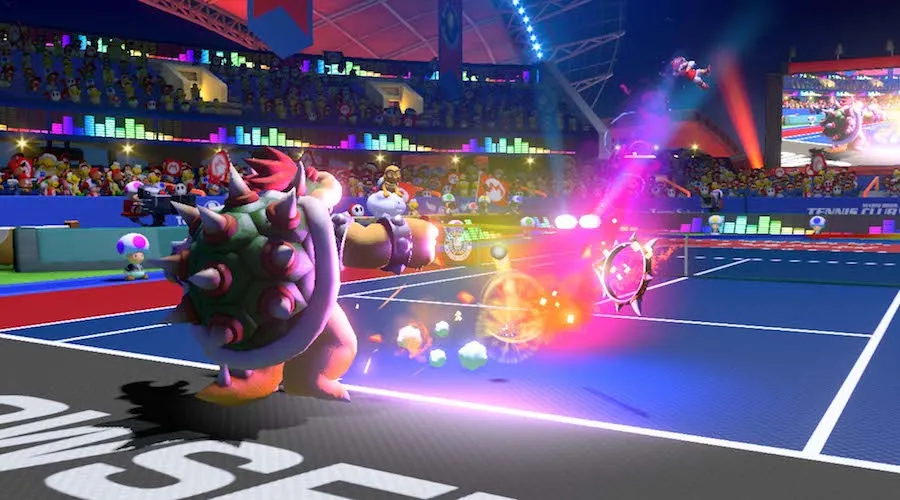 We're reader-supported and may be paid when you visit links to partner sites. We don't compare all products in the market, but we're working on it!
Some say Mario Kart 8 Deluxe is the pinnacle of local multi on Nintendo Switch, but I beg to differ. You're underestimating the hilarity that comes from four people wildly swinging imaginary tennis racquets in a confined space with all of them hammering their "dispute umpire" button like trolls and some of them hassling you with the taunt button. Mario Tennis at my house is always great for a laugh.
From the outset, you're presented with the following options: Adventure, Tournament, Free Play and Swing Mode. The first, Adventure mode, is Nintendo whacking a return at critics who lamented Mario Tennis: Ultra Smash's almost non-existent single-player offerings. It's the usual map romp where you'll traverse from point to point, nailing skill-specific challenges or playing mini-matches against foes outside of the game's standard 16-character roster.
Speaking of outside of the ordinary, these matches are fraught with court hazards that spice up the gameplay and make your life hell. (Think: Piranha Petes or levitating mirrors that sit on the net and redirect your shots.) Likewise, you have roughly half a dozen boss fights that are timed, puzzle-heavy affairs that require a lot of trial and error to decipher – or a minute on YouTube.
---
---
Adventure mode also acquaints you with some of the subtler strategies in Aces. You have the usual stuff like timing serves to enhance their ace potential, and Max Charge Shots that can push back opponents if you fill up your shot meter. These, of course, must be used in concert with taunting before a shot to get a cheeky power boost on your next hit, and your Max Charge Shots have a rock scissors paper thing going on with topspin, flat and slices. Answering with the right combo will ensure you're not pushed back to the baseline when you whack it back.
Then there's energy to consider. It's in your interest to promote rallies to feed a meter in the top left of your screen. Get it to a yellow state and you can use a Zone Shot (think: stand in an obviously-lit star area, tap R and use a brief period of bullet-time to surgically gyro-aim a return shot with considerable pep). You can also spend energy to unleash Zone Speed, a bullet-time technique that allows you to smack back any ball coming in at a ludicrous pace. Last but not least, a double tap of X will initiate a Trick Shot that cartwheels you a few metres to any ball that might be completely out of range. Relax, it isn't the Win Button you imagine it to be.
Same deal with your supposedly ultimate full-energy-bar move, the Special Shot. One tap of L will trigger an amusing animation unique to your character and then you get to insta-belt the ball from any part of the court at insane speeds. Your opponent has the chance to block it by pressing a shot button inside of an incredibly small window of time. Mess it up enough times and your racquet will break, a knockout and automatic forfeit of the match.
---
---
Adventure mode feels great right up until it ends after six hours and you realise the novelty racquets you're winning can't be used in any other mode. Weirdly, they're the only bonuses you'll unlock, aside from a few more courts. One would figure the onus of unlocks would then fall to Tournament mode. Sadly, it's a paltry three cup affair that can be beaten in all of 40 minutes to the reward of... no new content. Disappointing.
Multiplayer has always been the main course for Mario Tennis games. Free Play lets two players duke it out via two LAN-configured Switch consoles. There are two player online battles, or four friends can have a true local party on a single Switch. Not only is it mayhem, but unlike the other modes, it caters to the purists. You can get your traditional tennis on with "simple style", an option that turns off the fancy stuff to make everybody rely on the five standard shot types, charge shots and the raw abilities of their characters. It also folds in a Leap Shot on R, a non-OP means to reach a ball just out of your orbit, though the effort will cost you form.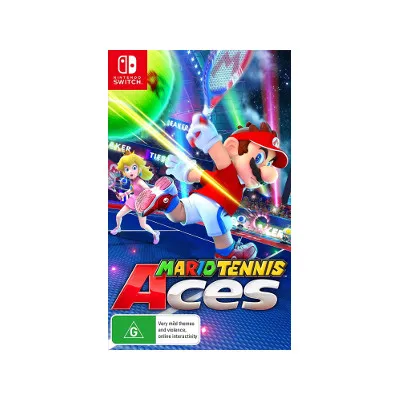 Buy Mario Tennis Aces
from Amazon
A new Mario tennis game is bringing a new level of skill and competition to the Nintendo Switch system.
View details
If you're after more authenticity, there's Swing Mode. Essentially, you and three pals can each hold a Joy-Con upright and use motion controlled swipes to play tennis. Timing is critical to achieving a straight return. Swish late and you can "push shot" into the corner on the same side as you're holding your racquet – swish early and it'll be a "pull shot" that whips the ball over to the opposite corner. Time it awfully and your ball will get sent out of court quicker than a star witness with Tourette's.
---
---
To make your return even more complex, you can marry those timings with unique motions that mimic the five shot types. Topspin requires an across-the-body uppercut. Flat shots are horizontal swings. A lob is a flick straight up, and a drop shot is a flick straight down. A slice is a swipe across your crotch, initiated from up high (be careful with that one, lest you experience a grand slam).
You know what? This isn't bad, but it also isn't perfect, thanks to the odd mis-registering of shot types. However, on the plus side, your characters auto-run to where they need to be (or you can manually do it yourself, control freak). Having four people punch the air is as fun and potentially dangerous as you'd imagine it to be. Plus, I love the fact that you can challenge umpire calls. It's like having the "Howzat?!" button from Super International Cricket back again. So much spamming.
When it comes to tennis video games, gamers suffered a long drought that was only recently broken by the wholly disappointing AO Tennis and Tennis World Tour. The court was wide open for somebody to serve up an ace. Nintendo has smashed out a best-in-gen tennis experience, a victory that would have been more satisfying had the competition been more up to the task.
We reviewed Mario Tennis Aces on Nintendo Switch with a copy provided by the publisher.
Mario Tennis Aces
7.5 VERY GOOD
What we liked...
Beats Ultra Smash for solo content
Is a multiplayer powerhouse
Textbook Nintendo presentation
Swing mode is more hit than miss
What we didn't like...
Bulk of unlocks to be handed out via patches
Tournament mode is quite thin, lacks options
Unlockable racquets lack cross-mode use and unique traits
VERDICT
Genuine improvements have been made over the WiiU predecessor that was Ultra Smash. But while this is one of the best multiplayer games on the system, soloists may feel backhanded by the short runtime and baseline bonus materials.
For more information on how finder.com.au scores games, check our review guidelines.
---
More guides on Finder