Mario + Rabbids Kingdom Battle review: LAX-COM
Not just for the rabid Mario fans.
We're reader-supported and may be paid when you visit links to partner sites. We don't compare all products in the market, but we're working on it!
Forget Game of Thrones' Kingslayer, Mario + Rabbids Kingdom Battle has the single most satisfying redemption arc of recent memory. From its much-maligned leak earlier this year to winning multiple Game of the Show awards at E3 2017 and now its successful and highly-anticipated launch, Mario + Rabbids has transformed from an industry joke to a heartwarming success story in record timing. We've spent the last week commanding the battlefield in the bloodthirsty war between Nintendo icons and Ubi mascots, and thankfully everything you've heard is true – Mario + Rabbids Kingdom Battle is a standout strategy title with some real depth and difficulty beneath its bizarro surface.
How did such a whacky partnering of franchises come about, you ask? Well, the in-game explanation is a little bit cute. A young and enthusiastic inventor is toying with a VR-style headset (the SupaMerge) that combines matter, merging two objects into one (it's explained that this invention has the potential to solve the energy crisis). Said inventor also so happens to be an avid Mario fan, as we can tell by the memorabilia and collectables filling her bedroom. Late one night, after another failed test, the Rabbids appear through a teleportation machine/dishwasher and cause some havoc with the SupaMerge, plunging our Mario heroes, the Rabbids and the inventor's AI assistant turned protagonist Beep-O into a Cronenberg hybrid world of Rabbids and the Mushroom Kingdom.
It's as good a reason as any to justify some quality turn-based tactics with two totally unrelated universes.
In the lead up to release, Mario + Rabbids Kingdom Battle was often compared to X-COM. On the surface, that's easy to surmise. Mario + Rabbids is all about playing the field; about utilising your characters' abilities and positioning on the map. However, the "My First X-COM" nicknames don't really do it or X-COM justice. There are all the similarities you'd expect from a turn-based tactics game, but Mario + Rabbids does away with most of the dice-rolling, risk-based moves that other tactics games are known for.
Old-school tactics fans get their rocks off on risk. Rolling a crit at the opportune time, missing a shot point-blank. These high-stakes gambles are what keep the vets coming back. I'm not one of those masochists. Though I've dabbled in plenty of turn-based tactics games throughout the years, games of chance have never been my bag. I know the rush of landing a close range critical hit or dodged a shot when the odds are stacked against you but I feel cheated when the tide turns. That's why Mario + Rabbids is perfect for me and others like me. It has all the strategy and map tactics of the greats that came before it with fewer perils than probability-based combat presents. If you plan accordingly, you can almost guarantee a win.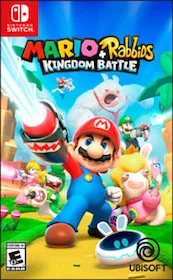 Mario + Rabbids Kingdom Battle Nintendo Switch Game
from ozgameshop.com
Embark with your team of heroes on an epic quest to free your friends and put the Mushroom Kingdom back in order!
View details
Contributing to its relaxing pace is Nintendo's trademark sunny outlook, which I'm surprised to say, Ubisoft has captured almost perfectly. The Mushroom Kingdom's displaced residents look stunning in their Nintendo Switch debut. They play and act how you would expect Nintendo's peaceful mascots to, despite being armed to the nines. Mario, Peach and the rest of the crew fit nicely in this weird hybrid world that mixes the innocence of Nintendo with the potty humour of Ubi's Rabbids.
Just like the Rabbid aberrations, the world of Mario + Rabbids has been affected by the SupaMerge. Oversized Goombas have their heineys cleansed by bidets next to stray Rabbids that pop in and out of Warp Pipes. Pitcher plants trumpet and vines pluck at harp strings in rhythm with Grant Kirkhope's twist on some classic Mario tunes. Kirkhope's inspired soundtrack mixes Mario's iconic melodies with relaxing, sauntering sounds more akin to his earlier work like Banjo Kazooie, Viva Piñata and more recently, Yooka-Laylee. The result is a soundtrack that wouldn't sound out of place in an official Super Mario Bros. but is also so obviously from Kirkhope's fun and energetic repertoire.
That's not to say it's a walk in the park. While the first two worlds won't give you too much trouble (the game is very generous letting you learn the ropes), things start to get a little prickly from the third world on. Whether it's an onslaught of a tricky new enemy type, an escort mission (Toad and Toadette have a bad habit of getting lost), or a desperate dash for the end of the map, Mario + Rabbids throws more and more obstacles in your path just as you begin to feel comfortable and confident. You'll breeze through the first two worlds with relative ease, but as things progress you can almost guarantee you will be running the gauntlet at least once before successfully completing a level below par.
And that's where Mario + Rabbids does Nintendo best. Pushing you to not just complete a round, but perfect it. Each battle has a preordained minimum number of turns it should take you to succeed. Go over that number of turns or lose just one character and you'll slip from a Perfect run to a Good run and it'll be a cold day in Lethal Lava Land before I settle for Good.
If I had to pick just one gripe with the Mario + Rabbids world, it would be the way you spend your time between battles. You control Beep-O (the disk-like AI buddy mentioned earlier) while your team follows in tow. Beep-O's actions are limited to moving and occasionally lifting a statue or moving a block to solve some incredibly basic puzzles. The puzzles aren't testing or even very fun, just obstacles between you and your next battle. You also have to arbitrarily unlock new 'abilities' to solve certain puzzles (like learning to push a bloody block) and you end up smashing your head against more unsolvable puzzles than solvable. Of course, the idea is that you'll return to solve these puzzles once you've unlocked each ability but the puzzles aren't engaging enough to bring you back.
It also just feels downright weird that Mario can't jump. That's kind of his thing. The puzzles are most fun when they're on loan from the Mario universe (like red coin runs). I just wish Ubi had of borrowed a little more from Nintendo's library of puzzle-solving mechanics instead of setting for something sub par.
We reviewed Mario + Rabbids Kingdom Battle review: LAX-COM on Nintendo Switch with a copy provided by the publisher.
Mario + Rabbids Kingdom Battle Review
8.5 EXCEPTIONAL
What we liked...
Tempered turn-based tactics without the stress of risky dice rolls
The successful fusion of video games' weirdest coupling
Grant Kirkhope turns his talent to the Mario universe
Fun and easy-to-learn skill trees and customisation options
What we didn't like...
Weak puzzles just fill time between the game's meaty battles
A few frame rate dips docked when the chips are down
VERDICT
If you trash-talked Mario + Rabbids when it first leaked, then grab a knife and fork because it's time to eat those words. With Mario + Rabbids, Nintendo brings a fresh new Mario IP to the Nintendo Switch mere months after release (something it failed to do for the Wii U). And at the hands of Ubisoft no less. If you're looking for a challenge between now and Super Mario Odyssey, you could do much worse than Mario + Rabbids' clever turn-based battles.
Available for SWITCH
For more information on how finder scores games, check our review guidelines.
---
More guides on Finder