Manny MUA has officially announced his own makeup brand

Lunar Beauty will be hitting our shelves in 2018!
Update 14/03/2018: Beauty lovers, we have details! Judging by an Instagram post uploaded by TrendMood, it looks official that the first product from Manny MUA's official beauty line, Lunar Beauty, will be an eyeshadow palette!
That's right, it's an ambitious start for the brand but it's one that we're incredibly excited to see. Manny is known for his sleek, extravagant eye looks, so we're ready to have a go at his very own product. There aren't any details on the size or theme of the palette, so we'll be here, sitting tight until there's more information.
Even better? If word is to be believed, we could see the product announcement (and maybe even a drop if we're lucky) as early as April this year! That means we've got less than a month to go, and honestly we cannot wait.
---
If you haven't heard of Manny MUA, then you've likely been living under a rock because this YouTuber has been big news in the beauty community over the past few years. Familiarise yourself with his name – Manny MUA is behind the latest beauty brand that will have you lusting after everything.
Announced on his Instagram, Manny Gutierrez's makeup brand Lunar Beauty will be officially dropping in 2018, and we are so ready for it. There's no word yet as to which products will be released at launch, nor any word at all beyond the brand's name and logo, yet fans are swarming to find out everything they can.
MERRY CHRISTMAS! from Lunar Beauty and I #MyBrandOMG pic.twitter.com/3sD3AW8hab

— Manny MUA (@MannyMua733) December 25, 2017
Despite no posts and only one person on the brand's following list (Manny himself, of course), the Lunar Beauty Instagram page already has almost 80,000 followers, all eager to be the first in the know for news and sneak peeks.
It's not surprising that there's so much interest, as Manny is known for being a pioneer when it comes to inclusivity in makeup, especially when it comes to men. There's no doubt that the premiere collection from Lunar Beauty will be available and encouraging for men to give makeup a go – we may even see some male models with killer cut creases and lips!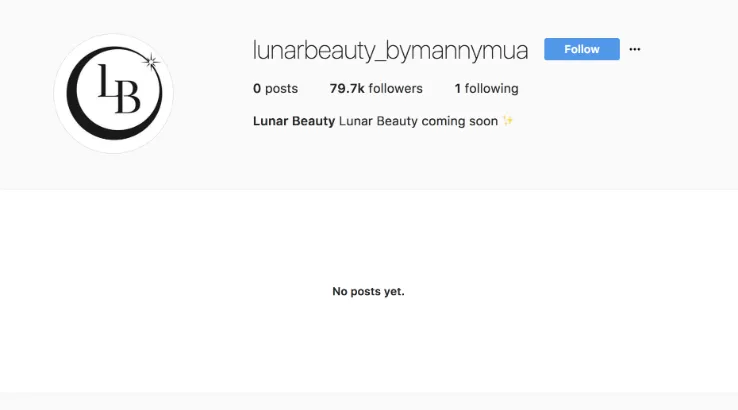 People may have been expecting Manny to launch a brand with his own name and personal brand, but according to his Snapchat, he didn't feel that it was quite right. Despite previous collaborations with Ofra Cosmetics and MakeUpGeek, this will be his first solo endeavour.
We're not sure about you, but we'll definitely be hanging onto the edge of our seats waiting for news.
Stay tuned to @finderstyle on Facebook, Instagram and Twitter for more!