What we know about Make Up For Ever's new Ultra HD concealer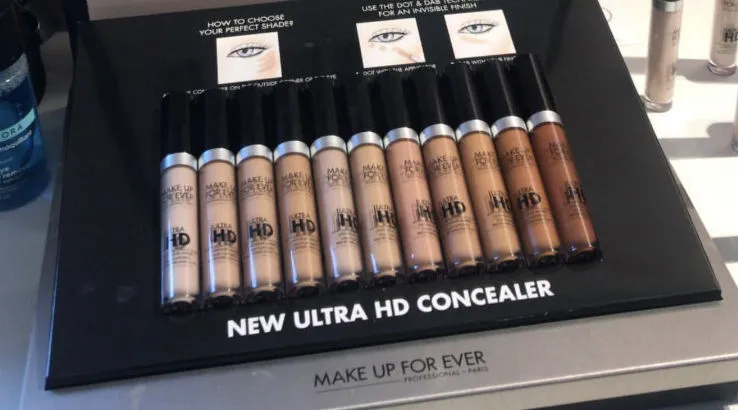 Image: Instagram user punkygeraldine
Make Up For Ever's cult-favourite HD foundation is getting a sister concealer, and here's why we're excited.
If you're after the secret to flawless looking skin, Make Up For Ever's Ultra HD range is your answer. Even if you haven't tried the Ultra HD foundation for yourself yet, you have probably seen it endorsed by just about every beauty blogger on social media. Now, the company has announced that the foundation is set to receive a companion concealer and our vanities are ready.
The new Make Up For Ever Ultra HD concealer was recently revealed at the Sephora press day in France, and there are plenty of reasons for makeup junkies to rejoice. Beauty news Instragrammer, Trendmood, has revealed a sneak peek of the new product, which is in the same glass bottle packaging as the Ultra HD foundation. The doe foot applicator will allow you to use the dot and dab technique for a flawless, invisible finish.
The Make Up For Ever line already has an Ultra HD concealer, which is a lightweight formula. However, the new product looks to have more in common with the foundation. The foundation has a medium to full coverage and a buildable formula with a satin finish. With the new concealer claiming to have twelve hours of wear and a light-capturing formula to get you glowing, we can only hope that it is every bit as amazing as its foundation counterpart.
View this post on Instagram

The brand is known for its long-wearing, waterproof and camera-friendly formulas, and the new Ultra HD concealer will be no different. From the images posted by Trendmood, we can see that the product has a dewy finish that is unlikely to settle into creases since it is a self-setting formula.
We can also see that there are eleven shades on offer, catering to cool, neutral and warm undertones. With the Ultra HD foundation range consisting of around forty different shades though, we're hoping more colours will be released to cater to all skin tones.
When and where can you buy it?
While a release date is yet to be announced, it will eventually be available with the rest of the Ultra HD range at Sephora.
The Ultra HD range has been formulated to keep skin looking flawless and radiant, even through a high resolution lens. The long-wearing products also guarantee an invisible, comfortable coverage, ensuring that you'll look your best both in person and in photos, which is great news for Instagram lovers everywhere.