MacBook Pro vs Surface Book: Which should you buy?
Apple and Microsoft both have new laptops out for you to buy, but which should you opt for?
There are die-hard stalwarts for both Apple and Microsoft who will never consider anything but that one brand, and for those folk, no amount of comparison or discussion is ever likely to sway their viewpoint. So, if you're a long-term Apple fan or a defender of the true Microsoft faith, go forth and enjoy your technology purchase.
But what if you have no particular allegiance, you're after a new thin and light laptop and you've got the budget to match the asking prices of the new Surface Book and MacBook Pro lines? Here's what you should consider before opening your wallet.
MacBook Pro vs Surface Book: Touch Bar or Touchscreen?
The 2016 Surface Book has, like its predecessor, a full touch screen that can be entirely removed from its base, turning it into a tablet with support for Microsoft's Surface Pen accessory.
Comparatively, the MacBook Pro's approach to touch revolves around the inclusion of a Touch ID sensor for easy login and Apple Pay purchases and a Touch Bar that replaces the traditional function key row with a range of context-sensitive features depending on the application that you're using. It's an interesting change from Apple, but it's still sticking to its position that macOS is a mouse-driven interface, where Windows 10 offers either mouse or touch input. That being said, with the wide variety of Windows applications available, there's a lot of software that technically supports touch input, but doesn't do so in a terribly satisfying fashion. It's also worth noting that Microsoft will be building Touch Bar support into its Office apps for Mac users.
MacBook Pro vs Surface Book: Screen size and resolution
Apple sells the MacBook Pro in 13-inch and 15-inch screen sizes, which gives you greater choice depending on whether you favour something more portable or something larger for your desk. The Surface Book sells with a 13.5-inch display and that's it.
However, Microsoft does have a technology advantage in its resolution, with a higher resolution and higher ppi display on its Surface Book. There's some debate over what level of resolution is practical for human eyes, but if you're in the pro/design space, having more detail is usually quite desirable.
MacBook Pro vs Surface Book: Battery life
Battery life specifications are always a little, shall we say, rubbery. That's because they're quite variable depending on the workload you place on the laptop in question. Based on specifications alone, Microsoft claims that the Surface Book has "up to 16 hours" battery life, while Apple's claim for the battery life of even its larger-screened MacBook Pro is only up to 10 hours. Until we can properly test both units to see how they stand up to comparable workloads we won't know for sure. For functional purposes, both laptops are built with what could be considered "all day" battery life for most working purposes, with the Surface Book perhaps having an advantage for the mobile worker.
MacBook Pro vs Surface Book: Performance
There's actually more that the new MacBook Pro and Surface Book models have in common than you might think, given that they're both running off sixth-generation Intel core processors, with either 8GB or 16GB of RAM. In real terms, without testing they're somewhat too close to call, although you should be able to expect top-notch application performance from any of the higher-end models and, predictably, a small dip for the entry-level (and much less expensive) MacBook Pro variants.
The same is true for software; again, while there will be those who will only use Windows or macOS, that's as much a taste choice as it is an application one. Bear in mind, Mac users, that it's possible to run a Windows 10 Boot Camp partition if that's to your taste, but the reverse is not (legally speaking) true for the Surface Book, as Apple doesn't licence macOS for anything but its own hardware.
MacBook Pro vs Surface Book: Price
Neither Apple nor Microsoft are giving their respective high-end laptops away for a song. You'll pay a premium price for premium technology. While the usual position for Apple is to place itself as the luxury brand with pricing to match, the MacBook Pros come out rather easily ahead of the Surface Book in this comparison.
The entry level MacBook Pro (without the Touch Bar) sells for $2,199, going all the way up to $4,249 for the top-end 15-inch model. Comparatively, the cheapest Surface Book starts at $3,799 (more expensive than the base 15-inch MacBook Pro) and goes all the way up to a wallet-busting $5,199 for the 1TB storage variant.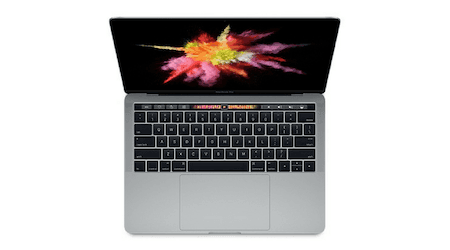 MacBook Pro 2016 available now
from Apple Store
2016's MacBook Pro is the lightest ever with a processor that packs a punch and an innovative Touch Bar with a lot of potential. Purchase yours today.
View details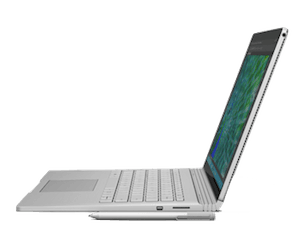 Microsoft Surface Book
from Microsoft Store
Is it a laptop, or is it a tablet? It's both. The 13.5-inch Surface Book is a high-performance laptop with the unprecedented versatility of a tablet.
View details
Specifications
Just want the head to head on how the specifications for the new models compare? Here you go.
| Model | Surface Book with Performance Base | MacBook Pro (2016) 13-inch | MacBook Pro (2016) 15-inch |
| --- | --- | --- | --- |
| Display | 13.5" | 13" | 15" |
| Resolution | 3000x2000 | 2560x1600 | 2880x1800 |
| Pixels per inch | 267ppi | 227ppi | 220ppi |
| Weight | 1.67kg | 1.37kg | 1.83kg |
| Processor | Intel Core i7 | 2.9GHz dual-core Intel Core i5 | 2.6GHz quad-core Intel Core i7 or 2.7GHz quad-core Intel Core i7 |
| Memory | 8GB-16GB | 8GB | 16GB |
| GPU | NVIDIA GeForce GTX 965M 2GB | Intel Iris Graphics 550 | Radeon Pro 450 |
| Storage | 256GB/512GB/1TB | 256-512GB | 256-512GB |
| Touch Bar | No | Yes | Yes |
| Touch Screen | Yes | No | No |
| Battery | "Up to 16 hours" | 49.2-watt-hour lithium-polymer | 76.0-watt-hour lithium-polymer |
| Software | Windows 10 | macOS Sierra | macOS Sierra |
| Price | $3,799/$4,399/$5,199 | $2,699-$2,999 | $3,599-$4,249 |
Latest technology headlines