MacBook Pro 15 Mid-2017 Review: It's what's inside that counts
Quick Verdict
Apple's updated MacBook Pro improves its internal performance thanks to a processor bump, and it's a superbly well-built machine as usual. Still, there's not enough of a performance jump to prompt upgrades for recent MacBook Pro buyers.
Strengths
Robust physical design
Interactive Touch Bar
Better app performance, especially if switching from a much older MacBook
Could be better
Incremental update from last year's model
Premium price points
Touch Bar less useful for touch typistsk
---
The new MacBook Pro has impressive performance as long as you're upgrading from a suitably older Mac model.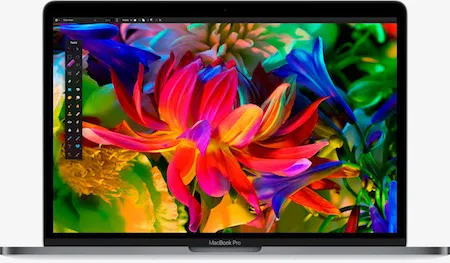 Purchase the new MacBook Pro (2017)
from Apple Store
Apple's updated MacBook Pro improves its internal performance thanks to a processor bump, and it's a superbly well-built machine as usual.
View details
You could be forgiven for thinking that Apple had all but given up on its Mac line of personal computers, given that essentially all of its advertising activity is focused right now on telling you just how wonderful the iPad Pro 10.5 is as a laptop replacement, at least from Apple's perspective.
Still, at the same time it was announcing the new iPad Pro, Apple also launched new models of the MacBook Pro, running on Intel's 7th generation Core i7 "Kaby Lake" processors.
Apple has always positioned the MacBook Pro lines towards the professional crowd, with the MacBook Air and, to a lesser extent, the straight MacBook being the more consumer-focused offerings. Is a jump in processor architecture enough to make an upgrade to your existing MacBook Pro worthwhile?
Design
Place the mid-2017 MacBook Pro next to its immediate predecessor, the late 2016 MacBook Pro, and you would be very hard put to spot the difference. That's because Apple hasn't significantly altered the physical design of its premium laptop in any real way at all. I use a 2016 model on a day-to-day basis, and more than once I've gone to pick up my work laptop, only to grab the newer model instead.
What that means is that you get the same design that Apple has honed over time, so it looks like a MacBook Pro of years gone past—just a little smoother around the edges.
Apple's proud claim with the MacBook Pros is that they've continually made them thinner and more portable, and at 1.49x30.41x21.24 cm with a carrying weight of 1.37kg for the 15-inch model, they may have a point, although you don't have to go too far to find even lighter portable workhorses.
Then again, given Apple's current iPad Pro push, that's the market they're suggesting should be using a tablet anyway. I don't tend to agree, based on my experiences with the otherwise excellent iPad Pro 10.5 inch.
The MacBook Pro features a wide keyboard with relatively little travel on it, and quite how you take that will depend on your own typing style. The star of the show here is the "Touch Bar", which is also available on select 13-inch models.
The Touch Bar is a thin OLED strip above the main keyboard, which changes contextually depending on the application in use as well as serving as a general home for features such as volume control, brightness and the escape key. If you're a user of standard function keys, you can access these by holding down the function key at any time.
Developers have done some interesting things with the Touch Bar, but it remains very much a personal taste productivity tool. I touch type, and for any touch typist, it's an annoyance because the last thing I actively want to be doing is looking down at the keyboard. Apple has been notably reluctant to turn macOS into a touch-enabled interface, and this is something of a halfway solution towards that. Again, if you want a touch-enabled Apple OS, look to iOS instead.
In terms of interfaces, there's no change with the new MacBook Pro 15 inch, which features four USB-C based USB 3.1 Gen 2 ports with support for 40Gbps Thunderbolt and charging. There is part of me that misses the older "magsafe" connector that quickly dropped off if the cord snagged, but I can't deny that it's very handy to have the ability to charge the MacBook Pro from any of its ports.
USB-C is becoming more standardised, although it's somewhat amusing to note that I can directly plug most of this year's premium Android phones directly into the MacBook Pro, but to get an iPhone 7 or iPhone 7 Plus connected I need an adaptor.
The display on the 15-inch MacBook has a 2560x1600 pixel resolution. In Apple-speak, it's a "Retina Display", although it's worth noting that this is purely a marketing designation, not a technical term.
With brightness at 500 nits and a P3 colour gamut, it's a very bright and colourful display that should suit the needs of professionals, while also serving double duty for visual displays such as high-definition video viewing. You're still stuck with moderate bezels around the side of the display, and as previously noted, it's not a touch-sensitive panel in any way.
Performance
The key difference between this year's MacBook Pro and last year's model is what's underneath the hood, and specifically the inclusion of Intel's 7th generation Core processors, AKA "Kaby Lake".
At an anecdotal level, the MacBook Pro I reviewed was certainly responsive enough for day-to-day tasks including video editing, podcast production and a fair quantity of document production, but that doesn't give us enough data to come up with a meaningful comparison.
For that, we need to turn to benchmarks because while they're not perfect performance indicators by themselves, they can be very useful in showing comparable metrics. For comparative purposes, I used my daily driver late-2016 Core i7 model as well as an older, magsafe-based mid-2015 Core i7 MacBook Pro model.
Kaby Lake is meant to improve performance without impacting or improving battery life, but the 2017 MacBook Pro's performance showed mixed results in this respect.
MacBook Pro 2017: Geekbench 4 Benchmark
| Model | Geekbench 4 Single Core CPU score | Geekbench 4 Multi Core CPU score |
| --- | --- | --- |
| MacBook Pro 2017 | 4715 | 15886 |
| MacBook Pro 2016 | 4242 | 14850 |
| MacBook Pro 2015 | 4225 | 14843 |
It's to be expected that the differences between two recent Macs shouldn't be exceptional, although predictably the newer Mac did come out on top. However, benchmarks can be variable and Geekbench is rather generalised, so further research was warranted.
MacBook Pro 2017: BlackMagic Disk Speed Benchmark
| Model | Write speed | Read Speed |
| --- | --- | --- |
| MacBook Pro 2017 | 2015.8 | 2305.6 |
| MacBook Pro 2016 | 1943.5 | 2271.6 |
| MacBook Pro 2015 | 868.8 | 2809 |
Here the 2017 model edges out the 2016 MacBook Pro by the slimmest of margins, but that's again to be expected, with both devices sporting solid state drives as standard. The big difference is with the 2015 model, which still uses a spinning hard drive. The 2015 model has drops in overall performance when managing disk-based activity.
The practical upshot here is that if you're upgrading from a MacBook Pro with a few years on it, you should see a definite, perceptible jump in performance if you work with large files, such as video work, but that's been true for a little while now.
MacBook Pro 2017: Maxon Cinemagic R15 Benchmark
| Model | OpenGL | CPU |
| --- | --- | --- |
| MacBook Pro 2017 | 90.6 | 765 |
| MacBook Pro 2016 | 67.6 | 692 |
| MacBook Pro 2015 | 61.94 | 618 |
Cinemagic's more task-oriented benchmark is where the new MacBook Pro 2017 shows off its performance chops, neatly trouncing the 2016 and 2015 models with ease, especially in the OpenGL test. You can usually expect smaller incremental improvements year on year if all that fundamentally changes is the CPU, so a performance jump of this size is notable.
Battery Life
Apple's claims for its MacBook Pro battery life are, like other manufacturers, always presented as "up to" figures. Specifically, it claims "up to" 10 hours of battery life with Wi-Fi usage. That's a figure that's certainly achievable with the new MacBook Pro, albeit only if you're a relatively sedate user. On days when I've pushed it hard, I've been lucky to get more than half of that before it starts complaining about low battery status.
The one upside here is that the USB-C charger that Apple supplies with the new MacBook Pro models can also be used to charge other USB-C devices, although obviously not its own Lightning-cable-equipped iPhone handsets.
Verdict
There's a very obvious, almost religious fervour, that surrounds Macs, and that may well decide the matter for you. If you're generally anti-Mac, the inclusion of Kaby Lake isn't likely to sway you towards Apple's pro laptop line.
Presuming that you're not in that camp, it's largely a matter of how old your existing Mac hardware is. There is a difference in performance from the 2016 models, but it's not a substantial enough difference to warrant an upgrade immediately.
However, if you're coming from an older MacBook Pro model, there's a definite, marked performance improvement from those generations, and it could well be a worthwhile investment. You will have to get used to both the Touch Bar and the use of only USB-C as a physical connection standard, but an investment in a MacBook Pro 2017 could keep you happy for years to come.
Specifications
Product Name

Apple MacBook Pro 2017 15
Display

15.4in
Resolution

2880x1800
ppi

220ppi
Software

macOS 10.12.16 "Sierra"
Storage

256/512GB
RAM

16GB
Battery

76.0-watt-hour lithium-polymer battery
Front camera

720p FaceTime camera
Processor

2.8-3.1GHz (configurable) quad-core Intel Core i7
Size

1.49x30.41x21.24 cm
Weight

1.37kg
---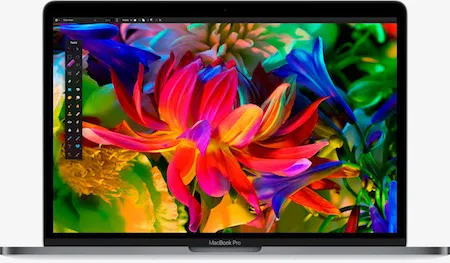 Purchase the new MacBook Pro (2017)
from Apple Store
Apple's updated MacBook Pro improves its internal performance thanks to a processor bump, and it's a superbly well-built machine as usual.
View details
Latest mobile phone reviews
---
Follow us for all the latest technology news and deals
---