How you can support World Aids Day, thanks to MAC Cosmetics
Image: Instagram user maccosmeticsaustralia
Looking for a new red lipstick? MAC has got the perfect option for you – and all the proceeds go to a good cause.
Since MAC permanently dropped its makeup pricing, we've been buying $30 lipsticks way more than we should. But now, your makeup addiction can actually contribute to a good cause.
For the past 25 years, MAC Cosmetics has been working hard to fight against the spread of HIV/AIDS around the world. The beauty brand has raised half a billion dollars globally and AUD$10,000,000 locally.
And now, every cent of the selling price of the iconic VIVA GLAM lipstick will be donated to support the health and rights of people living with HIV/AIDS. This isn't a new product launch, in fact, the campaign began back in April of this year. But today, 1 December, is World Aids Day.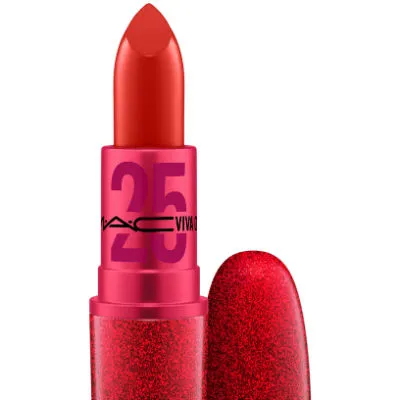 Image: Supplied
Where can you buy the VIVA GLAM lipstick?
VIVA GLAM is a gorgeous and intense blue-red shade, arriving in a stunning matte finish. You can pick up the special edition lipstick – featuring an exclusive 25th-anniversary design – from MAC Cosmetics. Just like the rest of MAC's lipstick range, it will set you back $30, which is definitely a fair price to pay for the cause.
Where do the donations go?
In Australia, these funds go to life-changing organisations such as The Sydney Children's Hospital, the Victorian AIDS Council, the Bobby Goldsmith Fund and The Kirby Institute. You can read more about it here.
One VIVA GLAM lipstick can:
Buy 254 condoms to prevent the transmission of HIV.
Purchase a full day of meals for two homeless LGBTQ+ youth.
Test 14 pregnant mothers for HIV to support the health of women.
A huge number of celebrities have also gotten involved in the campaign. The long list includes names like Lady Gaga, Elton John, Debbie Harry, Boy George, Cyndi Lauper, Nicki Minaj, Ricky Martin, Christina Aguilera, Dita Von Teese, Shirley Manson, Mary J Blige, Rihanna, Miley Cyrus and most recently Ariana Grande.
To shop the rest of the MAC Cosmetics range, head on over to Princess Polly, Adore Beauty and MYER.
---