Logitech MX Vertical review
We're reader-supported and may be paid when you visit links to partner sites. We don't compare all products in the market, but we're working on it!
Quick Verdict
If comfort and ergonomics are your priority and you're okay with sacrificing a few bells and whistles, the Logitech MX Vertical could be just the mouse you've been waiting for.
The Good
Comfortable to use.
Promises to minimise the chance of wrist and nerve damage.
Supports wired and wireless connections.
The Bad
Only supports up to 4,000 DPI.
Lacks many features common to premium mice.
Not particularly attractive.
---
Anyone who spends the majority of their day behind a computer knows how debilitating a sprained wrist or bruised finger can be. Working a desk job might not be the most physically strenuous of occupations, but there are still plenty of ways to injure yourself and potentially jeopardise your ability to work at all.
Of the most common computer-related injuries, wrist strain is particularly insidious. Simply gripping a mouse the wrong way can lead to serious nerve damage over the long term. Worse, by the time you notice it, it's often too late.
To help avoid this problem in the first place, PC hardware manufacturers have started rolling out a new type of input device: the vertically-oriented mouse. Logitech is one such manufacturer, expanding its popular MX product line with the Logitech MX Vertical. Designed to reduce physical stress on your wrist and promote better overall posture, the MX Vertical excels at what it sets out to achieve while simultaneously struggling to live up to the expectations of other high-end mice.
---
---
Design
You're not going to have any trouble picking the Logitech MX Vertical out of a line-up. Its 57-degree vertical orientation is immediately striking, more closely resembling a new-age art installation or a clothes iron than a typical computer peripheral. Perhaps it's just my lack of design acumen talking, but I found this aesthetic rather unattractive. It's bulky and aggressively asymmetrical, and its shades-of-grey colour scheme is mundane and monotonous.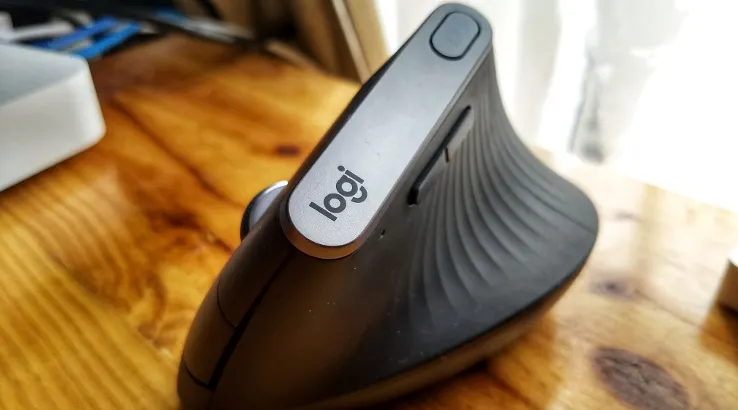 Fortunately, none of that matters once you wrap your fingers around the MX Vertical. Instead of draping your hand flat over it as you would with most mice, the MX Vertical requires you to assume what Logitech calls the "handshake position". This reportedly reduces muscle strain by 10% compared to ordinary mice. While I'm no professional ergonomist, I can say that holding the MX Vertical feels considerably more natural than holding a standard mouse, and that really makes a difference over the course of an eight-hour work day.
Along with its distinct shape, the MX Vertical emphasises ergonomics with its textured rubber surface. Ridges line the sides of its body, providing extra grip and a satisfyingly soft surface to rest your fingers on. I'm always a fan of textured grips on mice, and with the MX Vertical placing so much importance on comfort and ease-of-use, the decision to apply a textured coating to the entire mouse is a smart one.
Oddly, while the MX Vertical looks big and bulky, it's actually surprisingly light. I imagine this was part of the ergonomic design process to minimise muscle strain for users of all types. The downside to this is that the MX Vertical doesn't feel as sturdy as I'd like it to. For a mouse of its size, I like a bit of heft. It helps convey a sense of premium quality and provide reassurance that the device can survive a few bumps here and there. The MX Vertical lacks that heft, and that's disappointing for a mouse with its price tag.
Performance
Assessing the MX Vertical's performance is tricky. It doesn't handle quite like your typical mouse, and it takes some time to get used to its idiosyncrasies. Moving the cursor, for instance, involves applying more vertical wrist force and less horizontal rotation. Initially, I struggled with a lot of jerky cursor jumping and had difficulty executing precise actions. Continued use allowed me to dial in the muscle movements necessary for smoother operation, although even after a week I still find it a little cumbersome at times.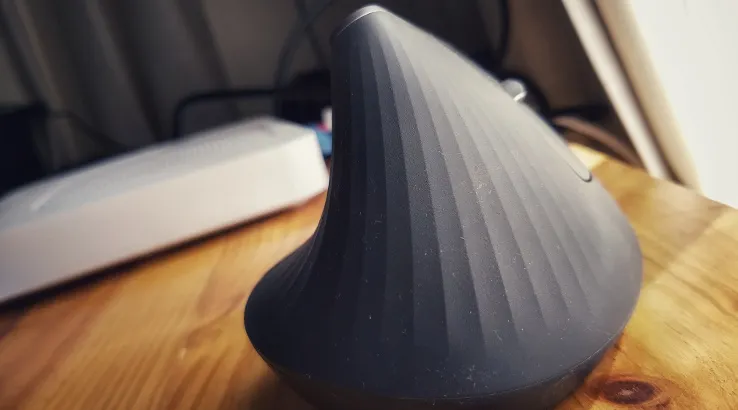 That aside, the MX Vertical performs well in everyday use. The 4,000 DPI sensor is accurate and reliable, and tweaking its sensitivity helped me get a grip on the atypical cursor movement. The large left and right mouse buttons work well in their vertical orientation, and the scroll wheel does its job adequately.
However, the scroll wheel button suffers in its angled position. Clicking it requires pushing diagonally down and left, a motion that feels considerably less natural than just pushing straight downwards. Too often my clicks wouldn't register and I'd be forced to actively think about my muscle movements – not something you want to do when you're focused on your work. Admittedly, it's not the most damning of complaints, but it did clash with the MX Vertical's naturalistic ambitions.
Features
Premium mice often come jam-packed with features to set them apart from the competition. The MX Vertical bucks this trend, relying instead on its ergonomic design to justify its price tag. There's no RGB lighting like you'd find on the HyperX Pulsefire Surge, and there are only three additional buttons beyond the standard left/right/middle buttons: two slim buttons situated above where your thumb rests and a DPI toggle on the top strip.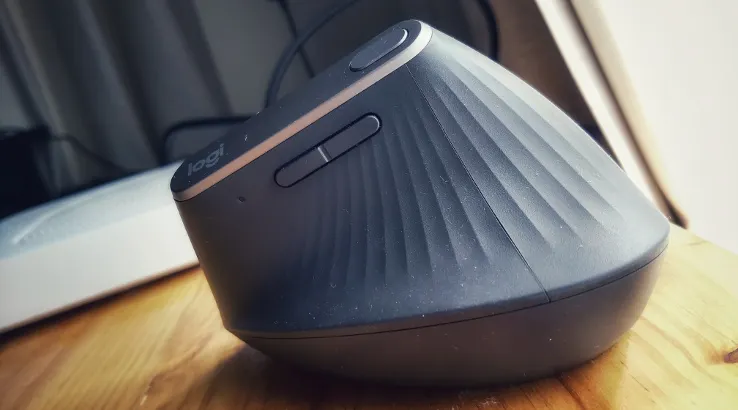 All three buttons as well as the middle mouse button can be customised to perform different functions, whether it be opening a specific program, copying text, switching windows or numerous other handy tasks.
By default, the thumb buttons function as back and forward buttons on your web browser, while the DPI button toggles between two predefined sensitivity settings. You can also hold the DPI button and drag the mouse left or right to increase or decrease DPI on the fly. I found this shortcut particularly useful for editing images, as it made finding the ideal DPI for precise adjustments a lot simpler.
Unfortunately, changing those four buttons is about the only customisation the MX Vertical offers. The Logitech Options app used for tweaking Logitech devices presents only a sprinkle of other settings such as activating smooth scrolling or reversing the direction of the scroll wheel.
On the plus side, there's no shortage of options for connecting the MX Vertical to your computing device of choice. Along with support for a standard USB-C wired connection, it comes with a USB wireless receiver and Bluetooth compatibility. A removable 240mAh battery provides plenty of juice – Logitech claims up to four months from a full charge, though we haven't had the time to verify this just yet. It kept trucking throughout my testing, at the very least. And as an added bonus, USB-C charging support means charge times are blissfully short.
There is one other caveat worth mentioning: the MX Vertical is sadly not ambidextrous. It's designed for right-hand use only, so lefties will have to look elsewhere for their ergonomic fix.
Verdict
The Logitech MX Vertical is a fantastically comfortable device that promises to save you a lot of wrist and muscle strain down the line. While it will take years to definitively prove that claim, using the MX Vertical for just one week is enough to highlight how natural a vertically-oriented mouse feels compared to a traditional horizontal one.
However, beyond its ergonomic design, the MX Vertical is relatively unremarkable. Despite its premium price tag, it lacks many of the features common to other high-end mice. If you value top-of-the-line performance and extensive customisation over comfort, the MX Vertical may not be for you.
Pricing and availability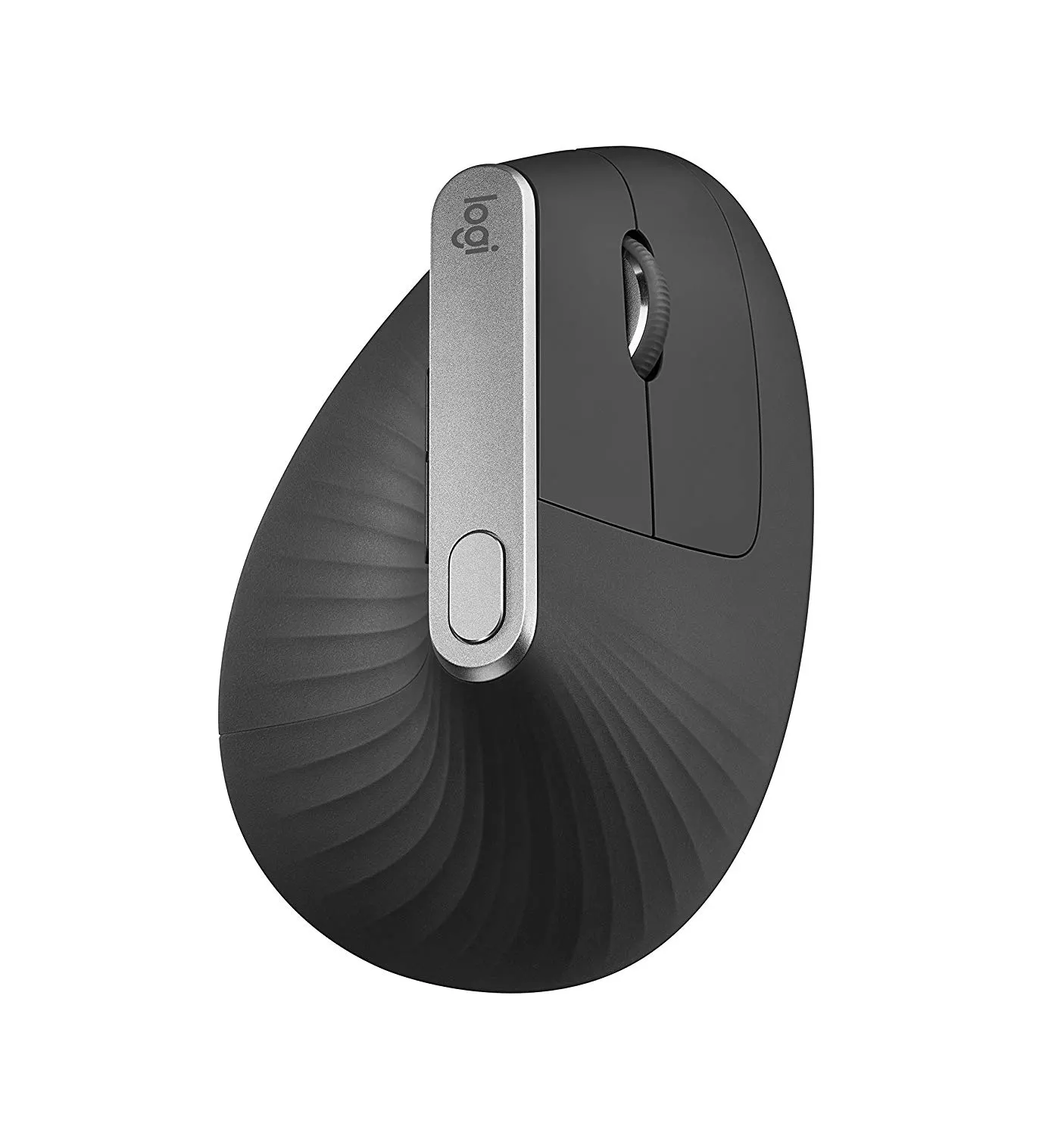 Buy the Logitech MX Vertical Mouse
from Amazon
Reduce muscle strain and increase comfort with the MX Vertical, Logitech's vertically-oriented, ergonomically-designed mouse. Get yours now from Amazon Australia.
View details
The Logitech MX Vertical retails for $169.95, and it's available right now from retailers like Amazon, JB Hi-Fi, Harvey Norman and Logitech itself.
Logitech MX Vertical specs
Size

78.5mm x 79mm x 120mm
Weight

135g
Connectivity

Bluetooth, wireless receiver, USB-C
Sensor

400 DPI to 4,000 DPI
Programmable buttons

4
---
More guides on Finder