Logitech MX Master 3 review
Quick Verdict
From its electromagnetic scroll wheel to its smoothly contoured body, the Logitech MX Master 3 is quite simply one of the most comfortable and capable mice I've ever had the pleasure of using.
The Good
Ergonomic design provides comfort and support for extended use
Flywheel scrolling is tremendously useful
Horizontal scroll wheel is an excellent addition
Subtle colour scheme fits in well with formal work environments
The Bad
No left-handed option
Flywheel scrolling can be a little over-sensitive at times
So many mice these days are geared towards gaming. Featuring angular designs and flashy RGB lighting, they don't exactly align with the formal atmosphere of a work environment.
Thankfully, there are still a few companies producing high-end mice that won't stand out like a sore thumb in your typical office space. The Logitech MX Master 3 is a shining example, cramming a tremendous amount of useful functionality into a subtle, comfortable wireless mouse that provides plenty of ways to increase your productivity.
Design
Much like Logitech's recent MX Vertical mouse, the dark greys of the Logitech MX Master 3 are unlikely to attract many oohs and ahhs, but that's the point. This neutral colour scheme blends in neatly on an average desktop, avoiding the incongruity that stems from using a shiny gaming mouse in an office environment.
Similarly, the shape of the MX Master 3 is all about function over form. The large curves mould comfortably to the hand and offer plenty of support, an ergonomic design that lends itself well to long sessions in front of a computer. The only downside is that the MX Master 3 is built for right hands only – folks who prefer to mouse with their left hands will be sadly left wanting.
A textured grip wraps around both the sides and the top of the MX Master 3. Not only does this ensure the mouse remains firmly in control even when whipping it around at top speed, it's pleasant to the touch and reinforces the premium feel the MX Master 3 embodies.
Performance
Right out of the gate, I've noticed that the Logitech MX Master 3 has improved my productivity more than any mouse I have previously used. While its 4,000 DPI sensor might not allow for the same level of sensitivity as the 16,000 DPI sensors you find on many gaming mice, it's more than precise enough for fiddly work tasks like editing images or manipulating cells in a spreadsheet.
On the clicking front, the left and right mouse buttons, as well as the vertical scroll wheel, the back and forward buttons and the mode-switching button all provide satisfyingly firm feedback when pressed. They feel resilient enough to survive plenty of rough-and-tumble too, though the back and forward buttons are a little squishier than I'd like.
Where the Logitech MX Master 3 really shines though, is in its scrolling performance. With the vertical scroll wheel in its standard "ratchet" mode, light pressure will move it in increments the same as most scroll wheels. However, give it a good flick, and the wheel will spin freely, scrolling through dozens of pages under its own momentum.
I've found this immeasurably useful when navigating long documents or web pages, as it's both faster and more precise than using the keyboard or manually dragging scroll bars. It's been so handy, in fact, that I've found it tremendously difficult to go back to using mice without free-scrolling wheels.
The only downside I've encountered is when using the Ctrl key on the keyboard to perform tasks like opening links in a new tab inside a web browser. Momentum from the free-scrolling occasionally lingers after I've stopped scrolling, and if I press Ctrl too soon, I end up zooming in or out on whatever I'm looking at. It's a minor nuisance, and something I've gradually gotten used to.
Wireless performance is another strength of the Logitech MX Master 3. Logitech claims that a full charge will last an impressive 70 days, and my testing supports this. A single charge kept it going throughout two weeks of heavy use, and the battery reading has remained at full the entire time. As an added bonus, the MX Master 3 supports USB-C charging, letting you quickly top up its battery when necessary.
Features
Logitech has kitted out the MX Master 3 with a bevy of additional buttons providing quick access to numerous handy features. Along with the common back and forward thumb buttons – fully programmable if you want to use them for other functions – it also sports one of my favourite additions to a mouse I've encountered: a horizontal scroll wheel. Not only does this allow you to scroll left and right with ease – especially handy when working in large spreadsheets – it can be customised to swap between tabs in a web browser or control zoom levels in image-editing software.
Despite this plethora of extra buttons, they're all positioned within easy access yet isolated enough to prevent accidentally hitting them.
Speaking of scrolling, the Logitech MX Master 3 packs another killer feature in its regular vertical scroll wheel. Through the use of electromagnets, the wheel is able to maintain momentum and keep spinning after you let go, allowing you to scroll up and down long pages far faster than with a purely mechanical wheel. A click of a button switches the wheel between two modes of operation: complete free-scrolling or a "ratchet" mode that only activates the electromagnets when you flick the wheel up or down.
The MX Master 3 also sports a tiny gesture button at the base of its thumb rest. Hold this button down and push the mouse in one of the four cardinal directions to activate different functions, effectively adding four extra shortcut commands to your repertoire.
Those gesture commands, along with the functions performed by the other extra buttons and scroll wheels, can all be customised within the Logitech Options app. That app has come quite a way since I first used it and now supports numerous helpful features, from basic DPI and scroll wheel sensitivity settings to app-specific macros and the ability to define how hard you need to flick to switch the vertical scroll wheel from ratchet mode to free-spinning.
Verdict
The Logitech MX Master 3 is quite simply one of the most comfortable and capable mice I've ever used. Its sturdy design feels great under-hand even after long work days, and its wealth of additional input options provide numerous ways to streamline your routine and enhance your productivity.
Add to that an electromagnetic scroll wheel that has spoiled me on all scroll wheels going forward, and I have no reservations in recommending the Logitech MX Master 3 wholeheartedly to anyone looking for a premium wireless mouse built for productivity.
Pricing and availability
The Logitech MX Master 3 will be available in October 2019 for $149.95 from retailers like The Good Guys and Amazon or directly from the Logitech website.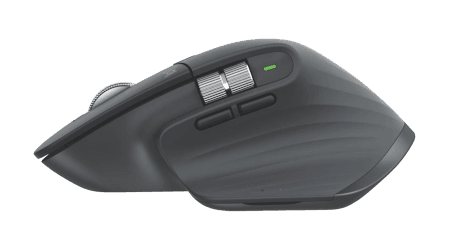 Buy the Logitech MX Master 3
from The Good Guys
Unlock your productivity with the comfortable and feature-packed Logitech MX Master 3 wireless mouse.
View details
Logitech MX Master 3 specs
Size

124.9mm x 84.3mm x 51mm
Weight

141g
Connectivity

Bluetooth/USB receiver (included)
Sensor

4,000 DPI
Programmable buttons

5
---