Linksys Velop Review: A super fast routing solution at a serious price point
Quick Verdict
Linksys' Velop mesh network system brings the goods in terms of home Wi-Fi coverage. It's very likely to work for you if you suffer from Wi-Fi dead spots, but be prepared to shell out some serious money for the privilege.
Strengths
Simple setup
Can easily add extra Velop units to the network
Very fast connectivity
Intelligent tri-band network management
Could be better
High asking price
Low number of ethernet ports
No USB ports
---
Linksys' Velop router can deliver exceptional home internet speeds even in difficult building locations, but you pay a serious price for the privilege.
The chances are very good indeed that your home Wi-Fi runs off the default modem-router that your internet provider gave you when you signed up for your home broadband, whether you're an NBN, ADSL or Cable internet customer.
There's a very simple reason for that. Home networking can quickly get bogged down in obtuse technical jargon and frustration when and if you realise that you can't quite get your Wi-Fi to satisfactorily reach every corner of your home or office.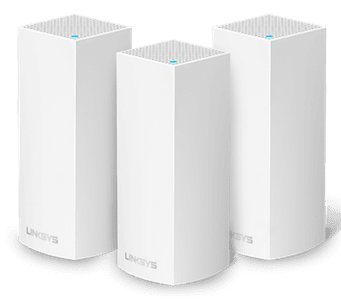 Buy Linksys Velop Whole Home Wi-Fi System
from Amazon
Super simple setup and exceptional wireless performance can be yours with the Linksys Velop Mesh router system.
View details
It's an issue that's come much more to the fore with the launch of services such as Netflix, Foxtel Now and Stan, because those are bandwidth-hungry applications that demand wireless fidelity. Still, many of us suffer with poor Wi-Fi, because while many devices have promised Wi-Fi nirvana, very few have delivered.
Linksys' Velop routers were launched back at CES 2017 with the promise of simplifying both Wi-Fi setup and range anxiety issues, thanks to the use of mesh networking to knit multiple Velop nodes together into a seamless network. At least, that's the theory.
---
Design
Linksys sells the Velop system in Australia in packs of 1, 2 or 3 Velop nodes. For this review I was supplied with the full 3 pack, but a smaller location could perhaps make do with fewer nodes to cover a smaller area.
Each Velop Node is a small and relatively unobtrusive white tower block measuring in at 18.5x7.8x7.8cm. In straight router terms they're quite plain looking, but not in a way where you absolutely would want to hide them away. Indeed, in certain decor settings they could even form a conversation piece, especially as Linksys keeps the blinkenlights to a minimum.
There's a sole LED light at the top of each Velop node that lights up blue when all is good, yellow when it can't find other Velop nodes in the network and red when it lacks internet connectivity. It's simple and unlikely to distract you if you locate a node near your home entertainment equipment.
All the Velop nodes are mains powered, with a small cable connector located in the base for power, along with two ethernet ports for added wired connectivity. For my setup, I located one near my Telstra Cable internet connection, one in a bedroom and one in my home office. Before very long at all, I stopped even paying attention to them, which is more or less ideal for a router product.
Setup
While each Velop node is visually identical, when you set up the Velop system you nominate one specific node as the router node, while any additional nodes work in an effective slave configuration to that primary node. Because it's a mesh system, however, bandwidth is shared between nodes dynamically in order to offer (theoretically) optimal performance. It's a tri-band 2.4GHz/5GHz system, but as far as any laptop, tablet, mobile device or other device you connect it to is concerned, you're always only looking at the one single network.
In order to get the most out of a mesh system, it's vital to place the individual nodes in a configuration where they can both maximise range and talk to each other at the highest possible speeds. Linksys manages this largely through the Linksys Velop app for iOS and Android devices.
Up until quite recently this was also the only way to configure a Velop system with no actual web based configuration interface to speak of. A firmware update during the review process added the ability to configure from a standard browser interface, but the chances are pretty good that when you unpack a Velop it'll demand you download the app and configure the system from a smartphone anyway.
The single router Velop can connect either to a straight router, in which case the Velop will handle all routing decisions itself, or if you're using a modem-router, it'll set itself up as a completely seperate network, using the modem-router's network as its source of internet connectivity. That can potentially lead to some network addressing issues depending on your precise configuration of devices, although I had few during my tests.
The Velop scores well for ease of setup for both the primary node, and then additional nodes as needed, even if you're rather phobic about setting up networking equipment.
Performance
There's an issue with delivering an absolute verdict on wireless performance in any situation, because wireless networking is by very definition a highly variable matter depending on the construction of your dwelling, nearby interference factors and your chosen measurement metric. Or in other words, my home office results may not be yours, although the experience I've had with the Velop does suggest that they should be appreciably close.
In my case, while I've used a variety of additional 802.11ac routers over the past few years to supplement the meagre performance of my internet provider supplied router to provide networking to around half of my house, the other half has always remained something of a dead zone. In my case I know precisely why this is, because that other half is the result of an extension put in place years before I moved in that placed a brick wall behind plasterboard. You wouldn't know it was there unless you drilled in... or tried to get a wireless signal through there.
Through the years I've tried various solutions to the problem, including wireless extenders that sometimes worked, HomePlug style adaptors that often worked (but slowly) before finally biting the bullet and getting a qualified contractor to run ethernet from one side of the house (where the cable internet comes in) to the other (where my home office is). That's a rather nuclear option that won't be open to everyone, so I was very keen to see if the Velop's claim of mesh network management could outdo the claims of other providers.
The good news here is that it mostly did. It still can't outdo the sustained throughput of an actual gigabit wired connection, because nothing wireless actually could, and anyone who tries to tell you otherwise probably also has a bridge to sell you.
However, compared to any other wireless solution I've tried, the Velop managed the best, managing an average steady stream of around 25Mbps in the worst location, and near the full 100Mbps if I was anywhere near the other two nodes and the other side of the troubling hidden brick wall. For most people's immediate purposes that should be more than enough single-use bandwidth, and as noted, your own circumstances could vary.
The Linksys Velop system is still a wireless router, and that means it's not entirely bulletproof. I did hit a few instances where it encountered notable performance dips for reasons that weren't easy to track down. Without a simultaneous network to test on it's impossible to say if that was some form of external interference or the Velop mesh network playing up, however.
The Linksys Velop nodes do offer two ethernet ports for added connectivity of devices such as network attached storage, although it's a pity that Linksys didn't also include USB connectivity for devices such as printers. Then again, if your printer is Wi-Fi ready, it should be able to talk to the Velop nodes directly.
Verdict
Linksys' Velop Wi-Fi networking system does jump over many of the frequent pain points associated with wireless networking. They're relatively easy to set up, and for the most part they manage the actual network load balancing themselves, which should appeal to most consumers who don't get excited about the prospect of tweaking network settings. Throughput can be very good under less than ideal conditions, so they also can solve for that problem.
There is an issue with the Velop system, however, and it's one of price.
Linksys sells the Velop in single, double and triple pack systems for $349.95, $649.95 and $799.95 respectively.
That's a significant kind of price point for a wireless router, even a high-end one, and it's one that may leave many consumers with a serious level of sticker shock. Velop should solve for your wireless woes, in other words, but you'll pay a pretty serious price for it.
Specifications
Product Name

Linksys Velop
Dimensions

18.5x7.8x7.8cm
Wireless Connectivity

Tri-Band AC2200 (867 + 867 + 400 Mbps). with MU-MIMO and 256 QAM
Wired connectivity

2x gigabit ethernet
Processor

716 MHz Quad Core
Memory

4 GB Flash and 512 MB RAM
RAM

4GB
Wireless security

WPA2 personal
---
---