Limbo (Switch) review: A port that passes the bar
Limbo remains an essential classic of modern gaming, more to do with mood than mechanics.
We're reader-supported and may be paid when you visit links to partner sites. We don't compare all products in the market, but we're working on it!
Limbo, if you haven't played it before, is a game that is meant to upset you. That's a bold choice for a game developer to make, because an upset gamer might not finish your game, but then Limbo isn't much like the platform games its borrows its core gaming mechanics from.
Actually, the in-game mechanics are insanely simple. You're a small boy in a dark, dark land, and you can jump and grab onto objects in the game world. Some object can be pushed or pulled into place, others grabbed and climbed, or flicked as switches to affect the grim world as you move through it. It's about as simple as platforming gaming can get, and if that's all that Limbo was, it would be a rather dull experience.
Instead, how Limbo works is by affecting your emotions, just as PlayDead's followup title,
Inside
does. There's the deliberate choice of a small boy as your in-game avatar that can't help but affect you emotionally, as does the use of a dark colour palette throughout the game. Inside's actually the more colourful of the pair, but Limbo's deliberate monochromatic tone choice sets the tone for the entire game.
That's true of the environment as well because there's a simple rule in Limbo that's essential for your survival. EVERYTHING wants to kill you, and the reality is that it probably will.
If you've never played Limbo before, you'll accidentally walk into spiked traps, drowning pools or foes that want to eat you whole over and over again... and that's not even starting on the brain parasites that take control of your motion from time to time. Limbo remains challenging throughout your play of it, both in working out how to survive the latest creature or environmental obstacle that stands in your path and in keeping your mood at a very particular emotional level.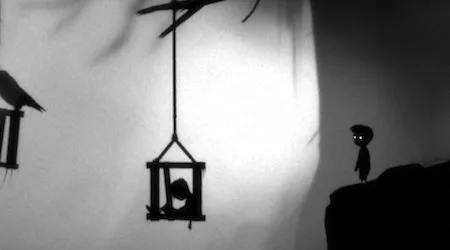 Bear in mind again that you're playing as a young boy, and you'll quickly realise how emotionally affecting Limbo can be. This does also allow it to essentially "cheat" in terms of its gaming mechanics because in any other game, the rather cheap ways you're tricked into killing yourself would seem sub-par.
Here they're deliberately paced to keep you both challenged and affected by what happens to your avatar. I know I never want to see him desperately clawing for air as he dies, but equally, I'm aware that this will probably happen later on as I play. I've played Limbo before and I fully know what's coming... but I still keep on playing.
In its Switch incarnation, Limbo brings with it the possibility of mobile play, although this isn't an entirely new aspect, given it's been available for Android and iOS for a couple of years now. It's also a game that's oddly uncomfortable to play in public purely because of its dark and eery tone.
I ran through Limbo on a recent holiday in Japan, but in one instance I was making my way through the game while on a Shinkansen en route to Hiroshima when I realised an actual small boy was watching me play Limbo, a game in which (while not wanting to) I was inadvertently killing small boys in large numbers.
I have never switched to Stardew Valley quite so fast in my life.
Even years after its release on every other platform, Limbo remains an essential classic of gaming, and one that shouldn't be missed. That does leave the obvious pointer that you may well have played it on Xbox 360, Xbox One, PlayStation 3, PlayStation 4, PlayStation Vita, Windows, macOS, Linux, iOS or Android before.
Limbo's been around, in other words, and the Switch port doesn't add anything new to the experience. You may indeed be able to score a copy a little cheaper than in its Switch incarnation. Whatever you do, if you've never played it before -- and can handle its creepy undertones -- you absolutely still should.
Limbo
9.0 AMAZING
What we liked...
Dark tone still stands up after all these years
Works well for mobile gaming
What we didn't like...
It will make you cry
Not suitable for every public setting
Is cheaper on other platforms
VERDICT
Limbo is a classic, dark, weird and deeply affecting game that should not be missed under any circumstances. It's the same Limbo it's always been – one might even say it's stuck in Limbo – so if you've played it before or can score it on other platforms cheaper then, by all means, do so. If you're a Nintendo purist, however, it's a very welcome game for the Switch that you should, by all means, buy right now.
Available for
Xbox 360/Xbox One/PlayStation 3/PlayStation 4/PlayStation Vita/Windows/macOS/Linux/iOS/Android/Switch
For more information on how finder scores games, check our review guidelines.
More guides on Finder
Handypay Green Loan

A Green Loan from Handypay could help you make your home more energy-efficient. Handypay green loans are available up to $75,000 on terms of up to 10 years.