Sunsuper Life Insurance
Why choose Sunsuper Life Insurance?
We're committed to our readers and editorial independence. We don't compare all products in the market and may receive compensation when we refer you to our partners, but this does not influence our opinions or reviews. Learn more about Finder.
Most people consider life insurance a morbid subject. After all, you're insuring your life against the risk of dying, so most people try not to think about it. Yet, if something was to happen to you, your family could be left in financial difficulty.
Sunsuper Life Insurance is not currently available via finder. You can visit their website at www.sunsuper.com.au for more information or compare alternative options available below.
Sunsuper life insurance gives you the ability to protect your financial situation at a very competitive cost. Members with life insurance are also automatically covered for Total and Permanent Disability cover, which allows you to maintain your financial responsibilities in the event of an injury or illness that renders you unable to work.
Cover options available
Sunsuper automatically provides the following Standard cover policies to all members:
Death cover
Provides a lump sum benefit of up to $250,000 upon the death of a member
Benefit can be used by loved ones to remove the financial burden of your death
Cover provided automatically
TPD cover
Provides a lump sum benefit of up to $250,000 if you become totally and permanently disabled
Benefit can be used to pay off debts and bills, and fund any disability-related expenses such as home modifications
Compare direct life insurance policies below
An adviser can help you find cover from trusted life insurance brands.
Get competitive quotes from multiple brands

Lower rate of declined claims (according to ASIC)

Save time and effort
---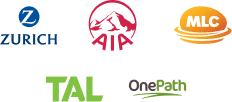 Additional extras you might want to consider
All Sunsuper members have the option to increase their level of Standard cover with the following products:
White-Collar cover. This allows you to take out 50% more Death and TPD cover at no extra cost. It is available to eligible white-collar workers.
Life and Age Events. This allows you to increase your cover without underwriting when specific life events occur. These include turning 30, 40 or 50, getting married, having a child and taking out a mortgage.
New Member Options. If your Sunsuper Standard cover started within the past 120 days, you can increase your Death and TPD Cover by 50% without providing medical information. You also have the option to add income protection cover to your insurance package, providing a monthly benefit to replace up to 85 per cent of your income when you are unable to work due to illness or injury.
In order to ensure that the insurance you hold through super meets your specific needs, Sunsuper offers a Tailored cover option. This allows you to apply for more Death, TPD and/or Income Protection cover to suit your needs. Tailored cover is available to members who are ineligible for Standard cover, who have previously cancelled cover, or who simply want to increase the level of cover they have in place.
You can apply for:
An unlimited amount of Death cover
$3 million TPD cover
$5 million Terminal Illness cover
Income Protection: Maximum monthly benefit of $50,000 for a two-year benefit period, or $30,000 per month for a five-year or to-age-65 benefit period
What's not included?
There are certain circumstances when a Sunsuper insurance benefit will not be paid. These include:
A Death or TPD benefit will not be paid in cases of suicide or any intentional self-inflicted act. This exclusion applies within 12 months of your insurance cover start date and more than 120 days after you joined your current employer
If you increase your Standard or White-Collar, Death and TPD cover because of a change in your circumstances (such as getting married, taking out a mortgage or turning 50), limited cover will apply for a period of 24 months and until you have been at work for 30 consecutive days at the end of that period. A similar limit applies to income protection cover
Death cover stops when you turn 70 years of age, while TPD cover stops when you turn 67. Income protection cover ends when you turn 65
Cover will stop if you receive a TPD insurance benefit
Cover will cease if you withdraw all monies from Sunsuper
If your premium is due and there are not enough funds in your Super-Savings Account to pay the total amount, your cover will end if your premium is not paid within four months
An income protection benefit will not be paid if a claim occurs as a result of an intentional self-inflicted act, attempted suicide, uncomplicated pregnancy, childbirth or miscarriage, your deployment to a hostile environment as part of your active military service or criminal act committed by you.
Who is eligible for these policies?
When you join Sunsuper, you'll be eligible to receive automatic Standard Cover in your Super-Savings account if:
You are aged 15 to 69 (TPD Cover is not available after age 67)
You haven't previously received or been eligible to receive a benefit for Terminal Illness or TPD from another fund or insurer
You are employed and Sunsuper receives a superannuation guarantee contribution from you
In order to apply for additional protection under Sunsuper Tailored Cover, members must be:
Aged between 15 and 70 for Death Cover
Aged between 15 and 67 for TPD Cover
Aged between 15 and 65 for Income Protection Cover
How do I make a claim with Sunsuper Life Insurance?
If an event that could lead to a claim occurs, it's important that you notify Sunsuper as soon as possible. This can be done by phoning Sunsuper on 13 11 84, and a Sunsuper Claims Officer will then guide you through the process from start to finish.
You will need to gather any information required to support your claim and submit it to Sunsuper. This may include medical reports, proof of age of the life insured, or a death certificate.
Once all the details and supporting evidence for your claim have been provided, your claim will be assessed by the insurer. Claims also need to be assessed by the Sunsuper Trustee, who will also determine the beneficiaries of your claim, before being paid.
Need more info?
Q. Does Sunsuper Income Protection Insurance cover self-employed people?
A. No. You must be employed and working at least 15 hours a week to receive cover.
Q. Are there any exclusions that apply to Sunsuper Death and TPD cover?
A. Yes. Sunsuper will not pay a Death or TPD Benefit for a claim that arises due to suicide or any intentional self-inflicted act within 12 months of the date cover started and where it has been more than 120 days since you joined your employer.
Q. How much does Standard cover cost?
A. The cost of Sunsuper Standard cover varies according to your age and gender.
Q. How are premiums paid?
A. Premiums are calculated weekly and are typically deducted from your Super-Savings account on a monthly basis.
Q. How can I apply for Tailored cover?
A. You can apply for Sunsuper Tailored cover at any time by logging into Sunsuper's Member Online service. However, a paper application form is also available if you would prefer.
Q. What factors affect the cost of Sunsuper Tailored cover?
A. The following factors influence how much your Tailored cover costs: the type of cover you select, the amount and basis of cover, your occupation, your health, your age and your gender.
Q. What do I do if I want to reduce or cancel my Sunsuper insurance cover?
A. You can do this at any time by writing to or phoning Sunsuper.
Who is Sunsuper?
Sunsuper is an award-winning Australian super fund. Based in Brisbane, the company was established in 1987 and is now one of the top ten super funds in the country. As it is classified as an industry super fund, Sunsuper is run to create profits for its members.
What this means for members is that their super fund is always working in their best interests. Because there are no commissions to pay or shareholders to look after, unlike some other well-known super funds, Sunsuper is free to concentrate on providing the best possible products and services to its members.
In addition, Sunsuper prides itself on offering some of the lowest fees in the industry to its members. The company encourages prospective customers to compare its fees with those charged by other funds, helping members to save money and build funds for their retirement.
Sunsuper offers a range of superannuation solutions for every life stage, as well as flexible insurance options to give customers the cover they need. The company prides itself on providing personalised customer service and members can track their super's progress online or via mobile.
More guides on Finder