Rest Industry Super Life Insurance
We're committed to our readers and editorial independence. We don't compare all products in the market and may receive compensation when we refer you to our partners, but this does not influence our opinions or reviews. Learn more about Finder.
Benefits of choosing Rest Super for your Life Insurance
REST Super funds are managed by a trustee company, the Retail Employees Superannuation Pty Limited.
The company is renowned for its remarkably low fees and offers a wide range of insurance choices. For its superior service, REST Super has won many awards and accolades from publications and research houses.
Compare direct life insurance brands below
An adviser can help you find cover from trusted life insurance brands.
Get competitive quotes from multiple brands

Lower rate of declined claims (according to ASIC)

Save time and effort
---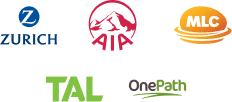 Awards
Awards received by REST Super for its service and insurance products include:
SuperRatings Pension of the Year 2014 Award
SuperRatings Platinum Super 2013
SuperRatings SR50 Best Balanced Return 2008-2013
SuperRatings SR50 Best Growth Return 2008-2013
SuperRatings Fund of the Year 2014
SuperRatings 10 Year Platinum Performance 2003-2013
Money Magazine's Best of the Best Award
AFR Smart Investor Blue Ribbon Awards
REST Industry received a rating of 5 Apples of out 5 2007-2013 from Chant West ratings
AAA rating from SelectingSuper Funds Awards
5 star rating from Heron Partnership for Quality
Rest Super Life Insurance Policies
Rest Super have worked hard to design a range of protection products to meet the needs of a variety of customers. You will have access to a wide range of products that you can choose from based on your needs and requirements.
The products are categorised as follows:
REST Super
REST Corporate
REST Select
REST Super is open to all Australians and has a MySuper option. The moment you join and your employer makes the first contribution, you automatically receive life insurance cover. You have a choice of investments, with 13 different investment options. You can customise your portfolio or go with the structured investment options, which are managed on your behalf. You also enjoy REST Industry Super life insurance and coverage for permanent and total disability. Another attractive feature of REST Super is the REST Industry Super income protection.
This is a salary-based insurance product that comes with a MySuper option. This product is only accessible via your employer, but it offers many attractive investment choices, with up to 13 options. The investment portfolio can be structured or customised, depending on what best meets your cover requirements.
REST Corporate comes with life insurance cover, long-term income protection and coverage for permanent and total disability. These are affordable and flexible insurance options, giving you peace of mind.
Should you die, your beneficiaries will receive 15% of your salary per future service until the age of 70. The income protection cover offered is 87% of the salary and this includes 12% Super benefits.
The waiting period to receive the benefits is just 60 days and the benefits are paid up to the age of 65.
If you are looking for flexible insurance choices, REST Select is ideal. But remember, it is not a MySuper product. Here too, you have 13 investment choices, which can be customised or structured. It offers death cover, income protection cover and total and permanent disability cover.
REST Super Life Insurance Policies
REST Industry Super life insurance policies are just what you need. REST Super offers a range of policies to suit any and every person. Understanding these policies will allow you to make an informed decision and buy a policy that seamlessly fits into your life without being a burden.
Basic Death Cover: REST Industry Super life insurance uses a 'life stage' method for offering basic coverage. This means that the cover keeps changing based on the different stages of your life. When you are young, the cover is low and as you age, the amount increases. Finally, when you are old, it once again reduces, as your responsibilities are taken care of and you no longer have the liabilities and obligations that you had a few years ago.
Voluntary Death Cover: This is a fixed amount cover that is over and above the Basic Death cover offered by REST Super life insurance. This is an attractive policy, as you have control over the amount of insurance. Each unit of the cover offers $10,000 cover that continues until you reach the age of 70. The cost of each unit is determined by your occupation, gender and age.
Terminal Illness Benefit: Being diagnosed with a terminal illness can be devastating for you and your loved ones. When you have a life expectancy of less than 12 months, it is considered a terminal illness. Under such circumstances, you can avail this benefit, which will be equivalent to the amount of your death cover. It is important to know that this benefit is not an additional benefit. Rather, it is viewed as an early payment of the death cover and if you have Total and Permanent Disablement cover, the amount of the terminal illness benefit will be deducted from that cover.
Total and Permanent Disablement Cover (TPD): If for some reason you become sick or get injured and this puts an end to your career, you can make use of the Total and Permanent Disablement cover. You have the option of taking the amount as a lump sum or a pension. There are certain criteria that you would have to fulfil in order to receive the Total and Permanent Disablement cover. It is important to remember that TPD and death cover are interconnected. When you are paid TPD, the amount received will be proportionately reduced from your death cover.
Income Protection Cover: If you fall seriously ill or suffer an injury due to which you remain absent from work for a prolonged period of time, you can enjoy REST Industry Super Income Protection cover. You will get the benefits if you have been ill or injured for 60 days and the payment is made in the form of arrears. The cover has two parts to it, the monthly income benefit and the Super benefit. You will receive 77% of your income benefits that you used to get before getting injured or sick and an additional 12% of your monthly income benefits. The 77% is credited to your bank account, while the 12% goes into your REST account.
This outlines the wide range of REST Industry Super life insurance policies and REST Industry income protection options. You can choose the one that best suits your needs and add it on to your basic MySuper product. You should consider your needs and requirements, not just in the present, but also for the future, and choose your REST Industry Super life insurance with care. It is prudent to remember that death does not need an invitation. It comes unannounced and under such circumstances, providing for your loved ones is crucial and of utmost importance.
More guides on Finder