Priceline life insurance
Life insurance for women by Priceline.
We're reader-supported and may be paid when you visit links to partner sites. We don't compare all products in the market, but we're working on it!
This is why Priceline have launched a life insurance product specifically designed for women, called Priceline Protects. The Priceline life insurance is backed by AIA Australia, but has been designed by women, to specially protect the health and welfare of Australian women and their families. Most women will take a lot of time and care to look after their bodies, inside and out, by stocking up on vitamins, supplements, creams, masques and conditioners of all kinds. However, while we all like to look and feel our best, there is one product which can protect us all from head to toe like no other, and that is life insurance.
Compare direct life insurance brands below
An adviser can help you find cover from trusted life insurance brands.
Get competitive quotes from multiple brands

Lower rate of declined claims (according to ASIC)

Save time and effort
---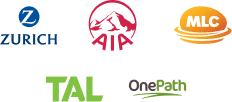 Key Offerings of Priceline Protects Life Insurance
It may seem a little odd at first to take out life insurance at the same place you buy your mascara and foot scrub, as Priceline is comprised of a very successful chain of chemists and retail stores, providing health and beauty products and services; however, as life insurance is just another way to look after yourself, why not consider the range of insurance products from Priceline, including life insurance, serious illness insurance and income protection insurance. AIA has been operating in Australia for 30 years offering advice and financial protection, and has now partnered with Priceline to bring you this unique range of insurance products:
Life insuranceChoose a benefit amount up to $750,000 which can be paid to your family when you die or if you are diagnosed with a terminal illness, to help them with final expenses, ongoing bills or to pay down the mortgage. You'll be covered by the Priceline life insurance policy until you are 75 years old.
Serious illness insuranceYou can take out serious illness cover of up to $250,000, to pay a benefit to your family if you become seriously ill. You can also add your children to the policy, to receive a benefit amount if they become ill too. Your Priceline serious illness insurance covers you until you are 59 years old.
Income protection insuranceIncome protection policy from Priceline will pay a benefit of up to 75% of your monthly income if you are unable to work because of illness or injury. This helps you and your family stay on top of bills and ongoing expenses, so that you don't ruin your credit rating or accumulate new debt to keep your bills paid, and you can keep your savings and other investments in tact and on track to your plans for the future.
Benefits of Priceline Insurance
Australians are one of the most underinsured countries in the world, with 62% of Australian women without any life insurance at all, according to a Lonergan Research survey conducted in February 2011. While the pace of life and everyday responsibilities can be partly to blame, Australian women simply find the insurance industry frustrating, expensive and time consuming. However, women are increasingly managing households, budgets, family logistics and their own work commitments, making them more irreplaceable than ever, and making the need for women's life insurance greater still.
With Priceline life insurance, Australian women are not only getting affordable and easy to use and apply for insurance products, but they'll also enjoy:
The security of a leading Australian insurer, with the backing from AIA Australia.
Application with no medical required.
Bonus Priceline Club Card membership points for every dollar spent on insurance.
How to Choose Priceline Life Insurance Products that Suit Your Needs
To help you decide whether the new Priceline life insurance products are right for your needs, consider the following factors:
The level of coverage - Every family, mortgage and household budget is different, so as you compare the coverage levels offered by Priceline, consider whether these amounts would be enough to protect your family's financial stability and meet their financial obligations.
The policy inclusions - Make sure you know about all of the features and inclusions of the Priceline policy you choose – don't just assume you will be covered for any unexpected event. Understand the features of the policy, and whether there are additional benefits you need in your policy, and what they will cost to include.
Conditions covered - Check the critical illnesses and conditions which are covered in your Priceline serious illness policy, as each insurer will have slightly varied inclusions. While your shortlist of insurers may all include cancer, stroke, heart attack and heart surgery under their list of eligible serious illnesses, what are the exact definitions of each?
Most of us would struggle if an income earner or caregiver in the family were unable to work or fulfil their duties – or they suddenly weren't there at all. Therefore, to avoid tapping into savings, or putting your family at risk of instability by selling your home in a time of need, Priceline has a simple and affordable range of insurers which can restore your peace of mind, and look after you and your family in every way.
What's next?
Read More on the Benefits of Income Protection for Women
Why Should All Women Consider Critical Illness Insurance?
More guides on Finder