ING DIRECT life insurance
Compare ING DIRECT life insurance policies.
We're reader-supported and may be paid when you visit links to partner sites. We don't compare all products in the market, but we're working on it!
ING life Insurance has up until recently been provided by ING Australia Limited, one of Australia's top most fund managers, life insurers and superannuation providers. ING Australia, being created as a joint venture between the global ING Group and the Australian banking company ANZ. ING Group holding 51% of the newly created company and ANZ 49%.
In November 2009, ING Group sold their 51% holding in ING Australia to the ANZ, as a result ING Australia was no longer a part of the ING Group. This brought about ING Australia's change of name in November 2010 to that of OnePath. OnePath now being a fully owned subsidiary of the ANZ Bank and all the former ING DIRECT Life Insurance products now being managed by OnePath.
Compare direct life insurance policies
An adviser can help you find cover from trusted life insurance brands.
Get competitive quotes from multiple brands

Lower rate of declined claims (according to ASIC)

Save time and effort
---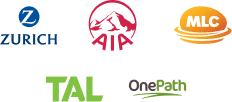 About ANZ
ANZ is one of the largest financial companies in Australia and New Zealand and one of the 'big four' companies of Australian banking. It is also a major international bank being rated among the worlds top 50 banks.
Its headquarters are now located in Melbourne, although it opened its first Bank of Australasia in Sydney in 1835 and it was not for another three years, 1838, before it opened its first Melbourne branch. Its history is quite impressive as it stretches back over 170 years and includes the acquisition of dozens of different Australian and New Zealand banks during its climb to the top.
As a leading global bank ANZ has a presence in over 32 countries around the world including Australia, New Zealand, Asia, the Pacific, the Middle East, Europe and America. It has more than 5.7 million customers worldwide and employs more than 39,000 staff.
Back to top
The Merger of ANZ and ING DIRECT Life Insurance: OnePath
As a direct result of the ANZ's latest acquisition, that of ING Australia, ING DIRECT Life Insurance has become OnePath. The new company is now one of Australia's leading providers of investment, superannuation, insurance and retirement products following the lead set by its predecessors which have helped Australians grow and protect their wealth for more than 130 years. Originally as Mercantile Mutual, more recently as ING Australia and now OnePath.
As a wholly owned subsidiary of ANZ, OnePath operates as ANZ's Australian specialist wealth management and protection organisation. Its development of ING DIRECT Life Insurance products into the OnePath brand has resulted in a large range of life insurance offers of different options for different people. Its products can be purchased directly from OnePath or through financial advisers who may be building you a customised protection plan.
Life Insurance Products Offered by OnePath After the ING DIRECT Life Insurance Merger with ANZ
OneCare: A policy that includes a range of different types of cover, benefits and features. OneCare provides a comprehensive protection for yourself and your whole family including your health and lifestyle, all bound up in the one document.
Direct insurance: A special policy specifically designed for people who like to do things themselves. With Direct insurance you can get immediate cover online or over the telephone, with or without the need for a financial adviser.
Group Risk insurance: A policy designed for employers to insure their employees. A superannuation fund that will provide employees or fund members with top quality insurance cover.
Back to top
Want to Apply for an ING DIRECT Life Insurance Policy? Consider OnePath's Award Winning Insurance Solution
OnePath, just like its predecessor ING DIRECT Life Insurance had done in the past, values and appreciates its customers, staff and the community it operates in. It is committed to acting with the highest standards and in meeting its corporate responsibilities. It also encourages and supports staff involvement in volunteering and charitable activities that support the wider community. OnePath itself actively takes parts in industry forums looking at regulatory and industry changes. It also regularly reviews and conducts research to make sure it is always attuned to changing customer and market requirements.
Research has shown that Australians are generally overly optimistic concerning their financial future. In many ways this is an admirable trait but in other ways it can be a worry, because it also follows that they tend to be under insured on all fronts. Australians are the most under insured people generally of any of the developed countries. Many of us simply don't have sufficient insurance and a lot of us have no insurance whatsoever. It is a worrying thought especially when you take note of the following statistics:
Six out of 10 Australians with dependent children don't have enough life insurance to care for their families for more than one year were they to die prematurely.
96% of families lack enough life insurance to protect them for more than ten years.
80% of home owners would not receive a big enough insurance pay out to rebuild their homes if their home were to be destroyed.
The service provided to Australians by ING Life Insurance is being built on by OnePath Life Insurance since ING Australia was wholly taken over by the ANZ Bank. It is all part of the evolving life insurance industry in Australia that means a better and cheaper product in the future.
More guides on Finder