Mourning in the digital age
Online Grief and Loss Explained
Death has gone digital, and so has grief.
Do you remember your last tweet or Facebook status? No? Well, the Internet will, even after you have passed away. Your family and friends have a new set of digital tools to grieve over your death because your life has been recorded online.
Kristie West, a Grief Specialist based in London, said that collective grief can happen on a much larger and much more open scale through social media. Sharing thoughts and feelings with millions of people around the world can now be easily done with social media, which also provides a platform for interaction between them. In response to such deaths and disaster, solidarity and support are often shown through a formation of Facebook groups, as an example, bringing a community connection.
How do people grieve online?
West also said that social media has changed the way we connect with others and it is transforming the method of how people express and share their grief in the event of a death. With social media, she believes that people can be more open about their experiences. It also puts the topics of death and grief in others more often, which is really important, as it adds more awareness surrounding death.
Many popular social media websites are able to memorialise a person's profile after they die, or provide the opportunity to create a shrine to a lost loved one, for example:
A new set of tools to grieve online:
Grief Forums - Just like you can join the Facebook or the Pinterest online community, there are a number of social networks dedicated to bringing together mourners who want to memorialise a loved one, share memories and share their grief experience to help them deal with their loss.
Online Memorial - There are also dedicated websites which will allow you to create a digital memorial of your loved one, archive photos, profiles, letters and documents, as well as access their final message. This creates a place for people to remember their loved ones.
Pinterest Shrine - Allows loved ones to pin photos and letters of a person who has passed away, to create a visual memorial online.
Tweet to Remember - Memories can be shared and loved ones memorialised through Twitter with the use of hashtags, allowing friends and family to track memories or photos posted about a person.
MySpace Death - This is a catalogue of MySpace users who have passed away, and offers a forum and archive where loved ones can go to share their grief and work through their experiences.
Facebook Memorial - Facebook is able to turn an ordinary profile page into a memorial page after the person dies, to allow friends to continue to post messages of love and support for the family, while removing the deceased person's wall posts and contact details. Another option is to create a private Facebook group which is accessible by invitation only, to allow friends and family to share memories, messages and photos.
How grief is handled on social media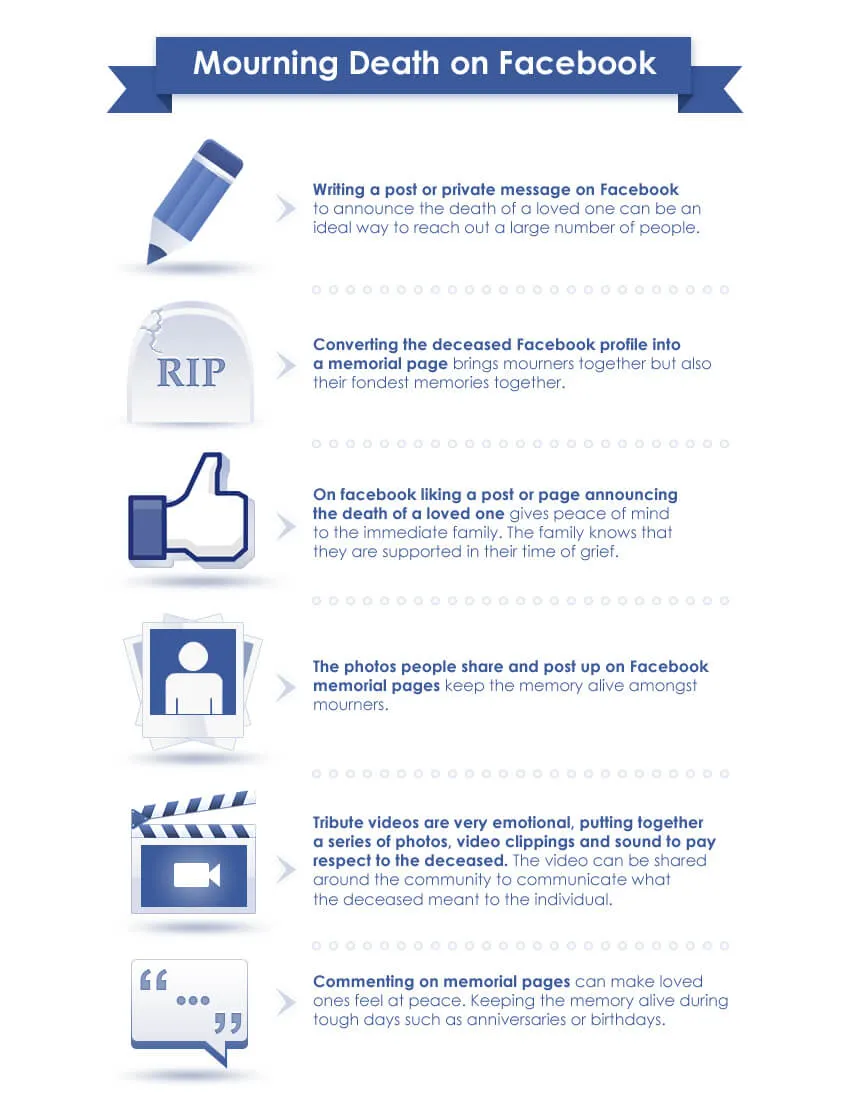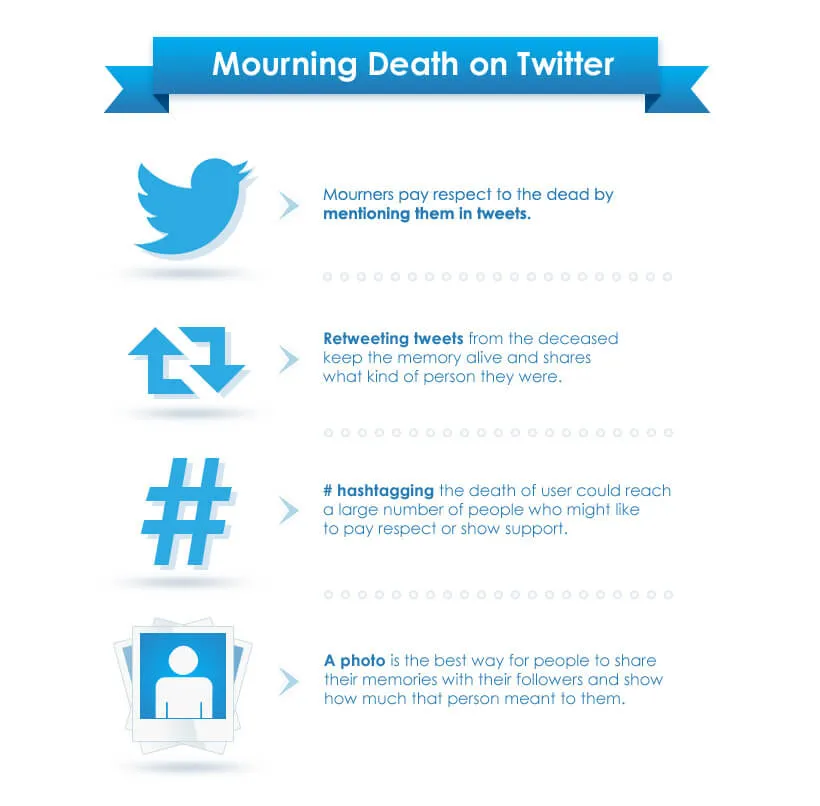 Other examples of online grief in the modern day
Digital mourning is giving us more and more unique ways to express the feelings of grief when we lose a loved one. The cases below show how this has changed.
Skype memorials
In Chester Township, PA, USA, the Hunt Irving Funeral Home held it's first skype service for Ronald H. James. The idea evolved from the deceased's sister, Reverend Dr. Zenobia A. James, having used the technology to undertake a Penn State University course by distance.
Relatives from around the country, California, Illinois and Columbia were able to participate in the memorial without having to incur travel expenses, time away from work and family and to pay their last respects without the sense of urgency and frantic rush of last-minute travel. With smartphone offering the Skype platform, we may see this becoming a norm at funeral services.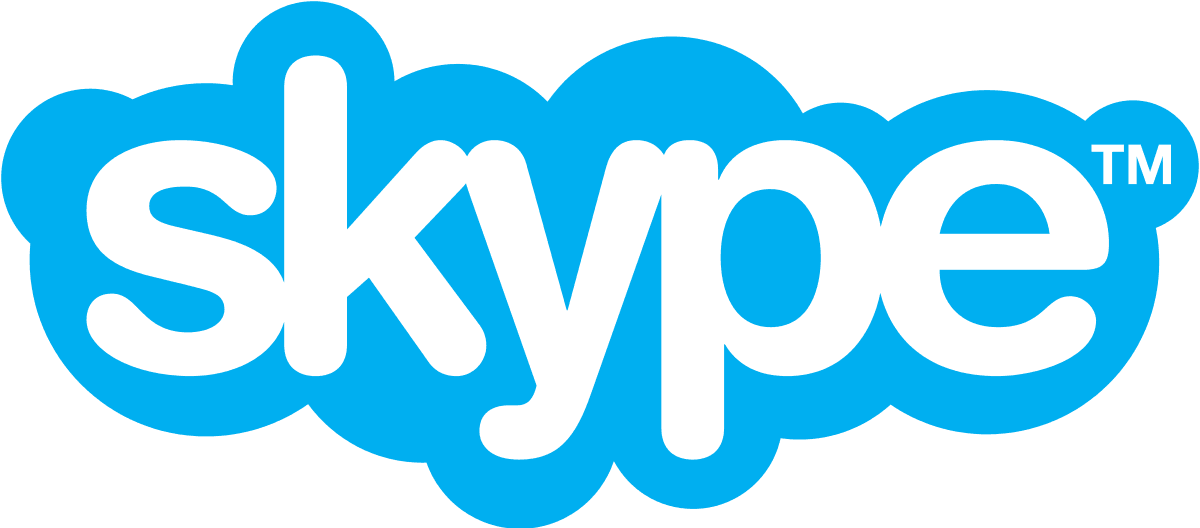 Blog posts from the deceased
Derek K. Miller. a prolific blogger, detailed his battle with cancer until the day of his death. In his own words, "I was born on June 30, 1969 in Vancouver, Canada, and I died in Burnaby on May 3, 2011, age 41, of complications from stage 4 metastatic colorectal cancer. We all knew this was coming."
The post goes on to detail how he met his wife, his thoughts on death and the grandeur, or lack of, inherent in it. Family, friends and fans can read through the archive of his posts, all written in a casual and conversational tone, to relive the man and his life, from discovering he was diabetic in 1991 to listening to Adele's 27 album a few months before his death.
Beware: Hoax Memorials
Not every celebrity death is well received. And not every celebrity death is even real.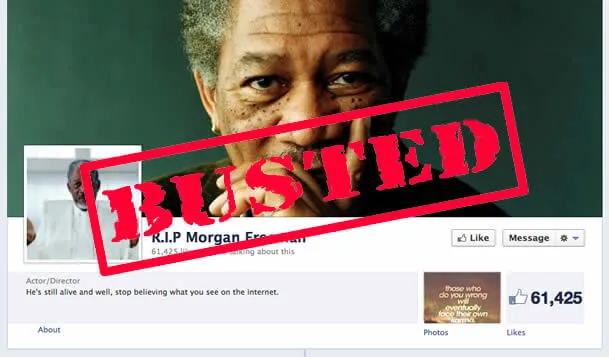 The celebrity death hoax is not a novel phenomenon - Steve Burns and Scott Baio have been "dead" since 1997 and Morgan Freeman has "died" a handful of times. Freeman's particular iteration of the fad began on the Facebook page R.I.P. Morgan Freeman, which has over 60,000 likes. He is only the latest in the morbid internet meme, and likely not the last. Freeman's representative had to publicly announce "Morgan is alive and well, and joins the long list of actors who have been victimised by this hoax" to E Online.
Facebook pages about Morgan Freeman now have written in the 'About' section "He's still alive and well, stop believing what you see on the internet."
With the internet being an open forum, these hoaxes crop up often and repeatedly. Essentially, they are harmless and easily dissipated. Less so are the cases where online memorials were "trolled". R.I.P Trolls are a next level in the mockery of death online.
Warning! Beware of those who prey on online memorials
The anonymous nature of the internet has created the perfect environment for harassment, where people known as 'trolls' make insensitive comments about other users to spread hate. Unfortunately, the attacks from trolls are not limited to the profiles and pages of living users, and some trolls will even make these distasteful and hurtful comments on memorial websites and the profile pages of the deceased.
The hurt and despair felt by the family and victims of a RIP Troll is hard to imagine – on top of the grief and loss they are feeling, they see hateful comments and obscene photos posted by strangers to incite and spread anger. In the case of RIP Trolls on Facebook, the behaviour can be reported to the Facebook team, who will remove the offensive posts and disable the Troll's account. The site also relies on self-regulation and careful moderation by the page owners. Self-regulation through careful moderation by page owners and other users is also very important as it is the most direct and fastest form of treatment against Trolls.
How to protect your memorial pages
While the recommended course of action for dealing with Trolls is to ignore and 'not feed the Trolls'.
Here are some simple tips to consider when protecting a loved one's profile:
Memorialise their page - this will ensure that only friends and family can see and comment on the page.
If you want to create a page, make it private - try to avoid creating a public page as these are open to trolls.
If you do make a public page - monitor the posts very carefully and implement a comment moderation system where possible.
Future of Online Memorials
Your life is transitioning online, therefore it is important to prepare for your digital death, in the same way you would for a physical death. Plan the legacy you want to leave behind for your family to remember you by, and the thoughts, experiences and images you want to share with future generations.
Plan your digital death
As you consider how your digital self is going to live on through changes in technology, communication and data storage, consider how your family will memorialise you, and how your friends and family will continue to interact and remember you after you're gone.