Bank of Queensland Life Insurance
Why choose Bank of Queensland as your Life Insurance provider?
We're reader-supported and may be paid when you visit links to partner sites. We don't compare all products in the market, but we're working on it!
When you choose your life insurance provider, you want someone who is reliable, and who has a solid foot in the financial services industry. With the Bank of Queensland (BoQ), you are working with one of Australia's most dynamic and innovative financial institutions. The Bank of Queensland is committed to meeting its customers' every need, continually working to ensure that the company's values reflect those of their customers and the community.
Compare direct life insurance brands below
An adviser can help you find cover from trusted life insurance brands.
Get competitive quotes from multiple brands

Lower rate of declined claims (according to ASIC)

Save time and effort
---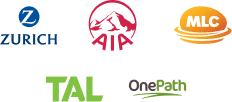 This means providing the best customer service experience possible, while also being ready to support you in any circumstances. For example, the Bank of Queensland's commitment to financial hardship support means that if you are struggling to meet your financial commitments there is help available, and BoQ will find a way to adjust your financial products to make ends meet.
The Bank of Queensland is also committed to the environment and the community, actively working to reduce its carbon footprint, and supporting and investing in local initiatives. To make sure that you are getting the best possible service, BoQ also takes care to employ the best possible team members, looking for people who share their focus on community, environment and value.
Life insurance product offerings from the Bank of Queensland
BoQ offers life insurance products perfectly tailored to the needs of Australian families as the company has a strong history in the local finance market, and has worked hard to understand and cater to the needs of its customers. For example, the Bank of Queensland term life insurance product offers:
Easy application. BoQ knows that there needs to be as few obstacles to life insurance as possible, so ensures that their application process is quick and easy and their products are straight forward and affordable. This means there is no medical exam required to apply for BoQ life insurance and their premiums are comparable to the lowest in the country. The cost is simply calculated based on your age, your smoking status and your gender.
Your choice of cover amount.You can choose a benefit amount of up to $500,000 to be paid to your family when you die. This can help with paying the household bills, paying off the mortgage and other debts, or to fund plans for the future such as your children's education.
Advance benefit.Bank of Queensland will pay and advance benefit of up to $10,000 when a claim is made on your policy, to help with immediate expenses such as a funeral arrangement.
Interim accident cover.You also don't have to worry about being without cover while your application is being processed, because you will have interim accident cover, which pays out a benefit to your family if your death is accidental during the approvals process.
Worldwide coverage.You will be covered by your BoQ term life insurance policy wherever you are in the world, 24 hours a day, seven days a week.
To apply for life insurance from the Bank of Queensland, simply complete and return the application form on their website. You can also apply over the phone if you would like to discuss your options further. Even though there are a myriad of providers out there, life insurance doesn't need to be complicated. Simply check out the options available from the Bank of Queensland, and you'll see how easy and affordable it is to secure cover to protect the future of your family.
The Bank of Queensland's history
The Bank of Queensland is not only a champion of modern causes, but has been operating in Australian since 1874, establishing itself in our history and our finance industry. The Bank of Queensland began as the Brisbane Permanent Benefit Building and Investment Society, and was the first permanent building society formed in Queensland when it was established in 1874.
In 1887 the Society incorporated and in 1921 the company merged with City and Suburban Building society. In 1931 the company merged with the Queensland Deposit Bank, and in 1942 secured a license to operate as a trading bank.
It was in 1970 that the company was named Bank of Queensland, and a year later it was listed on the ASX. The company continued to grow, and in 2044 opened branches in New South Wales, Victoria and the ACT.
In 2010, the Bank of Queensland purchased St Andrew's Insurance, which is an Australian provider for consumer credit insurance products. The company now has close to 270 branches around Australia, and more than 650,000 customers, so that you can feel secure you are working with a strong player in the Australian financial industry.
More guides on Finder