AXA life insurance
AXA Insurance policies, review and company history.

We're reader-supported and may be paid when you visit links to partner sites. We don't compare all products in the market, but we're working on it!
AXA Life Insurance has been available to Australian and New Zealand citizens for more than 100 years. Until recently, it was a member of the global AXA Group, which is one of the largest financial organisations in the world. AXA Group has more than 65 million customers worldwide and A$1.6 trillion of funds under its management. AXA Australia itself contributed to the AXA Group with funds under management totalling $75 billion, 1,500 advisers and nearly 2,000 employees. However AXA Asia Pacific Holdings Limited and all of its Australian and New Zealand subsidiaries ceased to be members of the global AXA Group from March 30, 2011, when it was taken over by the AMP Group. AXA Australia now operates as part of AMP.
Compare direct life insurance brands below
An adviser can help you find cover from trusted life insurance brands.
Get competitive quotes from multiple brands

Lower rate of declined claims (according to ASIC)

Save time and effort
---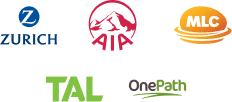 Are you an existing AXA customer?
For all general insurance, superannuation, retail or wholesale investment enquiries, please contact AMP:
Phone: 137 292
Email: client.enquiry@amp.com.au
Awards Received and Claims Paid by AXA
2011 Best Term & TPD Insurance – Money Magazine's Best of the Best Awards
2010 & 2009 Total and Permanent Disability Insurance (TPD) product - Five star rating for outstanding value – Canstar Cannex
2009 Best Risk Insurer – AFR Smart Investor SMILES Awards
Total group insurance claims paid by AXA in 2010/2011 - Total $200 million
2009 Top Honours for AXA Elevate Life and TPD insurance - Plan for Life/AFA Life Company of the Year Awards
2009 Top Honours Finalist for Trauma insurance - Plan for Life/AFA Life Company of the Year Awards
Total insurance claims paid by AXA in 2009 - Total $345 million
The merger of AXA Asia Pacific Holdings and AMP brought together two of Australia and New Zealand's oldest businesses. AXA Asia Pacific becoming wholly owned by AMP Limited. This merger created new competition in the financial sector in Australia and the Asia-pacific as it extended its services into the non-bank sector, directly challenging the wealth management business previously believed to be the sole domain of the big four of Australian banking. The merged company now has the size and resources to be a formidable non-bank competitor in wealth management in Australia and New Zealand and beyond. Trading in the new AMP shares commenced on March 31, 2011.
AXA as Financial Advisers
The merger with AMP aside, AXA Australia remains a leading provider of AXA Life Insurance as well as wealth management and financial protection products and services. It is continually improving on its considerable range of award winning life insurance products and services as well as that of its investment and financial advice sectors to remain competitive and contemporary into the future.
AXA continues to run its business in the belief that everybody is deserving of quality financial advice prior to them making a decision on how to invest and how to protect their wealth. They are of the opinion that all investors should consult a financial adviser before buying a wealth management or financial protection product. This strong belief in the value of quality financial advice is the reason their AXA partners within their Australia wide network consisting of over 1,500 financial advisers continue to help their clients build and protect their wealth.
The right financial advice given at the right time will enable investors to properly plan their financial future which would otherwise be left to chance. As AXA is one of Australia's largest financial advice organisations they have built up a wealth of knowledge on the subject, knowledge their advisers are only too willing to pass on to their clients. An AXA financial adviser can therefore help you develop a professionally structured financial plan in order to have you build your wealth, protect your family and ultimately achieve your retirement goals.
Back to top
AXA Life Insurance Plan Awarded Top Consumer Award
AXA Life Insurance Australia has long offered innovative life insurance policies to help its policy holders build a personal insurance portfolio that's capable of meeting all their insurance needs and it came as no surprise in the insurance industry when it won Money Magazine's prestigious 2011, 'Best of the Best ' awards in 2011.
AXA Life Insurance won the top award in 2011 with its Elevate Life Insurance Plan that included a Total and Permanent Disability (TPD) option.
The AXA Elevate Life Insurance Plan makes it easy to accept an AXA life insurance quote because of its product structure, along with the options that can be added to give clients the full protective package they're looking for. The benefits offered include the following:
A Partial TPD benefit. This partial benefit covers clients for the loss of sight in one eye, or the loss of use of one limb.
Instant eligibility. If the client develops one of the 18 specific medical conditions listed in the policy document, AXA will waive the usual qualifying period of three months.
SuperLink. A superannuation link that allows for a cash flow efficient, tax-effective, flexible structure. No matter if the plan is held inside or outside a superannuation plan the link will remain.
Flexible premium options. AXA has blended premium options that are a mix of level and stepped premium that give the policy holder the best of both worlds. By blending the premium structure in this way the policy holder can access lower premiums at an early age and it also assists the policy holder to more easily maintain cover in later years when the need to make a claim becomes more likely. Blended stepped and level premiums payments allow level premiums to be continued right through to age 70.
Other options include:
A business provision where if you operate a business, the AXA life insurance quote can include a business option that'll allow an increase of TPD, trauma and life insurance based on the value of the business without having to submit to a medical examination.
A life insurance buy-back following a successful TPD claim.
Life insurance cover which will continue if a TPD claim has been made before the age of 65.
Back to top
Online policy management
You may be able to update your AXA life insurance policy online by signing in on the AXA website, such as if you need to add or remove beneficiaries, change your cover amount or make other adjustments. For more detailed changes, such as transferring policy ownership, or changing the name of the policyholder, you can print out a form, available online, and send it to the address specified on the website.
An Australia, AXA is a division of the AMP Group, and you may need to go through it instead.
AXA the Community Citizen
AXA has agreed to take on the role of an official partner of the Australian Olympic Team from 2008 through to 2012. This partnership has given them the opportunity to share in the excitement of the Olympic Games in Beijing, Vancouver and London. An excitement shared with their employees, advisers and their customers. The Australian Olympic team is the heart of Australia's considerable sporting heritage that has been consistent at every summer games in the modern era since 1896 and all but four of the winter games since they began.
It is acknowledged that Australia has a proud history over this period that has seen 4,327 athletes take part winning more than 400 medals. The spirit of the Olympic Games, of being in the lead, is equally shared by AXA as it is by Cathy Freeman, Ian Thorpe and Grant Hackett, as we all admire the green and gold flash across the finishing line. That is where AXA share a common goal with these elite athletes.
AXA Life Insurance Serves a Need
AXA life Insurance remains available to protect your family that is financially dependent on you as being the main 'breadwinner' if you should happen to die, as well as if you have debts that are being paid off through your ability to earn an income. Hard times can be assured for families left behind when the main contributor to the family income dies or becomes incapable of providing such support into the future. AXA Life Insurance will guarantee you the peace of mind that if you do die your family will not suffer financially. The greater your financial obligations and the more dependants you have, the more life insurance you will need in order to properly protect your family's financial security.
As life is full of uncertainties the death of a loved one can place an intolerable strain on any family both emotionally and financially. AXA Life Insurance can help your family cope that much better by removing the financial worries.
More guides on Finder