Life Insurance for Teenagers
Is life insurance necessary for teenagers?
We're reader-supported and may be paid when you visit links to partner sites. We don't compare all products in the market, but we're working on it!
A regular teenager does not have any responsibilities other than making sure that they study hard so that they are able to make a career for themselves and this is why most parents never even consider buying life insurance cover for their teens. That being said, there are various benefits of insuring children in their teen years, which most parents may be completely unaware of. These benefits include
Safeguarding against unexpected events in the future
Locking in lower premiums
The ability to cash out at maturity
Safeguarding against future events
Most kids have great health when they are in their teenage years. However, as teenagers grow and become adults, it is possible that they may contract serious illnesses such as diabetes, cancer, or even heart problems. This is even more so if there's a history of critical illnesses in your family.
Locking in lower premiums
The amount of premium that people pay for life insurance cover depends on their age and health. Hence, since teenagers have both these things on their side, it is possible to insure them for a lower cost than what they would pay as adults. By choosing a life insurance policy while they are still teenagers, you can thus take advantage of lower premiums. And if the policy is a whole life policy that is of a permanent nature, your kids will be able to continue paying the lower premiums in the future too.
The ability to cash out the policy at maturity
There are several types of life insurance policies that not only provide death benefits, but which also have a cash value at the time of maturity of the policy. Hence, if your teenage kids live until the maturity date (which is what most parents expect), they will be able to get cash from their life insurance policies that can be used to better their future.
The amount of life insurance cover that you buy for your teenage kids will depend on the reason for purchasing the cover. For example, if you are doing it mainly to ensure future insurability, then you could simply buy a nominal amount of cover that can be increased once the teenagers become adults.
Can teenagers get cover through their superannuation?
If you have teenage kids who have started their first job, then it is likely that they have super fund set up by employers so that they can pay the superannuation guarantee. Employers are not required to pay the superannuation guarantee to employees who are earning less than $450 before tax or per month, as with most part-time or casual 16 year old workers. If they earn more than $450 per month before tax or work more than 30 hours per week and are under 18, then employers will have to pay their super. Some workplaces may choose to pay superannuation to all employees, regardless of age and hours worked, and other workplaces will pay the guarantee to all employees as they are covered by an award or agreement.
Many super funds include superannuation, but beware of payments
Most super funds are equipped with a minimum life insurance coverage, which may be automatically included when your kids first join their super, unless they choose to opt out on the application form. Often overlooked by many (even adult workers), having life insurance on your kids' super fund can provide the basic protection that you may need for your children. However, it is important to note that the costs of their life insurance, which often include death and total and permanent disability, will be paid through their superannuation contributions. This means, they could end up paying larger super contributions to pay for life insurance, which may not be necessary unless they have dependents or financial responsibilities.
Source: John Collett, SMH, 2013
Compare Life insurance quotes from these direct brands
An adviser can help you find cover from trusted life insurance brands.
Get competitive quotes from multiple brands

Lower rate of declined claims (according to ASIC)

Save time and effort
---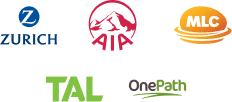 More guides on Finder