Should I tell my life insurance company that I smoke?
Past and present smokers can qualify for life insurance. Here's a guide on how to look for cheap life insurance for smokers.
We're reader-supported and may be paid when you visit links to partner sites. We don't compare all products in the market, but we're working on it!
Before issuing a life insurance policy, an insurance company will determine the risk they will take on by insuring you based on your health and lifestyle habits. Whether or not you smoke will play an important role in the premium you will pay.
How can I get reasonably priced cover?
While all life insurance companies will charge a premium loading for people that smoke there are still ways to get affordable cover. A good place to start is by comparing quotes with an insurance consultant to give themselves the best chance of finding affordable cover.
Check your superfund for cover
If your superfund does offer life insurance there's a good chance you're covered as a group (not as an individual). This means you may already have cover without smoking status being a factor.
Speak to a representative from your superfund to see what the rules are around life insurance when starting a new job or increasing the amount you are covered for.
Key Facts
Insurance provider will undertake tests to verify if insured is a smoker if a claim is made.
Premiums can be adjusted if insured has stopped smoking for a period of 12 months.
An adviser can help you find affordable cover by comparing different options.
How will the insurance company know if I actually smoke?
Tests will be made at the time of claim to verify if the insured was actually a smoker.
Claim will become void if it is discovered that they were actually a smoker and it was a contributing factor to the event under claim.
Verification process will involve reviewing Medicare records, contacting GP used at time of application and accessing claimants PBS (Pharmaceutical Benefits Scheme).
Receive life insurance quotes from these direct brands and apply
An adviser can help you find cover from trusted life insurance brands.
Get competitive quotes from multiple brands

Lower rate of declined claims (according to ASIC)

Save time and effort
---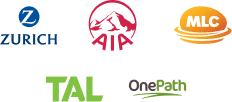 Back to top
Life Insurance underwriting and your duty of disclosure
Regardless of the type of insurance cover being applied for, each applicant is required to answer each question in their application as truthfully as possible. In doing so they are providing a "duty of disclosure". Under the Insurance Contracts Act of 1984, applicants have a duty to disclose, before entering into the insurance contract every matter that is known that they know to be relevant to the decision on whether the company will accept the risk that they carry.
Insurers verification of the duty of disclosure
In the event of a claim, the insurance company will assess the policyholders claims eligibility and verify the accuracy of the details that provided in the application. In order to determine whether the policyholder has committed fraud, an insurance company will generally verify their medical history by:
Reviewing Medicare records
Accessing their PBS
Contacting the insureds GP that they saw at the time of application
In the event that the policyholder has not answered truthfully (i.e. they claimed not to be a smoker, when there was medical evidence found that they were), the insurance provider is entitled to refuse any claim made. If the applicant is a smoker, the underwriter may require them to undertake a medical examination to assess if there are any sign of circulatory or respiratory disease.
Adjustment of life insurance premiums for smokers that have quit
Most life insurance companies will treat applicants as a non-smokers if they have quit smoking 12 months before the application has been submitted.
If when they initially signed up as a smoker in the policy but become a non-smoker further into their policy, it is possible for them to have their premiums adjusted to reflect a non-smoker status.
In the event that the applicant states they are no longer a smoker, an underwriter may investigate reasons for them stopping. The applicant may have been told to quit on medical advice after developing a smoking related condition. They may be required to provide medical evidence that they have not only recently stopped smoking.
How do life insurance rates compare for smokers and non-smokers
As stated previously, life insurance applicants that smoke can expect to pay as much as double in life insurance premiums to those that don't smoke. Consider the example below for 35 year old male looking to take out $500,000 in live cover:
| Status | Monthly Premium |
| --- | --- |
| Smoker | $57.69 |
| Non-Smoker | $31.00 |
Finding affordable life insurance for smokers
Whether someone smokes is by no means a reason to be deterred from taking out life insurance, if anything it gives more reason to do so. There are hundreds of different policy options available in Australia from different types of providers and different underwriters will have different criteria for assessing applicants by looking at other existing conditions. An insurance consultant can help applicants find providers willing to offer affordable cover for their situation.
Smokers are still able to find policies offering competitive premium rates and the necessary features if they take the time to research the market. Taking the time to compare a range of policy options and actually speak to an insurance consultant about different policy options could save them potential thousands in premium payments. Further still, if they are keen to quit in the future, they will be able to adjust their premium payments to reflect this after 12 months.
Back to top
More guides on Finder