Life insurance news
Understanding the Australian insurance industry.
We're reader-supported and may be paid when you visit links to partner sites. We don't compare all products in the market, but we're working on it!
Life insurance is a topic many of us like to ignore. Sweep under the rug. Indulge the 'it won't happen to me' attitude. While most Australians are aware of the financial protection it provides, there is still a great majority of Australians out there who are underinsured. Perhaps this is in part because consumers are overwhelmed by the choice available, with everything from term life insurance to trauma insurance, total and permanent disablement insurance and income protection insurance offered.
This page is designed to help you stay on top of news and developing trends in the Australian life insurance industry. As well as allowing you to stay up to date with developments in the insurance world, the information here can also help you gain a better understanding of the different life insurance products available on the Australian market and how they all work.
Check the latest life insurance industry news
What has changed in the insurance industry?
The insurance industry is constantly evolving as regulations change, new products emerge and the insurance needs of the general population are transformed. The following changes have occurred recently in the Australian insurance industry as part of the Future of Financial Advice reforms and is insurance news you should know about.
Opt in. If you pay an ongoing fee to your financial planner, you will have to "opt in" every two years by providing written consent to your financial planner.
"Best interest" duty. Financial advisers have to satisfy tougher legal requirements to act in the best interests of their clients.
Rising costs of financial advice. The Future of Financial Advice reforms were introduced by the previous Labor government, and the Coalition planned to repeal those reforms late in 2014. However, the Senate refused to approve the Coalition's changes, which were designed to allow consumers to seek scaled advice. This means you may pay more to receive a full-service financial advice consultation even if you only want to speak to a financial adviser for guidance on a specific issue of financial planning.
Back to top
How has FOFA Changed the adviser industry?
As mentioned above, the Future of Financial Advice (FOFA) reforms have led to significant changes in the financial advice industry. These reforms became mandatory on 1 July 2013 and were designed to ensure that Australians are able to access affordable and high-quality financial advice. They also aimed to improve the level of trust and confidence that Australian investors have in the financial advice sector. Although the Coalition attempted to repeal these reforms in late 2014, this was rejected by the Senate.
Under the proposed repeal, consumers would have been able to approach financial advisers for scaled advice on specific individual aspects of their finances, without requiring the adviser to get a full picture of their overall financial situation. Some experts were concerned this would lead to Australians being given inappropriate financial advice, which was one of the reasons the FOFA repeal was rejected.
The FOFA reforms also made "opt in" requirements a part of the law. Where financial advisers require their customers to pay an ongoing fee, they must now seek written "opt in" consent from their customers every two years. In addition, the reforms contain an overarching "catch all" provision, which states that financial advisers must act in the best interests of their clients. This is designed to ensure that Australians can feel safe in the knowledge that they are getting the best possible guidance for their needs from their financial adviser.
Back to top
Why is insurance becoming more expensive?
Due to a range of factors, the cost of insurance premiums in Australia has risen in recent years and is expected to continue to rise. One factor contributing to the rising costs is the number of natural disasters that occurred across Australia and the rest of the world in the past five years. The resulting claims are directly linked to recent premium rises, as insurance companies are forced to cover their substantial reinsurance costs.
Niche insurance markets are also witnessing rising costs. Health insurance premiums, for example, increased by an average of 6.20% from 1st April 2014. With the growing cost of medical treatment and advancements in medical technology, health funds need to adjust their premiums each year to help keep pace with those expenses.
Another area of the insurance industry that is experiencing a jump in costs is insurance purchased through superannuation funds. Although insurance through super is often seen as a cheaper option due to each super fund's group buying power, it's becoming more and more expensive to take out cover via this route. Consequently, it means that consumers have to be ever vigilant and make sure that the cover they are receiving through their super fund is adequate and is giving them value for money.
Back to top
Why has the direct insurance market expanded so rapidly?
The past decade or so has seen the rise of the direct insurance market, as an increasing number of Australians seek to purchase their cover direct from insurers either online or over the phone. Direct insurance is viewed as a quicker and simpler way to take out cover, resulting in fewer Australians taking out insurance with advice through a adviser or their financial adviser. In fact, direct insurance is now competing with insurance with advice for market share. It represented a quarter of all life insurance sales in 2010-11, and Plan for Life has predicted the direct sector will account for 40% of new insurance business by 2021.
This noticeable shift in the marketplace is not without its repercussions. On the positive side of things, direct insurance makes a wide range of cover options more accessible to a broader cross-section of society. Rather than being a time-consuming and stressful process, applying for a life insurance policy is now faster and much simpler. There are often no medical tests to undergo and it's quick and easy to compare multiple quotes online.
Direct insurance has also been shown to have cheaper premiums than many policies purchased through financial advisers. The upshot of all this is that an increasing number of Australians from all walks of life are now taking out insurance cover to provide much-needed protection for their families.
However, there are some downsides to the rise of direct cover. Although savvy consumers research their cover before signing on the dotted line, there is still a risk of customers not knowing the right type and level of cover for their needs. This presents the risk of Australians either ending up under-insured or paying money for extra cover that they don't need.
Back to top
What different types of insurance are available?
Home and contents insurance. Your home is the most valuable asset you have, so it makes sense to protect it against loss and damage. Many home insurance policies can also be paired with contents insurance, allowing you to also cover your treasured possessions against a range of risks. Home and contents insurance is an essential consideration for Australian homeowners.
Motor vehicle insurance. Compulsory Third Party (CTP) car insurance is mandatory across Australia. It provides compensation when the use of your vehicle causes a bodily injury to a third party. There are three other motor vehicle insurance options to choose from: Comprehensive, Fire and Theft Only, and Third Party Property only.
Business insurance. Each business faces its own unique share of risks, so it makes sense to find a business insurance policy tailored to your specific needs. Examples of cover offered include protection against fire and other defined events, public liability cover, professional indemnity, cover for damage to stock and equipment, and business interruption. Every business owner should have adequate cover in place for their operation.
Lender's mortgage insurance. Home loan borrowers who do not have at least a 20% deposit towards their home are required to take out lender's mortgage insurance. This protects the lender against the risk of a borrower defaulting on their loan repayments.
Workers' compensation insurance. This form of insurance is compulsory across Australia. If people suffer a work-related injury or illness, workers' compensation type of cover offers financial protection.
Travel insurance. Travel insurance provides financial protection against a wide range of travel risks including overseas medical emergencies and hospital costs, medical repatriation, cancellation fees and lost deposits, travel delay, lost or stolen luggage, rental vehicle excess, and personal liability. Travel insurance is a vital consideration for anyone planning business or leisure travel, with policies available to suit both domestic and international travel.
Life insurance. This sector of the market covers a wide range of insurance policies. In addition to term life insurance, which ps out a lump sum benefit in the event of your death, it also includes trauma cover, total and permanent disablement cover, income protection, and funeral insurance.
Back to top
What do I need to know when buying insurance?
When you're buying an insurance policy of any kind, it's important that you take the time to find the right policy for your needs. Going through an insurance adviser can help with this, as it's the job of adviser to work in your best interests to find a policy that matches your requirements. adviser have a wealth of experience in finding insurance for their customers and have an in-depth understanding of the products available.
However, the quick and easy process of applying for direct insurance also makes it an attractive prospect. The best advice for anyone shopping for direct cover is to do your research and shop around. Compare the features of a number of different policies and make sure to read the fine print of product disclosure statements.
It's quite simple to compare quotes from multiple insurers online, but remember to consider the benefits, limits and exclusions of a policy in relation to its cost to find the option that offers you the best value. And with the right type and level of cover in place, you can simply go about your life with the peace of mind that comes with knowing you will be protected if something goes wrong.
The insurance market in Australia is a complex and sometimes confusing environment, so it makes sense to stay on top of any news and changes in the industry to ensure you have the right cover in place. Of course, the best place to look for all your insurance news is right here at finder.com.au.
Compare Life insurance quotes from these direct brands
An adviser can help you find cover from trusted life insurance brands.
Get competitive quotes from multiple brands

Lower rate of declined claims (according to ASIC)

Save time and effort
---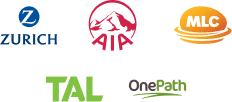 More guides on Finder