Life insurance for couples
See benefits and life insurance options for couples
We're reader-supported and may be paid when you visit links to partner sites. We don't compare all products in the market, but we're working on it!
If you are in a relationship with someone and both have financial obligations that would be left behind if one were to pass away, it could be worth considering protective cover to ensure the partner does not endure financial hardship. Couple life insurance (also known as joint life insurance or first to die insurance) cover includes:
Lump sum payment. The lump sum benefit from a life or trauma insurance policy can go a long way to ensure that the person you care for (and in some cases, the children you leave behind) are cared for and are able to maintain their current way of life
Joint policy discounts. Joint policies can attract premium discounts as great as 5% for couples.

You can compare joint policies with an adviser by filling out the form below. Continue reading for more information on joint policies.
Compare Life insurance quotes from these direct brands
An adviser can help you find cover from trusted life insurance brands.
Get competitive quotes from multiple brands

Lower rate of declined claims (according to ASIC)

Save time and effort
---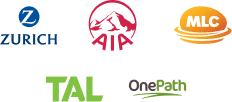 Life insurance for married couples
Getting married is often a key stage for many Australians to consider taking out life cover. It is a time that often brings new financial obligations and for many a time where they do not have as much disposable income as they will in later stages. Some key financial obligations that can arise at this stage include;
Car Loan, Credit Card Debt and Personal Loans: Small personal loans can combine to create a significant expense to be covered.
Mortgage: Many couples will look to buy their first home after having tied the knot. A new home and mortgage is for many the biggest financial commitment they will make in their lives. Having the right level of cover in place to ensure that one's spouse is not left with this hefty debt is essential.
Dependent Children: The arrival of your first children is an exciting time for any parent. With this arrival also comes a realisation of how they would cope if one of the parents were to pass away or become seriously ill. Consider some of the expenses that would need to be covered;

Clothing
Food
School Fees
Medical Bills
---
Should unmarried couples consider life insurance?
Whether life insurance is worth considering for unmarried couples really comes down to their own situation and if they have any current or future shared obligations. Some of these obligations could include:
Children
Mortgages
Short term debts e.g. credit card
Other loans e.g. car loans
If there is shared financial obligation i.e. they may not be married but already have a child or have accumulated mortgage debt, then it is still worth taking out a joint plan.
What's the benefit of taking out cover at a younger age for couples
It is worth noting that it is still worth young couples considering life cover even if they do not have the same financial obligations that they expect to have later in life.
Taking out cover at a younger age, can save applicants thousands as they will most likely be in better health than in later in their life and will be looked on more favourably by an insurance underwriter.
Most policies will feature "Guaranteed Insurability Feature" which allows policyholders to apply for more cover into the future without having to undertake further medical underwriting. This means that you do not have to predict how your situation may change in years ahead but still take advantage of competitive premium rates.
What happens to joint life insurance for divorced couples
Unfortunately not every relationship withstands the test of time and many people are often left wondering what would become of their joint policy in the event of divorce or separation.
There are a number of options available for people in this situation;
One spouse can take on the policy and repay a percentage of the sum-insured to their previous partner. The policy will be passed on to the one policy owner and they will be entitled to all of the policy benefits. It is best practice to ensure that a contact is devised to ensure this is withheld.
The joint policy can be cancelled and two new policies can be applied for by the separate parties.
If the couple remain on good terms after the separation, the policy could remain in place with an agreement for premium payments to be shared. This could be complicated as new financial obligations arise.
Key considerations for couples looking to take out life insurance
More guides on Finder