The cost of raising children in Australia
7 things that can impact the cost of raising a child, and they might cost more than you think!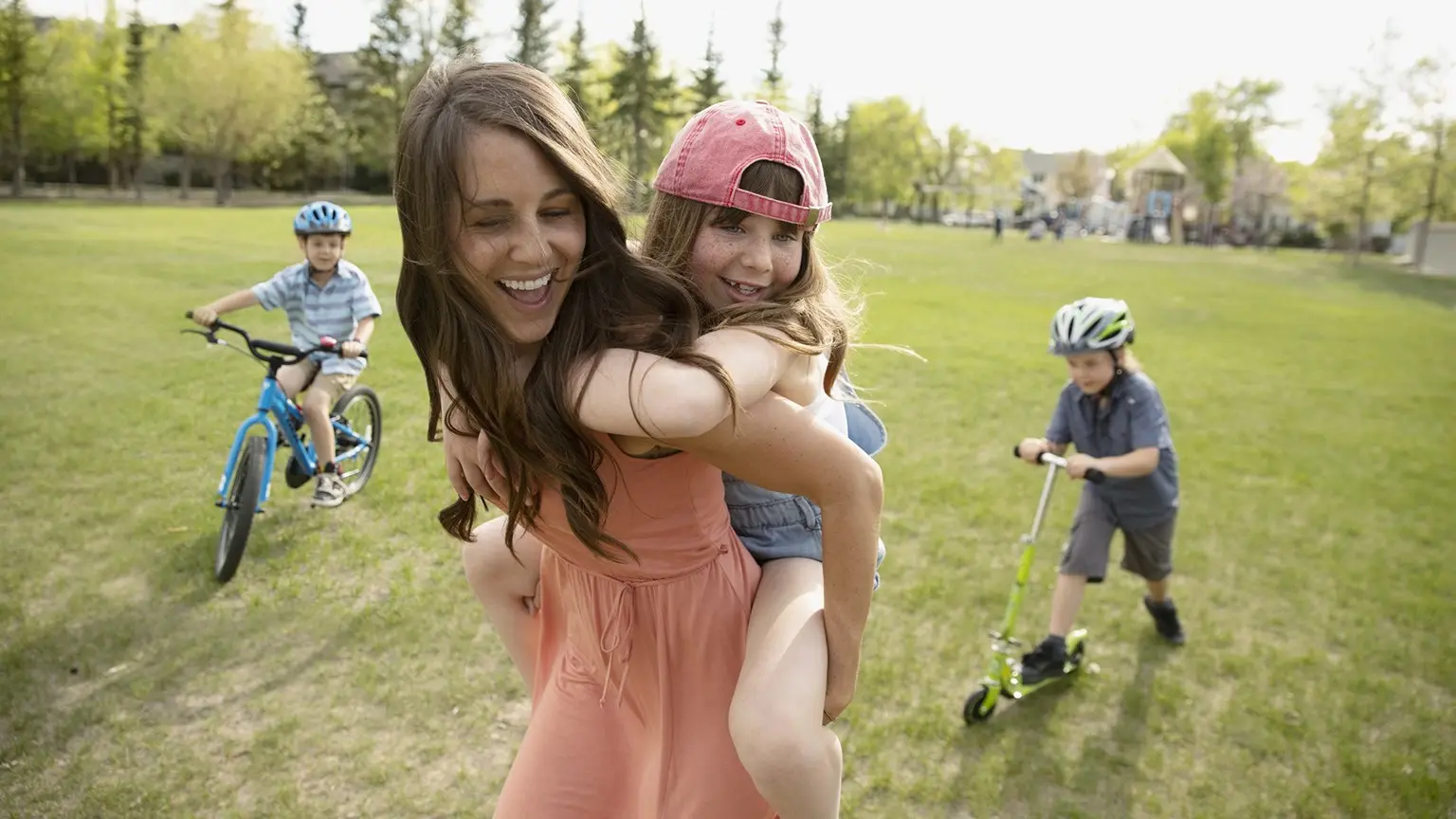 We're committed to our readers and editorial independence. We don't compare all products in the market and may receive compensation when we refer you to our partners, but this does not influence our opinions or reviews. Learn more about Finder.

A study from the University of Canberra in 2013 found the average among Australian families spent to raise their children to age 17 was just under $300,000:
For a family with 2 parents and 2 kids, this works out to be an extra $340 per week.
Here are 7 things that can impact the cost of raising a child, with average examples.
The updated cost of raising children (2019)
Depending on how long you or your spouse need to leave the workforce, your household could forfeit over $300,000 in income to raise a child, bringing the average up to $600,000.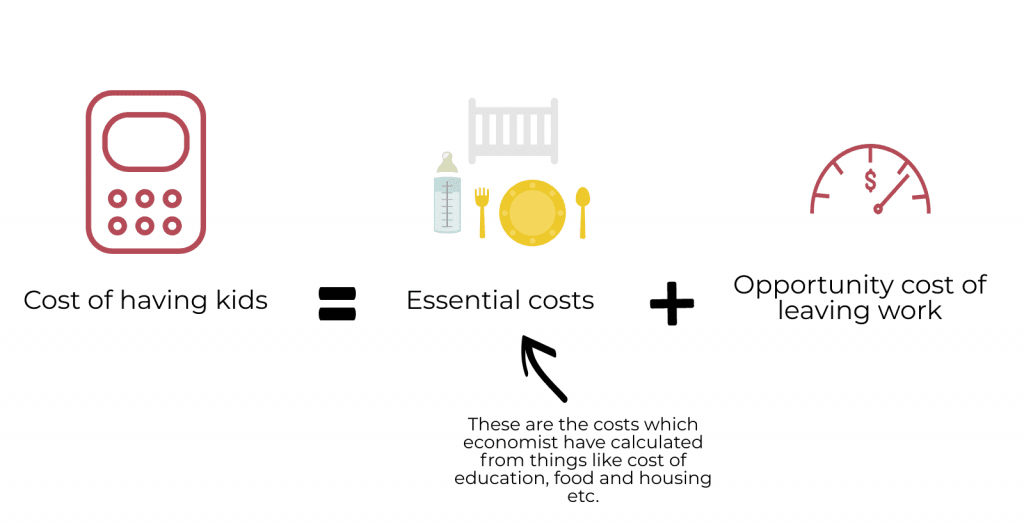 Essential costs = $297,700
Opportunity cost = $308,984
Average cost of having children = $297,700 + $308,984 = $606,684
---
The essentials
Let's dig into the costs. The average total we discussed is a combination of your essential costs and the opportunity cost of leaving the workplace.
You may be asking yourself, how do these costs break down exactly? According to the Australian Institute of Family Studies, most families, food, housing and education each take up about 18–22% of their monthly childcare budgets.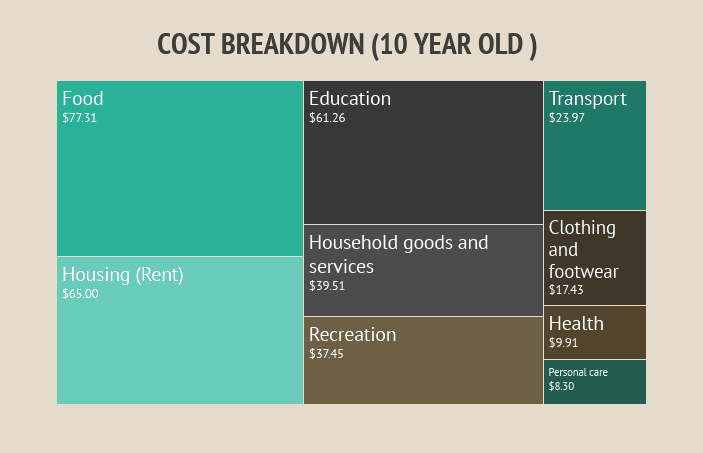 Making up the rest of the spending is other household goods, recreation and transport each at around 8–10%. Clothing, health and other miscellaneous expenses will come up to complete your childcare budget.
The number of children affects the cost per child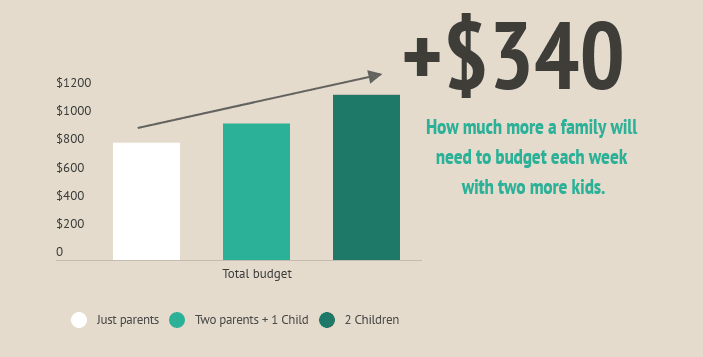 When it's your second or third child, you will be able to reuse baby clothes and toys, while taking advantage of the lessons you learned the first time around. For a middle-income family, the weekly cost of having 1 child is $263. When the number of children in the family increases to 2, the cost drops to $220 per child per week and at 3 children the cost drops further to $184.
The cost of education can vary
When it comes to the topic of education, which schools you want to send your children to will greatly affect the costs of education.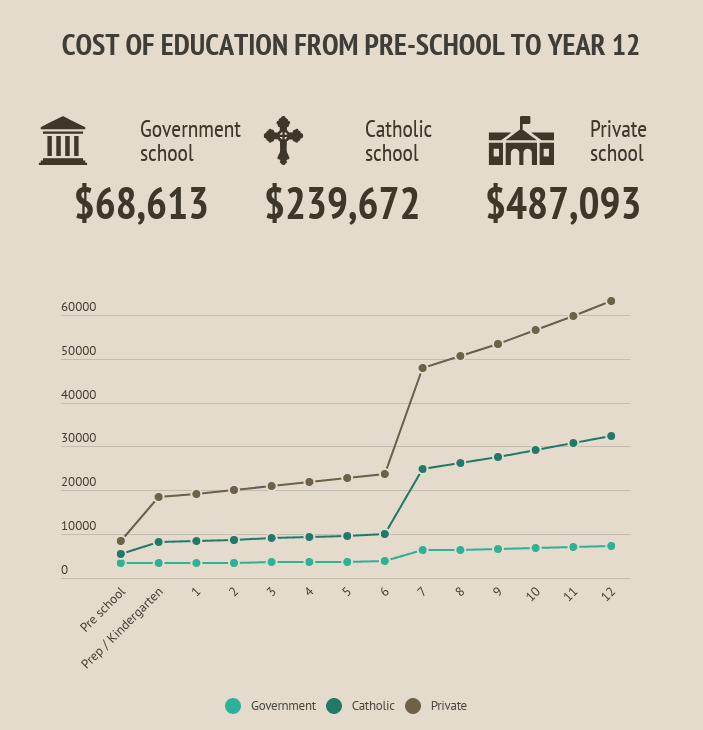 If you want to send your children to a private school, you can expect to pay about $490,000 for education from preschool to year 12. A catholic school will be about half as much at $240,000 and a government school will be significantly less than that for a total cost around $70,000.
One mum I spoke to, Leisa Papa, founder of Little Kids Business, notes that private school education costs her family $100 a day per child.
The cost varies with age
Pretty obvious, but the cost of raising children gets more expensive as they get older.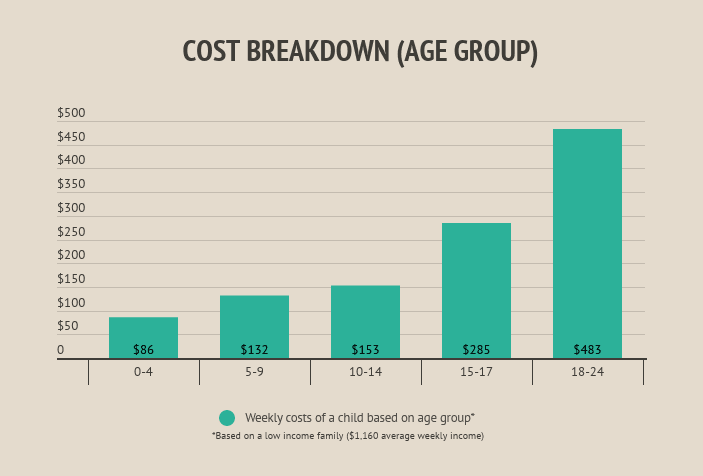 Don't forget about pocket money
When your children begin to get a little older, they will also begin asking you for some "walking around money" to go have fun with their friends. If you have a "tween" aged child, you can expect to give them between about $10 and $17 per week, depending on where in the country you live.
What is the opportunity cost of having kids?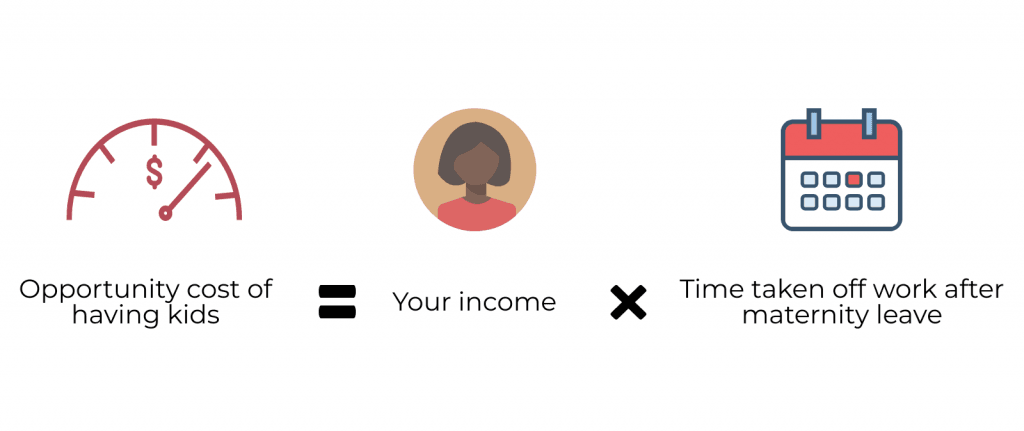 The cost of having children is not just made up of the money out the door that will need to be used to pay for essential living expenses. Natalie Chan, founder of Motherpedia, says she had to "take a hit with income" after her second born to become a part-time work-from-home mother. "With the loss of dual income, we have given up the financial freedom to retire early."
When thinking about the total cost of having children, it's important to keep in mind the opportunity cost of doing so. For example, According to the Australian Bureau of Statistics (ABS), the average yearly income for a female in Australia is $77,246.
If you take 4 years off (after maternity leave) before returning to work, it means means you could be missing out on over $308,984.
Income forfeited with having kids
The fact that you or your spouse may need to leave the workforce in order to raise your children is a significant opportunity cost that needs to be considered.
| | Back to work after maternity leave | Maternity leave + 1 year off | Maternity leave + 2 years off | Maternity leave + 3 years off | Maternity leave + 4 years off |
| --- | --- | --- | --- | --- | --- |
| Your income level | Income forfeited in time off | Income forfeited in time off | Income forfeited in time off | Income forfeited in time off | Income forfeited in time off |
| $77,246 | $0 | $77,246 | $154,492 | $231,738 | $308,984 |
| $87,246 | $0 | $87,246 | $174,492 | $261,738 | $348,984 |
| $97,246 | $0 | $97,246 | $194,492 | $291,738 | $388,984 |
Aside from leaving the workforce altogether, having children may end up slowing your career progression as you will have more responsibilities at home that may not allow you to work as many late nights to push work through to the finish line.
While it's certainly possible to have a successful career as a parent, it's undeniable that you will have to make real sacrifices whether at home or in the office at many points.
We travel less, dine out less frequently and even find more joy in finding bargains from Kmart than shopping in the branded outlets.

– Natalie Chan
Non-monetary costs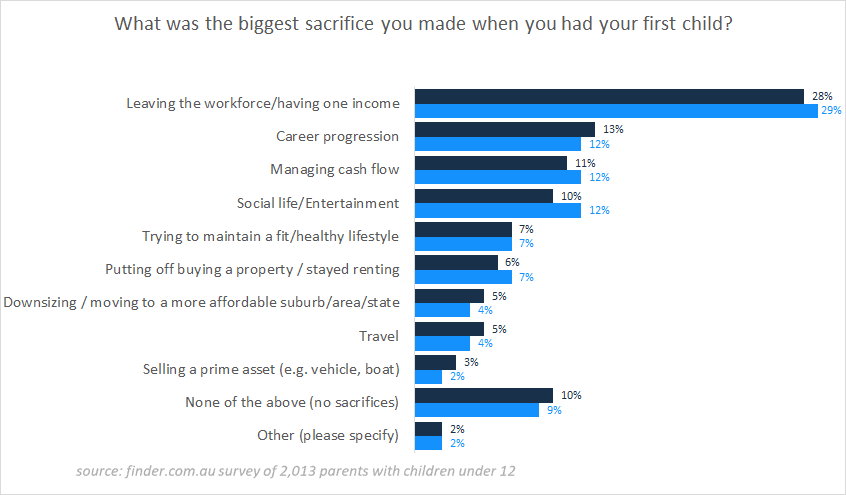 Aside from these career-related costs, having children will also certainly have an impact on your social life. I spoke to Raeleen Kaesehagen, a mum who is the CEO of an online marketplace called Mudputty. Outside of career, these were the sacrifices she felt she had to make as a parent:
Travel
Alone time
Fitness
Hobbies
Career
While that's not to say that your social life will decline in quality as you may just trade late nights in the pub for play dates while you mingle with other parents, it will certainly change. Aside from your social life, having children will likely impact your ability to stay in shape and maintain a healthy lifestyle as your kids' needs may keep you too busy to get to the fitness centre.
Travel also seems to be a consistent theme with the mums I spoke to. Leisa Papa says she has "chosen to put lavish family holidays on hold and enjoy trips in our caravan with friends" in order to pay for their kids' education.
You may also find yourself shopping around for bargains more often and dining out less to save some money.
The rewards of raising children: Look beyond the money
To sum it up, it's all worth it, and I am willing to do it all over again, anytime!"
Even with all the costs associated with having children, many people see it as the most rewarding experience of their lives. Here are some of our conversations with Australia's mum entrepreneurs:
Leisa Papa
Author of the book Daniel and the Dummy Fairy and the the founder/chief curator of Little Kids Business.
Natalie Chan
CEO and founder of Motherpedia
Raeleen Kaesehagen
CEO and founder of Mudputty
Life insurance
What is it and how much do you need?
Now that you may have people that rely on you such as your spouse and children, it's important to make sure they will be taken care of if the unexpected happens.
With life insurance, you can bridge the gap between the assets that you own and the liabilities that you would leave your family with.
Example of someone who has $800,000 in assets but $1.5 million in financial liabilities/expenses:
When thinking about how much life insurance you need, think about what your current income is and how much your family would need to be well taken care of. Consider the immediate costs such as funeral and legal expenses, as well as ongoing costs such as the routine costs of childcare and weekly trips to the grocery store.
Once you have those figured into your equation you can add in any debt you have to arrive at a comfortable number for a life insurance policy.
Other guides you might be interested in
Picture: GettyImages
1http://www.natsem.canberra.edu.au/storage/AMP_NATSEM_33.pdf
More guides on Finder