LG WK7 ThinQ Review: Bass heavy, but excellent value
The LG WK7 ThinQ brings home sound fidelity and a whole lot of volume.
Quick Verdict
The LG WK7 ThinQ combines thumping sound with the ease of Google Assistant. It's not the absolute best-in-breed in smart speaker audio quality, but it's hard to argue that it's not superb value.
The good
Heavy bass
Design easily blends in
Supports Bluetooth and Wi-Fi pairing
The bad
Full volume blocks Assistant queries
No headphone jack
LG Music app isn't great
It's getting increasingly tough to stand out in the smart speaker space, with plenty of choices combining the ease of voice assistants and high-end audio. LG's take is the WK7, powered by its tie-up with Meridian to deliver, so it claims, "heart stopping, high-fidelity sound with improved clarity."
That's the kind of sentence that marketing types love, and that instantly makes me wary, but as it turns out, the LG WK7 delivers a very good overall smart speaker package at a very appealing price point.
LG WK7 ThinQ: Design
Simple design that blends well with most decor
Mute microphone button at the back is tricky to find
No headphone jack
The LG WK7 adopts a rounded design that makes it look very similar to other speakers we've tested from the likes of JBL, Sony or Apple, but with a higher profile at 211x135mm. It's suitably heavy at 1.9kg, but features only a power input, with no 3.5mm headphone jack present. That's not always a feature on smart speakers, but it is one that can give them just a little more flexibility.
Controls are via a touch panel at the top, with a function button that can switch the LG WK7 ThinQ between Wi-Fi and Bluetooth pairing modes plus play/pause buttons and volume control. If you want to mute the LG WK7 ThinQ's microphones, you'll have to reach around the back of the unit itself to do so, which is a minor annoyance.
LG WK7 ThinQ: Speaker quality
Plenty of bass
Plenty of volume
No stereo pairing
App presets muddy the overall audio picture
The marketing line about the LG WK7 ThinQ features the line "heart-stopping" sound. It turns out that this is code for "this is a bass-heavy speaker" and it's one with a lot more punch than you might expect from a speaker this size.
There's no evident sign of stereo pairing functionality for the LG WK7 ThinQ – not that I had two units to test with – but in just about every home or small office situation I could envisage, you wouldn't have any issues with blasting out enough sound to make everyone happy, or even possibly deaf if they stood too close.
Volume and bass are great if that's what you're into, but they're pointless without actually being able to produce decent sound.
The LG WK7 ThinQ's audio output is generally very good across most music types, and certainly loud. That doesn't mean it can't handle subtlety, however.
"Cold Coffee & Cocaine" from Prince's Piano & A Microphone 1983 features sharp piano with almost whispered lyrics, and the LG WK7 ThinQ presented it with excellent range. Switching up to more guitar-heavy fare, such as Weird Al Yankovic's "CNR" gave the LG WK7 ThinQ even more room to show off, but even if you favour more subtle musical choices, the LG WK7 ThinQ should work well.
While smart speakers sell themselves on pairing up to music streaming services such as Google Play Music or Spotify, the LG WK7 ThinQ can also pair over Bluetooth or via Wi-Fi using the LG Wi-Fi Speaker application.
This is a workable app that also allows for some equalisation tweaking during playback, although I found it tended to mess up either vocals or instrumentation too much to be workable. If you do have a local music server, or just want to stream specific tracks stored on your mobile device, though, it's entirely functional, if not actually great.
LG WK7 ThinQ: Smart home quality
Google Assistant or ThinQ
Hard to hear queries at full volume
The LG WK7 ThinQ works both with LG's ThinQ AI platform as well as Google Assistant, although unless you're heavily in the LG ecosystem, the former probably won't be of much interest to you. I didn't have any ThinQ-equipped gear to cross-test the LG WK7 ThinQ speaker with, but I do already have a set-up of Google Assistant speakers that the LG WK7 ThinQ integrated with neatly via the Google Home app.
Set-up is as seamless as any other Google speaker, with the Home app quickly detecting the LG WK7 ThinQ and running it through its set-up paces.
Any one Google Assistant enabled speaker can handle the same tasks as any other, with the key differentiator really being in the microphone pickup for your commands.
At lower volumes the LG WK7 ThinQ had fine pickup from across the room, but like the noticeably loud Google Home Max or Panasonic SC-GA10, once the volume was really pumping, it often struggled to make out my requests, including those to turn the volume down. Relatively few smart speakers genuinely handle this issue well, but the LG WK7 ThinQ's heavy volume can make it a real problem.
LG WK7 ThinQ: Verdict
Good audio for the asking price
In the very active smart speaker space, the LG WK7 ThinQ stands out for its exceptional output, which can easily fill a room in the same way as the much more expensive Google Home Max can.
The official asking price – not to mention the kinds of on-special prices we've seen it being offered for – make it a very attractive proposition if you want in on the smart speaker game without putting up with the mediocre audio quality of devices like the Google Home or Google Home Mini, but don't quite feel like splashing out on the Google Home Max or Apple's competing HomePod solutions.
LG WK7 ThinQ: Pricing and availability
The LG WK7 ThinQ retails in Australia for $299 outright.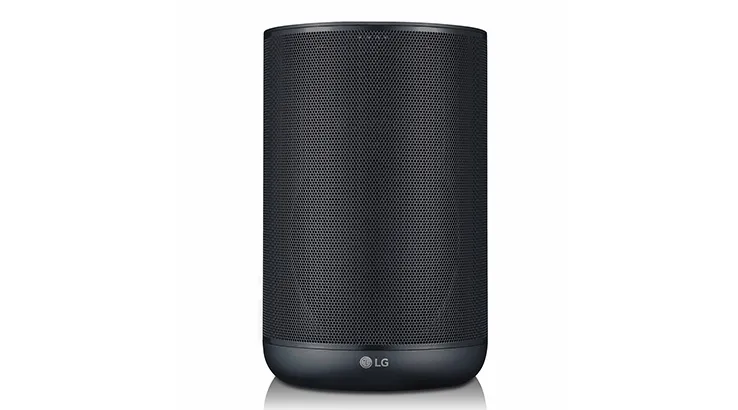 Buy LG WK7 ThinQ
from The Good Guys
LG's WK7 ThinQ combines the smarts of Google Assistant with precisely equalised audio courtesy of Meridian in a smart speaker that brings volume and clarity home.
View details
LG WK7 ThinQ: Alternatives
At the LG WK7's asking price, you could consider the Panasonic SC-GA10, the Sony LF-S50G or the JBL Link 20.
If your budget can punch up a little, consider the Google Home Max, or if you're an iOS/Apple Music user, Apple's HomePod. The Sonos One is also worth considering, although as yet Sonos's promised integration with Google Assistant is yet to materialise, leaving it as an Alexa and AirPlay 2 only speaker.
LG WK7 ThinQ: What the other reviewers say
| Site | Comment | Score |
| --- | --- | --- |
| What Hi-Fi? | "The LG/Meridian partnership gets off to a promising start with this smart speaker." | 4/5 |
| GadgetGuy | "If you want Google Home functionality, this is the one to buy." | 4.5/5 |
| TechRadar (hands-on) | "AI smarts and superior audio as LG looks to take on Google Home." | N/A |
| Digital Trends | "If you're looking for an affordable, respectable-sounding smart speaker with Google Assistant, then buy the WK7." | 3.5/5 |
Specifications
Product Name

LG WK7 ThinQ
Assistant

Google Assistant
Wireless network

802.11 ac/a/b/g/n
Weight (grams)

1900
Height

211mm
Diameter

135mm
Speaker information

300RMS speaker output
Bluetooth

Yes
Audio out

No
Water rating

NA
---